Manila: Michael Jackson tops list of highest-paid dead celebrities
.
.
MANILA, Philippines — Michael Jackson is not only the king of pop but also the king of the dead stars as he topped the 2017 Forbes list of highest-earning celebrities for five consecutive years.
Eight years after his death, Jackson still generated $75 million, thanks to the CBS Halloween special, new album Scream, a Cirque du Soleil show in Las Vegas and a stake in the EMI music publishing catalogue.
<>
ADVERTISEMENT: This space is reserve for your Ad, contact aseanews.net now!
<>
But his 2017 earnings paled in comparison to last year's $825 million income—the highest annual total for any entertainer dead or alive according to Forbes.
Jackson died on June 25, 2009 of acute propofol and benzodiazepine intoxication at his home.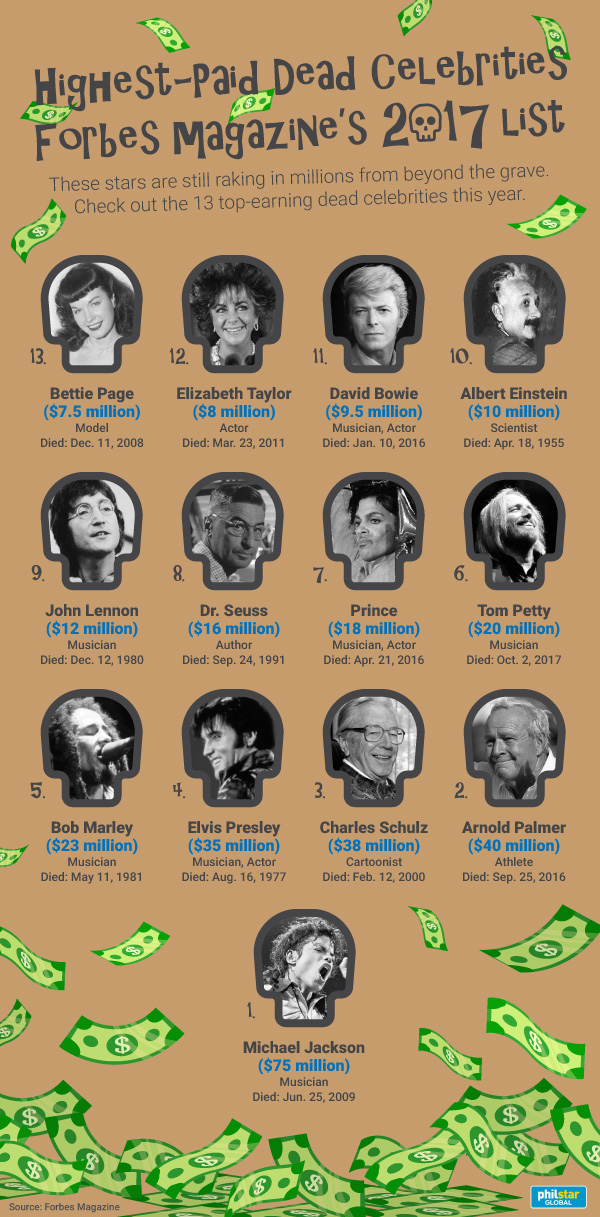 Golf legend Arnold Palmer claimed the second spot. He brought in $40 million through the sales of Arizona lemonade and iced tea beverage in his name.
Peanuts creator Charles Schulz is the third-highest earner with income of $38 million.
The King of Rock and Roll Elvis Presley came in fourth with $35 million. His earning was boosted by the new $45 million Elvis Presley's Memphis entertainment complex and recently-opened hotel The Guesthouse at his Graceland estate.
Reggae musician Bob Marley finished fifth with $23 million, while rock icon Tom Petty, who died October 2, ranked sixth with $20 million.
Other dead musicians who made it on the list include Prince, David Bowie and John Lennon.
Prince, who died April 21, 2016 of accidental overdose of the opioid fentanyl, was one spot behind Petty with earnings of $18 million.
The Beatles' star John Lennon took the ninth spot with $12 million. On Dec. 8, 1980, he was shot dead.
Others who earned heaps of money from beyond the grave include author Dr. Seuss with $16 million earnings (8th place), scientist Albert Einstein with $10 million earning (10th place), actress Elizabeth Taylor with $8 million (12th place) and model Bettie Page with $7.5 million (13th place).
The list is compiled based on pretax income from Oct. 15, 2016 to October 15, 2017 before deducting cuts for agents, managers and lawyers.
Courtesy: Gaea Katreena Cabico |  philstar.com | Updated October 31, 2017 – 10:44am
NOTE : All photographs, news, editorials, opinions, information, data, others have been taken from the Internet ..aseanews.net | aseanews@hotmail.com |
For comments, Email to :
Zhubiz Chezmiz | Zhubizchezmiz@yahoo.com | – Contributor
Jared Pitt | jaredpitt@shaw.ca  | Contributor