HÀ NỘI: Politics & Laws – Trial for corruption at State-owned oil group commences
Presiding judge Nguyễn Ngọc Huân (middle) announced the opening of the trial. — VNA/VNS Photo Doãn Tuấn
.
.
Viet Nam News
.
HÀ NỘI — The much-awaited trial for economic mismanagement and embezzlement at PetroVietnam (PVN), the largest State-owned company, commenced Monday morning in the capital city.
The first-instance trial is scheduled to last for two weeks (January 8-21), looking into one of the most notorious cases of corruption involving the disgraced former Politburo member, Đinh La Thăng, and Trịnh Xuân Thanh, former chairman of PVN's subsidiary PetroVietnam Construction JSC (PVC).
image: http://image.vietnamnews.vn//uploadvnnews/Article/2018/1/8/phientoa674122656PM.jpg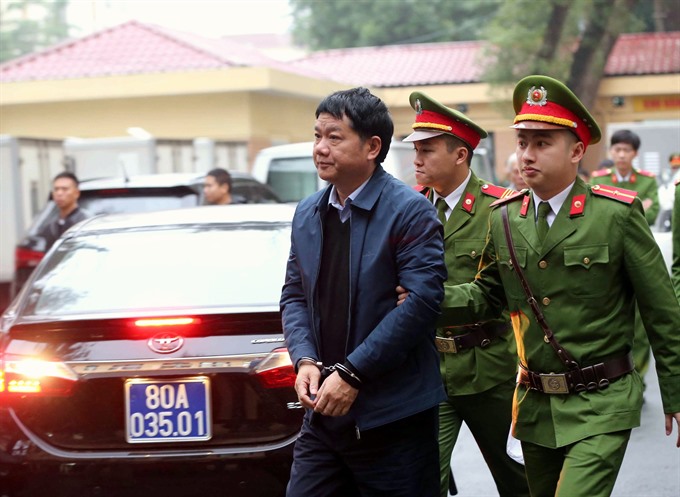 Defendant Đinh La Thăng, former Politburo member and former chairman of PetroVietnam, being escorted by public security officers to January 8 court. — VNA/VNS Photo Doãn Tuấn
.
The case has been under public scrutiny, as the Party's crackdown on corruption is reaching an unprecedented high, netting several executives and top-level officials hitherto thought to be immune from the law.
"Most defendants are the ones holding key positions in critical economic units who have been entrusted by the State and the people to manage public capital and implement nationally important projects, including Thái Bình 2 thermal power plant project," reads the indictment of the Supreme People's Procuracy.
However, during the implementation of the project, multiple wrongdoings have taken place, including abuse of power to make profits.
Twenty two defendants have been put on trial, including 17 detainees and five defendants on bail. Twelve, including Đinh La Thăng, have been indicted on charges of "deliberate violations of State management regulations on economic management, causing serious consequences" as per Article 165, Paragraph 3, under the 1999 Penal Code.
image: http://image.vietnamnews.vn//uploadvnnews/Article/2018/1/8/trinhxuanthanh45122504PM.jpg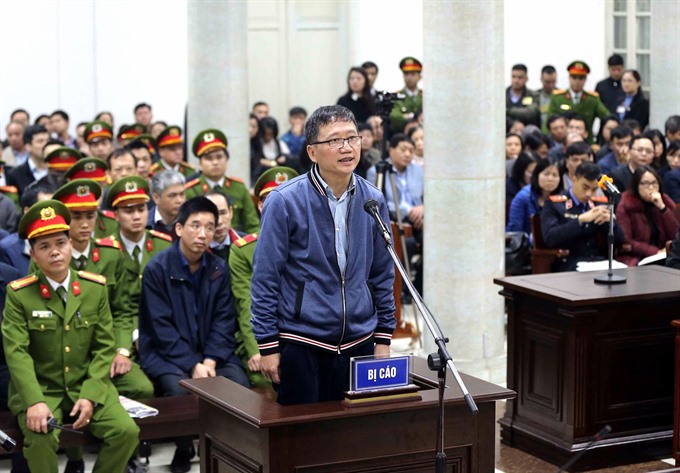 Trịnh Xuân Thanh, former chairman of PetroVietnam Construction JSC , appeared on January 8 trial. — VNA/VNS Photo Doãn Tuấn
.
Eight defendants stand indicted on charges of misappropriation of assets, while Trịnh Xuân Thanh and Vũ Đức Thuận, former director-general of PVC, have been prosecuted on charges of economic mismanagement and embezzlement.
The jury consists of five members, two judges and three people's jurors. Judge Nguyễn Ngọc Huân is presiding over the trial. Due to the magnitude of the case, the People's Court of Hà Nội has arranged for a deputy judge and two deputy people's jurors to be present at the court.
Forty out of 42 lawyers defending the accused appeared in court this morning. While five lawyers represented Trịnh Xuân Thanh, three rooted for Đinh La Thăng.
Out of the 31 witnesses who were ordered to appear in court, 24 were present and seven were absent, with only three of them citing official reasons. — VNS
See also:
PM to attend Mekong-Lancang meet (January, 06 2018)
Vietnam peacekeeping department debuts (January, 06 2018)
Việt Nam opens consulate office in China's Macau (January, 06 2018)
$650 million of State-owned coal and mining corp not properly handled (January, 06 2018)
Deputy PM lauds VN-Laos judicial ties (January, 06 2018)
VN calls for increased investment from UK (January, 06 2018)
COURTES
Viet Nam News
Update: January, 08/2018 – 13:00
.
NOTE : All photographs, news, editorials, opinions, information, data, others have been taken from the Internet ..aseanews.net | aseanews@hotmail.com |
For comments, Email to :
Aseanews.Net | aseanews@yahoo.com | Contributor