LIFE+STYLE-WORLD BILLIONAIRES: MANILA – Forbes released their annual list of "The World's Billionaires" and several Filipinos made the list.
MANILA, Philippines — Twelve Filipino business tycoons once again made it to the recently released Forbes magazine's annual billionaires list.
Ninety-three-year-old shopping mogul Henry Sy led the list with $20 billion net worth. He ranked 52nd in the world's billionaires list.
John Gokongwei followed Sy with $5.8 net worth from his diversified business while ports magnate Enrique Razon Jr. was also among the top Filipino billionaires with $4.9 billion net worth.
Gokongwei and Razon placed at the 305th and 404th rank in the international magazine's roster, respectively.
The Filipinos joined tech business founders, Jeff Bezos of Amazon and Bill Gates of Microsoft who topped the list with $112 billion and $90 billion, respectively.
The list is dominated by tech and software founders, including Facebook's Mark Zuckerberg, American Movil's Carlos Slim Helu, Oracle Corporation's Larry Ellison, Bloomberg's Michael Bloomberg, Google's Larry Page, Alibaba's Jack Ma, among others.
Also among the top billionaires list are Warren Buffet of Berkshire Hathaway and Amancio Ortega of Zara.
Last year, 14 Filipinos made it to the billionaires list. However, this year, construction tycoon, David Consuji and fast food businessman, Edgar Sia, failed to land on the list this year.
Below appears the list of 12 Filipinos who were among Forbes 2018 Billionaires list:
image: https://media.philstar.com/images/the-philippine-star/headlines/20180307/2018-top-filipino-billionaires.jpg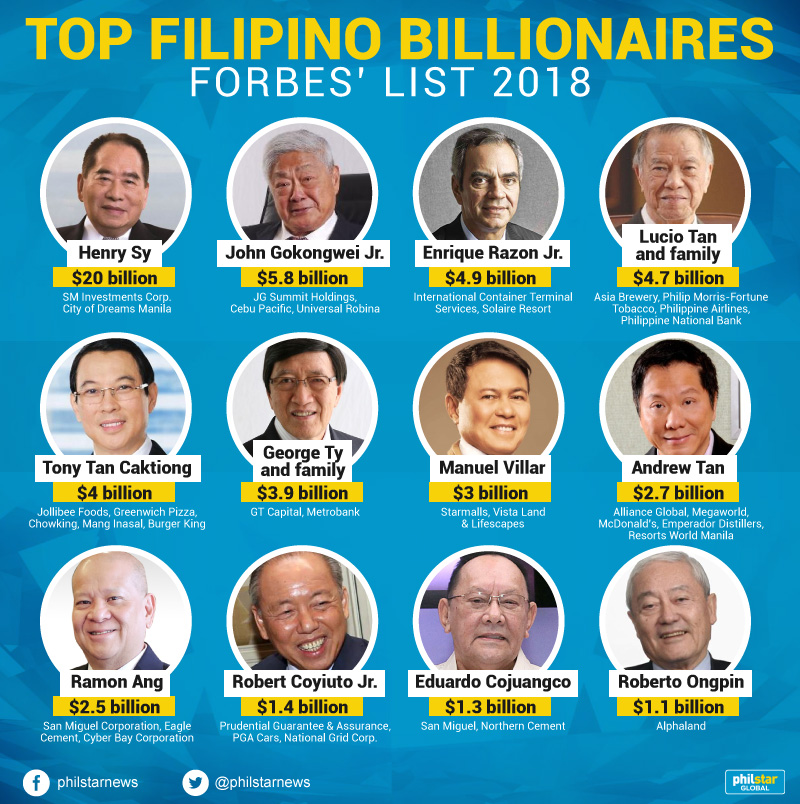 — Graphics by Jonathan Asuncion
Graphics by Jonathan Asuncion / LIST: 12 Filipinos return to Forbes 2018 Billionaires list / Rosette Adel (philstar.com) – March 7, 2018 – 2:32pm
.
RELATED ARTICLE:
Both are billionaires but SM's Henry Sy is richer than Tesla's Elon Musk
.
NOTE : All photographs, news, editorials, opinions, information, data, others have been taken from the Internet ..aseanews.net | aseanews@hotmail.com | For comments, Email to : Pahulu Gan – Contributor | rvcfinance@yahoo.com