ASIA-HEADLINE NEWS TODAY: CHINA – Chinese courier takes elderly mother on rounds with him because her Alzheimer's means she cannot be left alone
Delivery man has been carrying mother on back of his bike for the past seven years to ensure she is looked after at all times /  Cai Yujun carries his mother — Yang Suxiu, on his electric bike. Pic source: SCMP / By SOUTH CHINA MORNING POST – April 19, 2018 @ 7:12pm
.
.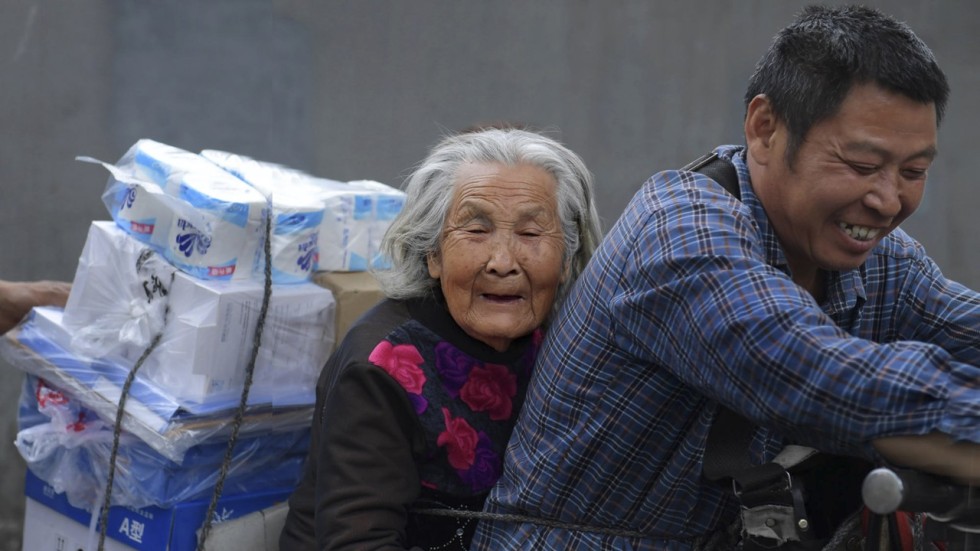 Cai Yujun, 52, has modified his electric bike to ensure that his 92-year-old mother Yang Suxiu has a more comfortable seat on the back, Thecover.cn reported.
He also uses a couple of ropes to secure her to the frame as he makes deliveries to computer shops in Chengdu, the capital of Sichuan province.
Chinese woman donates her eyes in dying wish to see long-lost son again
Yang was diagnosed with Alzheimer's seven years ago and can longer take care of herself, according to the report.
"Mother has laboured her whole life for our family. So no matter how hard life is, I cannot shirk my responsibility for taking care of her," Cai told the website.
The pair have travelled to every corner of the city together, and the report said Cai always holds his mother's hand when delivering products to prevent her from getting lost.
Cai's colleagues and friends have also helped out by keeping an eye on her when she cannot follow her son into some of the buildings he visits.
"Many friends like to chat and joke with her," Cai added.
UPDATED : Wednesday, 18 April, 2018, 4:54pm
 All photographs, news, editorials, opinions, information, data, others have been taken from the Internet ..aseanews.net | aseanews@hotmail.com / For comments, Email to : Aseanews.Net | aseanews@yahoo.com | Contributor:-