TECH-FOOD: Mekong Delta: Scientist creates climate change-ready rice
..
Dr Trần Thị Cúc Hòa and her colleagues have researched and developed two rice varieties that have been widely planted by Vietnamese farmers.
Director of the Agricultural Genetics Institute (AGI) Dr Lê Huy Hàm said Dr Hòa from the Mekong Delta's Rice Research Institute (MDRRI) created a dozen rice varieties, including OM6976 and OM5451, that have become main rice varieties in the Mekong Delta.
Hòa and her colleagues Dr Phạm Trung Nghĩa, Lã Cao Thắng, Đặng Thị Thắm and Huỳnh Thị Phương Loan, had invested nine years into researching these varieties that brought economic benefits to the nation, said Hàm.
"The project has high value in science and technology," he said.
Dr Trần Ngọc Thạch, director of the MDRRI, said the project is significant because it had been carefully researched to create rice enriched with folic acid and zinc.
The two varieties are widely planted in the Mekong Delta, which produces half of the country's rice output and 95 per cent of rice for export, according to Thạch.
"They help to increase rice production and exports while increasing the competitiveness of Vietnamese rice in the world market and the income of our farmers," Thạch said.
The varieties have high resistance to insects, rice blast diseases, rice grassy stunt virus and rice black streaked dwarf virus as well as high adaptability to alluvia soil, alkaline land and salinated soil, he said.
They can also be planted year round in coastal regions. "They have become the main high quality varieties in the delta, remarkably contributed to the country's export of rice," Thạch said.
High economic profit
These rice varieties have been widely planted by farmers since 2012 after they were recognised as national varieties.
During 2013-15, farmers in Hậu Giang, Cà Mau, Vĩnh Long, Bạc Liêu, Kiên Giang and Sóc Trăng provinces planted three million hectares with a yield of 5.9 tonnes per ha, and an average price of VNĐ6,300/kg, bringing profit of VNĐ2.97 million per hectare more than other rice varieties, said Thạch.
Farmer Nguyễn Văn Ngộ in Kiên Giang's Bình An Village said thanks to high adaptability of these varieties to alkaline and saline soil, his field yields 1.2 tonnes per công (each công is about 1,300sq.m).
Farmer Tô Văn Hiệp in Hậu Giang's Long Phú Village said: "We are all very happy because this is the first time we sold our rice with a much higher price of VNĐ7,000 per kilo compared to VNĐ 5,100 per kilo of normal rice."
image: http://image.vietnamnews.vn//uploadvnnews/Article/2018/8/2/ho%CC%80a33251348PM.jpg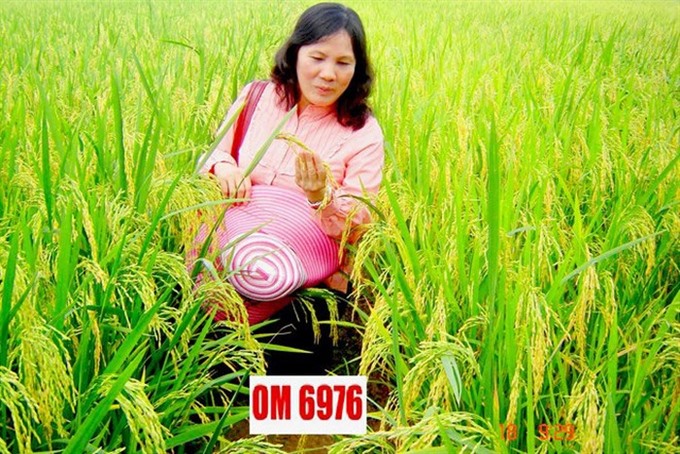 Robust rice: Dr Hòa and her new rice variety, which is planted in all of the delta provinces.
Efforts paid
To have these new rice varieties, Dr Hòa and her colleagues created thousands of cross breeding complexes for nearly a decade, for example, to create OM6976 from cross-breeding four different parents.
Hòa has researched cross breeding to create rice strains adaptable to climate change and with high yield.
"This new rice variety that can grow on saline soil is expected to be planted en masse very soon," said Hòa.
Apart from these rice varieties, Dr Hòa researches gene technology of plants to prevent changes of gene in cotton plant, soybean and rice, according to Dr Thạch from the MDRRI.
Hòa is researching gene-change of soybean varieties that are resistant to pests in a project ordered by the Ministry of Agriculture and Rural Development.
Her projects have been printed in two prestigious magazines, Plant Physiology and Theoretical and Applied Genetics.
As a result, her research work was awarded a State prize, and is among the country's eight outstanding works at the "Việt Nam Glory" programme held by the Việt Nam General Confederation of Labour last week.
Furthermore, more than 80 research articles written by Hòa have been covered by local and foreign magazines.
But Hòa said she was very happy when people "call me the scientist of farmers because I've been working with them in the field, often for days".
She has invested her time in creating new rice varieties that are resistant to insecticides and have high yields to help farmers improve their living standards and make Vietnamese rice more competitive in the world market.
Hòa was born in the southern province of Bình Định in 1955 and worked in the MDRRI since 1980, after graduating from the HCM City University of Science. She studio in India's Agriculture Researching Institute, the US Purdue University and the Technology Institute of Switzerland. VNS / Viet Nam News   by Hà Nguyễn
<>
RELATED:
Climate Change-Ready Rice Keeps Farmers' Fields Fertile
.
In southern Bangladesh, bright green rice paddies stretch into the distance.
But in the village of Gholgholia, rice in one paddy grows unevenly. The leaves are dry and brown. And there are bald patches between clumps, like the agricultural equivalent of a slightly mangy dog.
This is the result of salty soil. Sometimes it's so hard to coax rice into growing in the soil that farmers leave fields fallow.
.
.
Climate change is one reason farmland in Bangladesh is becoming increasingly saline. This is especially the case in the coastal south, which was traditionally the country's rice basket. Across the country, hundreds of thousands of acres of land lay fallow. Production of rice and other salt-sensitive crops, such as potato and mustard, has decreased.
"A lot of land is fallow because of salinity," said Timothy Russell, head of the Cereal Systems Initiative for South Asia, or CSISA, in Bangladesh.
Russell says there's a potential fix for the problem: Plant a variety of rice that's naturally resistant to salty soil.
"If you can bring in salt-tolerant rice or other salt-tolerant crops, like sunflower, you can utilize the land," Russell says. "That's the dream."
And it's slowly becoming a reality.
.
Since 2011, about 180,000 farmers have received saline-tolerant rice seeds and training on how to grow them. It's part of a program sponsored by three nonprofits: the International Rice Research Institute, the World Fish Center and the International Maize and Wheat Improvement Center.
Bangladesh is the world's sixth-largest rice producer. Rice accounts for 70 percent of calories consumed by its population of 160 million.
Agriculture that can withstand climatic threats is especially important in Bangladesh. The country is a low-lying river delta and thus is vulnerable to floods and violent storms. It is also one of the world's most densely populated countries: Imagine more than half the U.S. population crammed into an area the size of Iowa.
Scientists at the Bangladesh Rice Research Institutecreated the new varieties by crossbreeding rice varieties that were already naturally resistant to salty soil. So they're not genetically modified plants.
.
.
The seeds are free for farmers, but many are reluctant to try new plants. So, agricultural scientists from theCSISA grow the rice on test plots to show farmers techniques for growing the varieties — and how well they fare even in poor soil.
"The first adopters of new varieties and crops will be the wealthier farmers who can afford to take risks," Russell says. "Less wealthy farmers will watch and wait. If the experiment works out well, they will follow."
The education process is important. Salinity can vary in adjacent fields or even within fields due to elevation, rainfall and exposure to salt water from nearby rivers. Different varieties of salt-resistant rice can grow in varying degrees of salinity.
Although climate change has likely contributed to the rise in salty soil in Bangladesh, shrimp farming is also to blame. Shrimp farmers use salty river-fed canals to fill ponds separated by dirt embankments. The business is lucrative and has become popular in Bangladesh over the past decades.
But it's risky for farmers to rely just on shrimp farming, says Mohammed Harunur Rashid, a scientist with the Bangladesh Rice Research Institute. Disease can wipe out a whole farm. So the salt-resistant rice allows some farmers to alternate between cultivating shrimp and growing rice.
A few miles down the road from Gholgholia, barefoot farmers paused from harvesting golden fields of salt-resistant rice in the village of Patrakhola.
Din Mohammed, a 42-year-old farmer, estimated his rice yield dropped by a third because of increased salinity after Cyclone Aila in 2009. The storm broke near river embankments and flooded the village's precious farmland with salty water. But the new variety yields more rice, he says.
Mohammed has also started planting sunflowers in the same field after he harvests rice. Sunflowers naturally tolerate salty conditions, and the crop is new and experimental in Bangladesh. Through a pilot program, about 800 farmers are growing sunflowers that can be turned into cooking oil.
In a harvested section of a field in Patrakhola, the ground was covered with flattened husks after farmers harvested rice. Before, this land would have lain fallow for months until the next rice planting. But sunflower seedlings now poked up between matted husks and sprouted a few green leaves.
Within months, sunflowers would stand 4 feet tall and create a new landscape of vibrant yellow instead of fallow brown soil.
This story was supported by a grant from the Solutions Journalism Network, an organization dedicated to reporting about responses
All photographs, news, editorials, opinions, information, data, others have been taken from the Internet..aseanews.net | aseanews@hotmail.com / For comments, Email to : Aseanews.Net |                    aseanews@yahoo.com