POLITICS: HÀ NỘI- Deputy PM worries about protectionism
Deputy Prime Minister and Minister of Foreign Affairs Phạm Bình Minh talks about Việt Nam's stand on Asia's geopolitical outlook. — VNS Photo Thu Van
.
HÀ NỘI — Vietnamese Deputy Prime Minister and Minister of Foreign Affairs Phạm Bình Minh said the three things he was concerned about when it came to the shifting ASEAN geopolitical landscape were the disruptions of the Fourth Industrial Revolution, protectionism and regional security threats.
He was speaking at a meeting to discuss the impacts of the rapidly changing geo-economic context, shifting allegiances and new security strategies from regional and global powers on Asian countries at the World Economic Forum on ASEAN 2018.
Minh said while people talked a lot about the Fourth Industrial Revolution and the opportunities it could bring, he had his reservations.
"Of course it is undeniable that new technology will offer tremendous opportunities, but if a country cannot see these opportunities, they could be left behind and the development gap would be widen," he said.
"In that case the transformation of the geo-economic and geo-political landscape could be a threat," he said.
The other thing that keeps him up at night is the worrying trend of the rising protectionism and nationalism.
"Power politics and strategic competition will lead nations, whether big or small, having to make choices to adapt to the situation," he said.
His third concern has to do with traditional and non-traditional security issues, ranging from maritime disputes, climate change and cybersecurity.
When asked about the perspective on a free and open Indo-Pacific, Minh said Việt Nam always had an open heart towards initiatives.
"We welcome all initiatives as long as they contribute to peace, stability and prosperity in the region, and as long that the initiatives are open, transparent and inclusive," he said.
"Of course, the initiatives should respect international laws and respect the right to self-determination of the countries involved," Minh added.
The other speakers at the meeting were his counterparts Kang Kyung-Wha from the Republic of Korea, Taro Kono from Japan, Sri Lankan Prime Minister Ranil Wickremesinghe and Lynn Kuok from the Singaporean International Institute for Strategic Studies. —VNS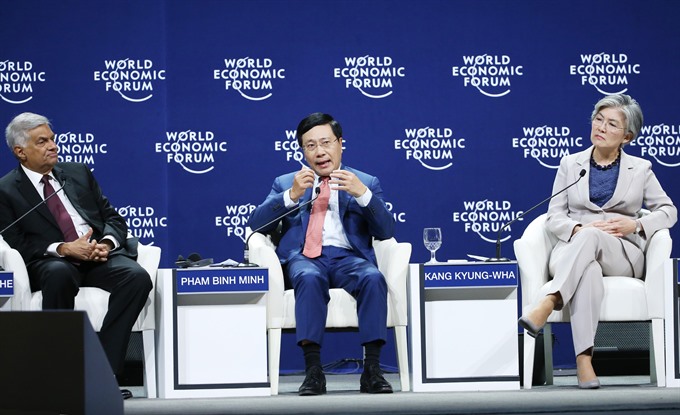 Deputy Prime Minister and Minister of Foreign Affairs Phạm Bình Minh talks about Việt Nam's stand on Asia's geopolitical outlook. — VNA/VNS Photo Lâm Khánh
.
All photographs, news, editorials, opinions, information, data, others have been taken from the Internet..aseanews.net | aseanews@hotmail.com / For comments, Email to : Aseanews.Net |