Society: HẢI PHÒNG, Viet Nam- A vegetable a day helps to keep the obesity away
A chef prepares lunch for students at Đinh Tiên Hoàng School in Hải Phòng City. — VNS Photo Hồng Minh
.
.
HẢI PHÒNG – Like many 10-year-olds, Trần Dũng Thành loved fast food. What kids don't?
As for vegetables, they were certainly off the menu for this fourth-grader who lives in the northern port City of Hải Phòng
But that has changed dramatically since dietary habits were made part of the curriculum at Đinh Tiên Hoàng Primary School. And school meals now follow a different recipe.
"We have been taught about the importance of eating more vegetables so even when I still prefer fast food, I am now eating more greens at schools and at home," Thành said.
.
ADS by Cloud 9:
.
– SPACE RESERVE FOR YOUR ADVERTISEMENT –
.
.
Everyday, Thành and his school mates enjoy different lunch menus with at least one veggie dish and vegetable soup.
They even have a motto: Ăn hết khẩu phần, bắt đầu từ rau (Finish all your lunch set, starting with vegetables). He said he and friends had found vegetables more appetising thanks to different recipes at school lunches.
Head of Đinh Tiên Hoàng School's canteen, Lê Thị Tuyết, said students used to ignore seafood, vegetables and fruits and preferred to eat meat.
"But after training from Japanese experts with recipes changed and diversified towards providing balanced ingredients with more and well-cooked vegetables and different types of proteins, students have found school lunches tastier and healthier," she said.
Besides the changes in eating habits, pupils are also taking part in more physical activities with games and lessons tailored from schools in Japan.
Đinh Tiên Hoàng School is one of the two primaries in Hải Phòng City which are implementing a three-year project of preventive measures against lifestyle diseases for children, under the collaboration of the city Centre for Preventive Medicine and Department of Education and Training with Japan's Kagawa Prefecture.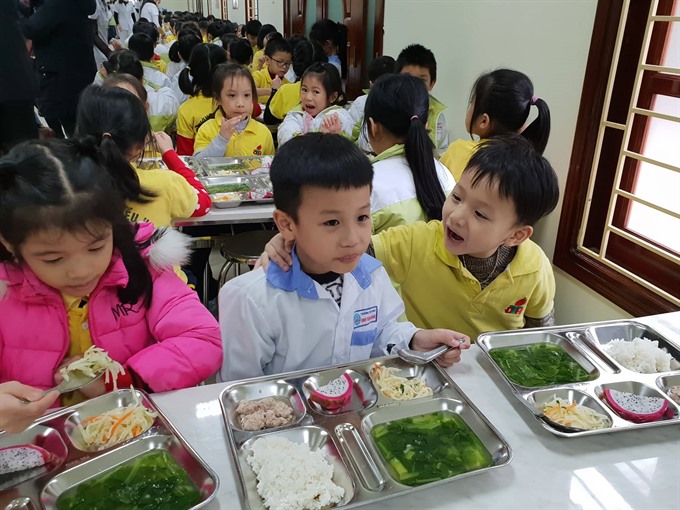 Students at Đinh Tiên Hoàng School in Hải Phòng City enjoy a well-balanced lunch menu. — VNS Photo Hồng Minh
.
ADS by Cloud 9:
.
– SPACE RESERVE FOR YOUR ADVERTISEMENT –
.
.
It started in March 2016 with aid from the Japan International Co-operation Agency (JICA) and aims to establish a model for preventing lifestyle-related diseases and to make preparations to pass on the information to all the schools in the city.
The project provides training for health workers in schools and integrates the model into the school curriculum and arrange additional refresher courses if needed.
So far, there have been two schools implementing the project, namely Đinh Tiên Hoàng Primary School in Hồng Bàng District and Lê Hồng Phong Primary School in Ngô Quyền District.
Under the project, the Centre for Preventive Medicine organised examinations and surveyed eating habits and lifestyles at the schools to assess nutrition, obesity rate and related factors of students in 2016-17.
.
ADS by Cloud 9:
.
– SPACE RESERVE FOR YOUR ADVERTISEMENT –
.
.
The results showed the rates of overweight students remained high while obesity rates stood at 22.9 per cent and 24.1 per cent, for each school respectively. Many students were reported to have high-risk habits that lead to excess weight and obesity such as eating a lot, eating fast, skipping meals, having dinner late, unbalanced diets, sleeping late and most of them only took part in physical activities at schools.
The changes in eating habits and activities have had a slight effect. The obesity rate at Đinh Tiên Hoàng School has decreased from 22.9 per cent in October 2017 to 20.4 per cent in April 2018.
The principle of Đinh Tiên Hoàng School, Nguyễn Thị Vân Anh, said the payment for meals of a student, including lunch and a snack in the afternoon, was VNĐ25,000 (US$1.1) a day.
"The payment is just the same as before the project started but the menus have been changed a lot to ensure balanced nutrition for students with consultations from health experts," she said.
According to Vân Anh, before starting the meal, teachers always spend three minutes to talk to students about the food they are going to eat and the effects it has on their health.
"Children normally listen to their teachers so they get the information clearly and thoroughly," she said, adding that way of education is very effective as children also spread the information and knowledge to their parents to also change eating habits at home.
Kobayashi Ryutaro, deputy head of JICA in Việt Nam, said the project in Hải Phòng was impressive.
"Dissemination on changing eating habits or lifestyles is normally implemented with leaflets but the project started with children who are very good at learning new things and memorising," he said.
"That is one of the most effective ways to communicate," he said. — VNS
Viet Nam News    /  By Hồng Minh
.
Aseanews Headlines:
.
ADS by Cloud 9:
.
– SPACE RESERVE FOR YOUR ADVERTISEMENT –
.
All photographs, news, editorials, opinions, information, data, others have been taken from the Internet..aseanews.net | aseanews@hotmail.com / For comments, Email to : Aseanews.net