ARTS-PAINTINGS: WORDSWORTH by Mons Romulo- Rodolfo Gan's pieces of advice for young artists
Rodolfo Gan is one of the most promising abstract artists in the '70s.
.
National Artist Arturo Luz, Fernando Zobel, "Father of Philippine Art" Roberto Chabet  (who was Gan's friend and mentor) and Lee Aguinaldo were some of the esteemed artists who supported Gan in his career until he got married and decided to focus on his family business.
After more than three decades of being absent from the art scene, it was  his ailing mentor Roberto Chabet who advised him to go back to painting. After a successful show titled Prisms back in 2014 at the Finale Art File, Gan had clearly proven that he made the right decision to go back to his first love — painting.
Gan is now back with his solo show Prism II at the Finale Art File Warehouse 17, La Fuerza, 2241 Chino Roces Ave., Makati City. Exhibit runs until Feb. 11.
.
ADS by Cloud 9:
.
– SPACE RESERVE FOR YOUR ADVERTISEMENT –
.
Today, we asked Gan, one of the most respected artists in the country, on pieces of advice and lessons he would want to impart to young artists.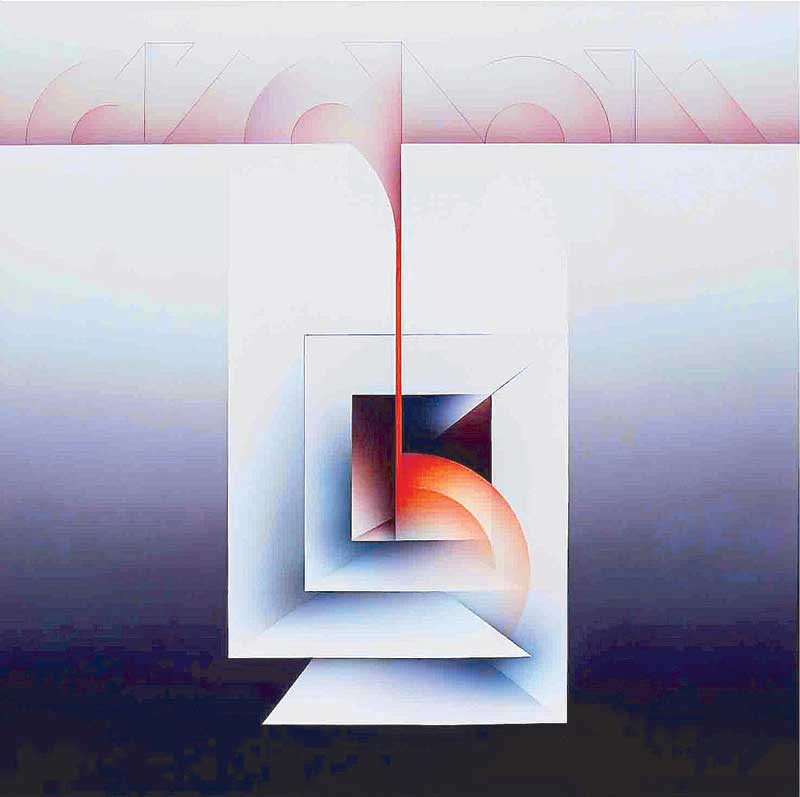 Composition 125 Sanctuary, 2018, acrylic on canvas, 48 x 48 inches.
.
1. Like Picasso, do not be distracted by the canvas. Art is not just in the canvas. Widen your boundaries and try everything — art forms, style, colors, varying media.
2. Immerse yourself with other artists. Pick your favorite masters and be inspired by them, but come up with your own.
3. It must be considered that art pieces, especially those included in a collection, either private or in museums, will be viewed by generations to follow. As such, artists should invest in good quality materials like frames, canvas and paint that would last and stand against elements like ultraviolet and moisture.
4. It may take awhile before an upcoming artist is able to hold a solo exhibit so joining group shows would be a good step forward.
5. Know the art circle so you familiarize yourself with the industry and how it moves.
6. To promote the growth of art in the country, the artist should continue to evolve, explore and discover new work system or style.  Do not just follow existing or current trends.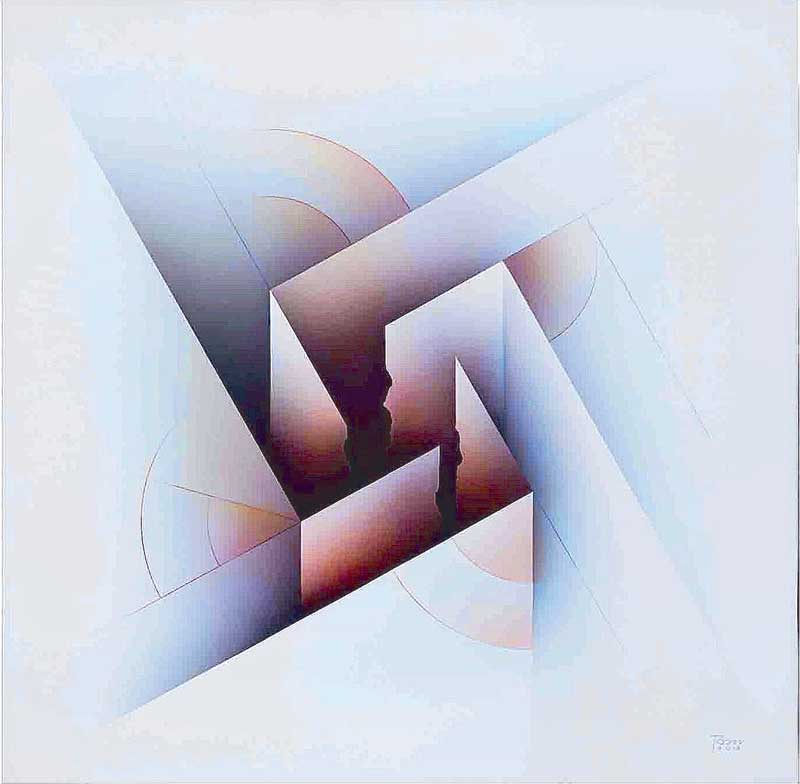 Composition 123 Winds of Fortune, 2018, acrylic on canvas, 36 x 36 inches.
.
ADS by Cloud 9:
.
– SPACE RESERVE FOR YOUR ADVERTISEMENT –
.
7. Live and breathe art. I was absent from the art scene for over three decades but each day of that period, I was drawing, designing, attending exhibits and learning continuously about art. More than being on a hiatus, it was a period of purifying what I have already learned and forming fresh ideas while using the basic principles of geometric abstraction.
8. Art is God's gift, which must be nurtured.  The talent may come naturally but you still need to work hard to learn and expand your gift.  Draw every day because art is about mastery.
9. Appreciate other artists. If possible, be a collector as well.
10. Have courage to always build bridges, break walls and open doors.
11. Do not worry so much about failing. Do what you love, do not compromise and do it best so you can build a good name for yourself.
12.Be grateful to your mentors who inspire you, to friends and colleagues who encourage and give honest feedback, and to the family who wholly support you.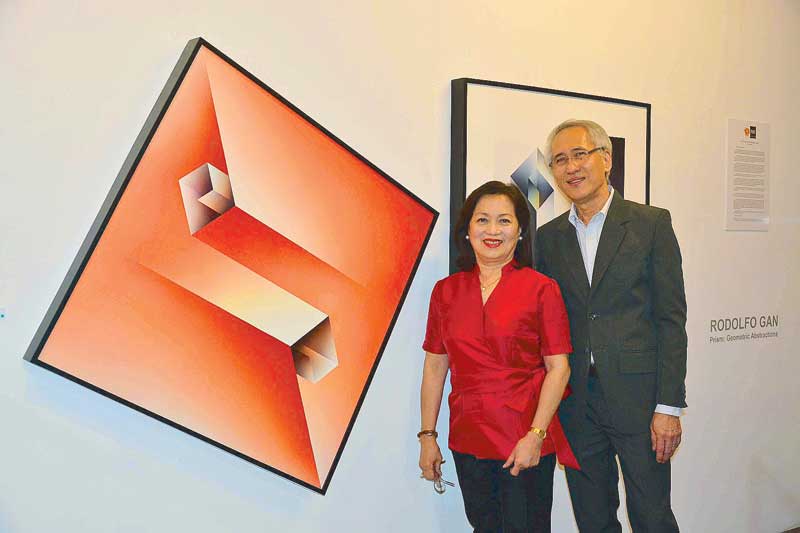 Rodolfo Gan and wife Lilian.
*  *  *.  
.
ADS by Cloud 9:
.
– SPACE RESERVE FOR YOUR ADVERTISEMENT –
.
ADS by Cloud 9:
.
– SPACE RESERVE FOR YOUR ADVERTISEMENT –
ADS by Cloud 9:
.
– SPACE RESERVE FOR YOUR ADVERTISEMENT –
.
RELATED ARTICLES:
Here comes spring!

ADS by Cloud 9:
.
– SPACE RESERVE FOR YOUR ADVERTISEMENT –
.
All photographs, news, editorials, opinions, information, data, others have been taken from the Internet ..aseanews.net | aseanews@hotmail.com | For comments, Email to : Goldenhands Arts Club | goldenhandarts@yahoo.com