THỪA THIÊN – HUẾ – Việt Nam : APEC backs businesswomen
Russian delegate Nadiya Cherkasova said businesswomen needed more help with families. – VNS Photo Công Thành
.
.
TPP nations achieve progress toward new free trade deal,
SMEs must prepare for disaster: APEC
.
APEC urges high-tech to fight extreme weather,
.
APEC 2017 National Committee convenes,
.
APEC Women and Economy Forum to organise in Huế City,
.
.
Viet Nam News
.
THỪA THIÊN – HUẾ – Việt Nam plans to lift the number of female managers to 350,000 when it has one million businesses, hopefully by 2020, Chairwoman of the Việt Nam's Women's Union, Nguyễn Thị Thu Hà, told the opening of the APEC Efficiency and Success Target Awards on Wednesday.
Women are presently in charge of 28 per cent of businesses in Việt Nam.
The awards, one of highlights of the APEC 2017 Women and Economy Forum, featured female owners from 21 APEC member economies.
"We are co-hosting the award with Russia this year," Hà said. "The awards focus on digitalisation and information technology for traditional small and medium sized enterprises – the most vulnarable business group."
"It's the second time that the awards have been held on the sidelines of APEC meetings," Ha said. "The activity is one of the most important supports for women entrepreuners in calling more investment and international partners."
Hà said the awards would help create networks for businesswomen as well as improve the capability of enterprises managed by women.
"Twelve candidates entered this year's award, of which three were from Việt Nam," she added.
According to a report from the Việt Nam's Women's Union, small and medium sized enterprises control 97 per cent of the country's businesses, contributing 41 per cent of GDP and 33 per cent of the State budget. They also created 77 per cent of jobs each year.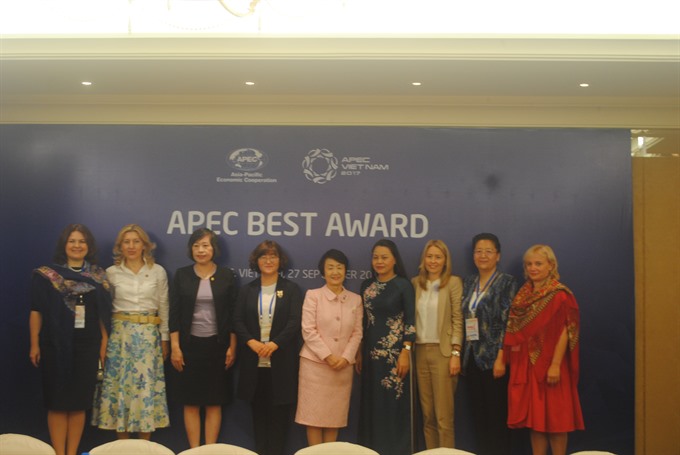 Chairwoman of the Việt Nam's Women's Union, Nguyễn Thị Thu Hà, (fourth from right) with deputies at the APEC awards. – VNS Photo Công Thành
.
Supports
Nadiya Cherkasova, head of the committee on Women's Entrepreunership Development, said businesswomen needed much support from governments and organisations in doing businesses.
"Women have plenty of potential, but we need assistances and support in finance, information and education. Women also have to take care of family responsibilities while working in the office. It's hard to balance the two tasks," Cherkasova said.
"Most women think they are stuck on the floor and can never reach the ceiling, so governments of APEC members should think about how to help," she said.
The Russian banker said she had to overcome difficult times five years ago when she had three children – a seven year-old daughter and five year-old twins.
She said governments and organisations should help businesswomen or state servants with more support in finance, education and children care.
On the sidelides yesterday, the ministry of transport, in co-operation with the US department of transport, also hosted APEC's Women in Transport: Gauging progress in moving forward.
The APEC 2017 Women and Economy Forum will continue on Thursday with Public and Private Dialogue on Women's Entrepreunership. – VNS
<>
NOTE : All photographs, news, editorials, opinions, information, data, others have been taken from the Internet ..aseanews.net |
[email protected]
|For comments,
 .
Email to :