ASEAN PAINTINGS: Realist artists depict Hà Nội life – Viet Nam News
Chợ Phố (Market in the Old Quarter) by Phạm Bình Chương.
.
Viet Nam News
.
HÀ NỘI — A painting by artist Phạm Bình Chương  depicting a corner of Hà Nội's Old Quarter in the gentle light of the morning is among the realist paintings now displayed in Hà Nội at the Việt Nam Fine Arts Museum.
The exhibition, organised by Hiện Thực (Realism) Group of artists, gathers 35 paintings. They range in medium from oil on canvas and lacquer to watercolour on silk, but they share a common sensibility and commitment to portraying life as it is.
Chương is among a few contemporary artists painting the streets of Hà Nội in a realist style. His work evokes memories of the city as it was years ago.
In this exhibition, Chương introduced his painting Chợ Phố (Market in the Old Quarter), in which he expresses love and nostalgia for Hà Nội's old streets.
"In an early morning of the last day of a lunar year, I walked along Đinh Liệt Street and realised the beauty and tranquility of the street," he said. "The first sunlight darts on old walls, making them brightly vivid. The sight is splendid and emotional to me."
"I was born in the Old Quarter and have a strong attachment to the old roofs, corners and people here."
"Everyday, people may not realise its beauty because the streets are always noisy and full of tourists and shops. But before the New Year's Eve, the street becomes silent and peaceful. I want to preserve this moment and bring people a rare angle of the street that they hardly see on the ordinary days."
Chương said the exhibition is a chance for the artists to exchange, learn from each other and gradually build up a new art genre in Vietnamese contemporary fine arts.
All of the artists realistically describe life and people, but each has their own way of telling stories.
Lê Thế Anh presents large paintings depicting the beauty of young ethnic women. His portraits are life-size.
Lưu Tuyền tends to show the problems of the modern society through dolls in the series Reality of Perfection.
Through the doll, he paints the younger generation who will govern the world of the future with many complex feelings of powerlessness, loneliness and despair.
"I don't paint what I see, I paint what I feel: feelings of fear, anxiety, and bewilderment inspire me to capture a reality that encapsulates larger issues such as war, climate change, pollution, epidemics and sexual abuse," he said.
Trịnh Minh Tiến is a leading hyper-realistic painter of Việt Nam. He often painted on the base of photos allowing him to imagine, discover the structure of the world and find interesting way to express narratives. He painted on different materials like canvas, wood, and even automobile hoods.  In this exhibition he showcased the artwork "In God's House", painted on automobile hood describing shadow of a church blurred by rains.
The exhibition also gathers paintings of famous contemporary artists such as Phùng Quốc Trí, Bùi Hoài Mai, Bùi Duy Khánh and Trần Việt Phú.
The exhibition will run until December 31 at the Việt Nam Fine Arts Museum, 66 Nguyễn Thái Học Street, Hà Nội. — VNS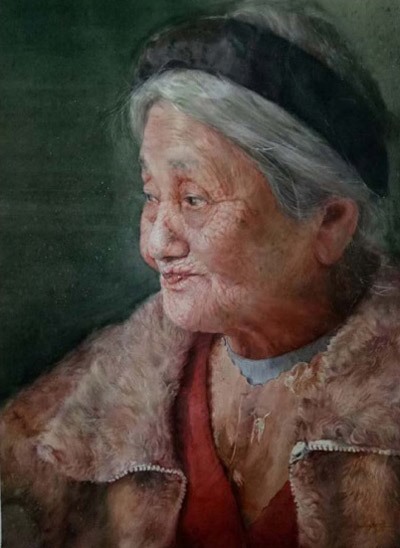 Nếp Thời Gian (Trace of Time), a painting by Nguyễn Văn Toàn.
COURTESY:
VIET NAM NEWS
Update: December, 29/2017 – 09:00
<>
NOTE : All photographs, news, editorials, opinions, information, data, others have been taken from the Internet ..aseanews.net | [email protected] |
For comments, Email to :
Goldenhands Arts Club | [email protected]| Contributor