HÀ NỘI: FOOTBALL – U23 squad honoured after Asian championship success
Fans fulfil Mỹ Đình Stadium in Hà Nội in a Gala to honour the national U23 team. — VNS Photo Công Đạt
.
.
Viet Nam News
.
Football
HÀ NỘI — The national U23 squad yesterday were honoured for their success at the Asian championship at a Gala at the Hà Nội's Mỹ Đình Stadium.
The young team travelled an unbelievable journey in China: a team that were considered the underdogs, took home the silver medal from the biennial tournament.
Việt Nam ranked second in the group round, losing 1-2 to South Korea, winning 1-0 over Australia and drawing 0-0 against Syria.
They shocked the continental with a 5-3 victory against Iraq in a penalty shootout in the quarter-finals, and then created an earthquake by beating title candidate Qatar 4-3 in another shootout in the final-four stage.
In the final, the Southeast Asian team only lost to Uzbekistan by a last-minute goal in extra time.
"It is the first time in history that we defeated a number of Asian powerhouses in an official tournament and became a new force on the continent," said Minister of Culture, Sports and Tourism Nguyễn Ngọc Thiện.
"The success of the team originated from the players' discipline, the great effort together with suitable tactics and the strong encouragement of the national supporters. They opened a new chapter in Việt Nam's football. Thank you for a historic success," he said.
In front of about 40,000 fans who filled Mỹ Đình Stadium, captain Lương Xuân Trường said: "I can't describe my feeling at the present. From our first step at the airport until here, we are congratulated by tens of thousands of supporters. Thank you, we will never forget this moment."
"We are happy that we made a special championship which pleased the people. We promise that we will create more happiness for people in the future," he added.
Earlier in the afternoon, Prime Minister Nguyễn Xuân Phúc invited and congratulated the 31-strong contingent to the government office.
"The whole team united together, overcoming difficulties of physique and small stature, as well as the hard conditions of the weather. They also practiced hard, worked in a team and showed their composure and confidence during the tournament for the pride of the country. And they made miracles," said PM Phúc.
"You won against strong rivals and only lost in the last minute of the 120-minute final. You lost one game, but won the hearts of more than 90 million people of Việt Nam. Yout fair-play award represents Việt Nam's beautiful characters of friendliness, modesty and simplicity," he said.
The PM also praised the role of head coach Park Hang-seo in Việt Nam's outstanding achievement.
He said Park successfully inspired the young players' potential and belief. From that, he guided the team to their wonderful result for Việt Nam.
PM Phúc also sent his thanks to the coaching board, technical director, and other members of the team.
On behalf of the government, PM Phúc presented the first-class Labour Order to the team. He also gave three third-class Labour Orders to head coach Park Hang-seo, goalkeeper Bùi Tiến Dũng and midfielder Nguyễn Quang Hải.
Other members of the team received Prime Minister's certificates of merit presented by Deputy Minister Vũ Đức Đam.
PM Phúc was given a ball and from the national team, along with the signatures of all players and coaches.
Heroes welcomed home
Tens of thousands of fans endured cold weather to greet Việt Nam's U23 squad yesterday as they returned home to celebrate winning a silver medal at the Asian Championship, which closed in China on Saturday.
Many waited for more than five hours to see their young idols, who lost 1-2 to Uzbekistan in the last minute of the final match, but displayed their great performances throughout the tournament.
Players arrived in Hà Nội at around 1pm and traveled in an open bus from the Nội Bài International Airport to the city centre. Supporters queued up for 30km along the route, many carrying national flags and banderoles, which made the entire city reddish.
They also screamed the names of the players, as well as chanted in chorus: "Việt Nam vô địch" (Việt Nam, the champions).
"It was a really wonderful tournament for me, as well as for my teammates," said midfielder Nguyễn Quang Hải, sitting atop the bus.
"I believe that it will be difficult to see such a great scene in my career for a second time," said Hải, who wrapped a flag thrown up by a fan around his neck, while watching people wave on the streets.
"It is unbelievable. I think it will be the first time in history that a team that finished second in a tournament were welcomed like champions," said former national defender Phạm Như Thuần.
"Many teams in the world receive great welcomes, but none likes this, and it may not happen again in the future," he said. — VNS
Vietnamese players celebrate their goal during the final of the AFC U23 Championship in China on Saturday. — Photo the-afc.com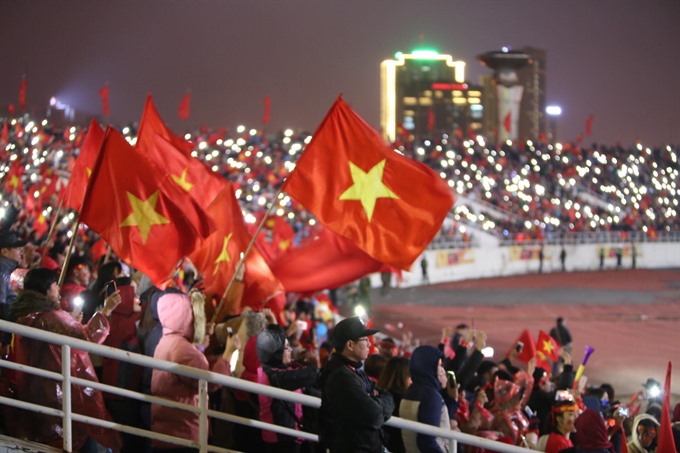 Fans fulfil Mỹ Đình Stadium in Hà Nội in a Gala to honour the national U23 team. — VNS Photo Công Đạt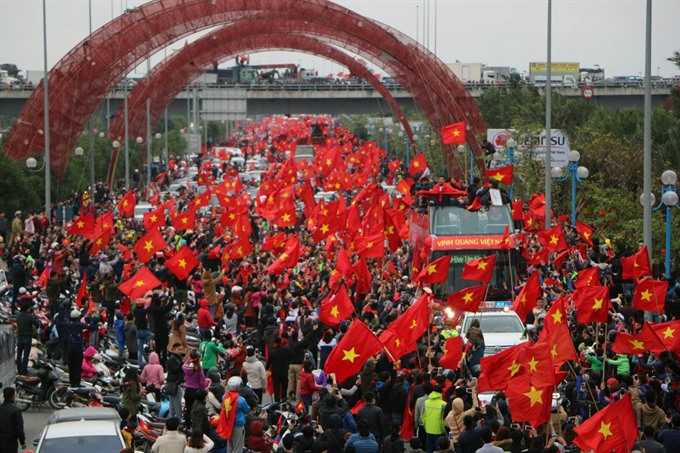 Tens of thousands of people welcome U23 heroes home. — VNS Photo Đoàn Tùng
See also:
Saigon Heat lose to Alab Pilipinas

 (January, 29 2018)

Dũng, Hải mentioned on prestigious sports website

 (January, 29 2018)

Nam wins first round of VTF Pro Tour 1

 (January, 29 2018)

Federer 'no idea' how long he will go on

 (January, 29 2018)

Mertens keeps Napoli top, Milan stall Lazio in Serie A

 (January, 29 2018)

PM Nguyễn Xuân Phúc welcomes U23 Việt Nam

 (January, 29 2018)
COURTESY:
Viet Nam News
Update: January, 28/2018 – 22:5
.