LIFE+STYLE-HERITAGE: Tà Lang and Giàn Bí villages of Hòa Bắc Commune of Bạch Mã in Thừa Thiên-Huế and Bà Nà-Núi Chúa of Đà Nẵng – Cơ Tu community revives centuries-old culture
Important event: Cơ Tu people take part in traditional dance and gong performances in front of a Gươl (long communal house) during a festival in Giàn Bí Village of Hòa Bắc Commune in Đà Nẵng. — VNS Photo Hoàng Long
.
.
The Cơ Tu ethnic community has been struggling to preserve its culture and traditional customs that have mostly faded away with rapid urbanisation. This group lives in Tà Lang and Giàn Bí villages of Hòa Bắc Commune, situated in a vast valley between the two nature reserves of Bạch Mã in Thừa Thiên-Huế and Bà Nà-Núi Chúa of Đà Nẵng. The community is now trying to develop eco-tourism to revive its culture. Bùi Hoài Nam reports
.
Phan Thị Thiện, a 34-year-old woman belonging to the Cơ Tu ethnic group, recalls the pre-wedding customs practised by her people – when a pig is offered as a wedding gift by the groom's family, and the bride's family presents chicken or ducks to the groom's for pre-wedding parties.
This is one of the rare customs that have been preserved by the Cơ Tu for the past two centuries – when the community settled in the area.
"My wedding's offering from the groom's family is one of the oldest traditional customs that our community has preserved. It's a celebration of happiness for both families when relatives are invited to pre-wedding feasts," Thiện says.
"House on stilts, a symbolic accommodation of the Cơ Tu people, is no longer seen in the community now that brick walls and metal roofs have replaced traditional houses," she says.
The Cơ Tu still speak their own language in daily life, but they have changed their lifestyle to look modern as the townfolk.
"Our village is 40km west of Đà Nẵng City and with easy connectivity; we are very close to the people of the city. So the Cơ Tu can learn modern ways from them, says Thiện.
She also says that the traditionally woven brocade costume and traditional dances are only seen once a year at the village's festival in June when villagers have finished their crop cultivation.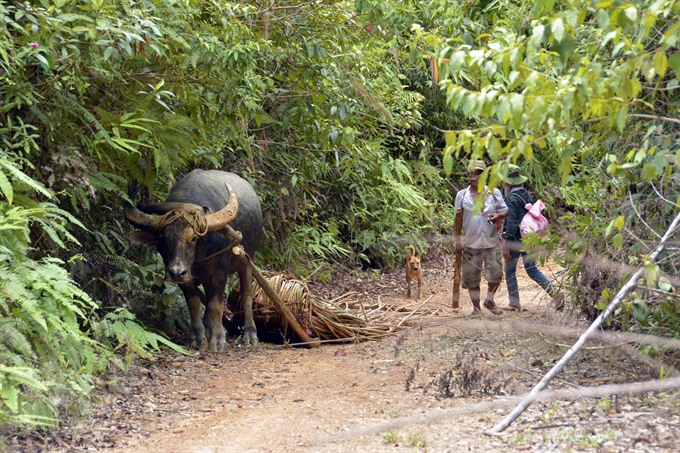 Rural life: A Cơ Tu man drives his buffalo with rattan from the forest in Hòa Bắc Commune. Eco-tour services in the mountainous area will help ease forest exploitation by the Cơ Tu community living near the Bà Nà-Núi Chúa nature reserve. — VNS Photo Bùi Văn Tuấn
.
Bùi Văn Cầm, 85, head of Giàn Bí Village, recalls that the first generation of the Cơ Tu set foot in the area some 200 years ago.
"A group of the Cơ Tu arrived from the mountainous Tây Giang District in Quảng Nam Province to build new villages in the valley. Our community still adopted the traditional culture and customs in the new land, but they started fading from the late 1980s," Cầm says.
"Only the language has been preserved; the written word had disappeared long time ago. The Cơ Tu people stopped weaving ethnic clothes as industrial textiles became more fashionable and popular among the old and young alike," says Cầm, the eldest in the village.
The tân tung da dá dance (to express gratitude to heaven) and gong play of the Cơ Tu are rarely hosted by the village anymore," he says. He attributes it to poverty and unstable income to host traditional festivals regularly.
He recalls that traditional houses on stilts were built from big logs chopped down from the forest, and each village often built a gươl (long communal house) for villagers to gather during festivals and meetings. The house was also meant for the spiritual protection of the community, he says.
Illegal logging in jungles to construct traditional houses is now banned, and almost all modern houses are built with State subsidy, says Cầm.
Disappearance
The Cơ Tu people living in the two villages have adopted the family names of the Kinh (Vietnamese majority) people. The Đinh, Bùi, Phan and Nguyễn clans are popular in the community, but traditional family names such as Arất, A Tiêng, Clâu, B'h Riu or A Lăng are not used anymore, as it is among the Cơ Tu community living in Quảng Nam.
.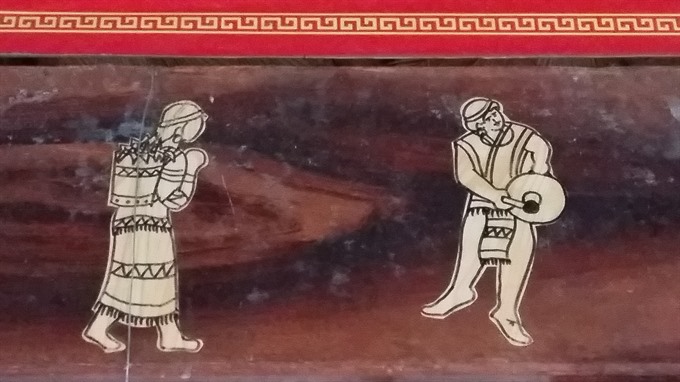 Traditional scene: A carving of Cơ Tu people is seen on a wooden beam of the Gươl house. Wood carving is a traditional craft of Cơ Tu people. — VNS Photo Công Thành
.
Bùi Văn Siêng, 70, from Giàn Bí Village says the emigration of the Cơ Tu along the mountain range from Hải Vân Pass in Đà Nẵng and the lowland areas of neighbouring Quảng Nam was a major reason for the disappearance of the traditional family names of the Cơ Tu.
"The Cơ Tu mixed freely with the Kinh people during the mass movement. Some women from the Cơ Tu community married Kinh men, and their children were given the father's family name," Siêng says.
"They (young generation) speak both Vietnamese and the Cơ Tu language. They also practise the traditional culture and farming methods of the Cơ Tu, as well as their means of communication, but they have the family names of the Kinh," he says.
"It's great intermingling of cultures, but a detailed research on the changes in the family names is yet to be done," he says.
The wooden masks and sculptures on timber columns of the Cơ Tu are not seen in the newly built long house in Giàn Bí Village.
Although spread over 10,000ha of prime forest – 30 per cent of the total 33,000ha of Hòa Bắc Commune – the Cơ Tu people in Tà Lang and Giàn Bí villages still live in poverty.
"Hòa Bắc Commune has a population of some 4,000, of which more than 700 were Cơ Tu, living on an area of 33,000ha (95 per cent is native forest) with rich biodiversity. However, villagers of Tà Lang and Giàn Bí, who live off poorly planned exploitation of livestock and forestry production, are still among the poorest in the commune," says Thái Văn Hoài Nam, deputy chairman of Hòa Bắc communal people's committee.
"The Cơ Tu people breed more than 1,000 buffaloes and cows, but they are left to graze on farms or the forest," Nam says, adding that well-planned farms are yet to be built in the community.
"We have called for investments in hi-tech farms and organic agricultural businesses to improve the living standards of the Cơ Tu community. Making provision for eco-tour services will be a sustainable solution for the locals while easing forestry exploitation," Nam says.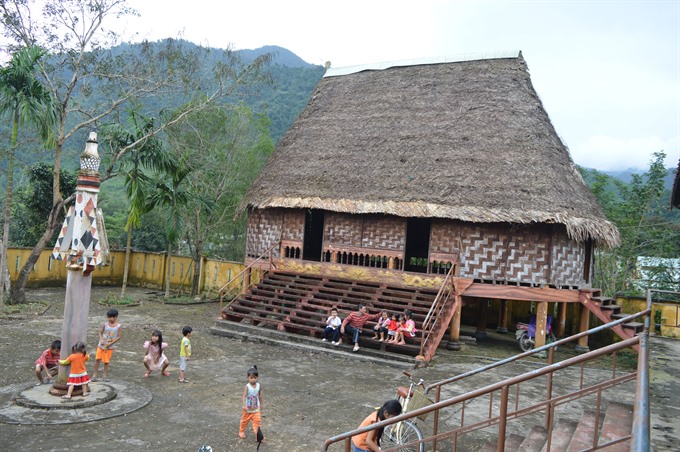 Village hub: A Gươl house is a major rendezvous point of all Cơ Tu people.
.
Đinh Văn Như, 38, who is the party secretary of Giàn Bí Village, says acacia farms have emerged as a positive occupation for more than 132 households, who are farming on 400ha and earning an average income of more than VNĐ12 billion (US$530,000) after five years.
Như says residents also earned from Payments for Forest Environmental Services (PFES), getting VNĐ100,000 ($4.4) per hectare a month.
"Some 81 households have joined the forest patrol teams to keep an eye on 5,000ha of primary forest. Some households have joined the ranger teams of the Bà Nà-Núi Chúa protective forest management board to raise awareness among the community about environmental conservation," Như says.
The Cơ Tu man says that despite the hard work, villagers still live in poor conditions, earning an income of just VNĐ1.2 million per month ($53).
He blames the unstable market price of acacia for the risk undertaken by the log farm owners, who are mostly from the Cơ Tu community.
"The price of a tonne of acacia wood sharply dropped from VNĐ1.2 million in 2016 to VNĐ970,000 ($43), while the labour and other production costs remained high. The labour often accounts for 50 per cent of the output cost, while saplings and fertilisers add to the production cost," he explains.
Profitable crops, including coffee and pepper, must be planned for mass production in the area, he says.
Như says community-based tourism and eco-tour services will help villagers of Tà Lang and Giàn Bí improve their living standards, while reviving their traditional culture.
The young Cơ Tu people can revive their culture by learning from the elderly and by conducting cultural activities and performances while serving the tourism sector, he says.
New way
Hoàng Văn Long from the Đà Nẵng Institute of Socio-Economic Development says studies and programmes with support from international organisations have been undertaken to seek sustainable development for the Cơ Tu living in the two villages.
"The community-based tourism was started among the locals to raise their awareness about the need to protect the forests. They should understand the importance of the rich biodiversity of the Bà Nà-Núi Chúa nature reserve, thus preventing possible illegal logging and hunting in the forest," Long says.
"If they can earn better from community-based and eco-tour services, they will give up exploitation of forestry products," he adds.
Rhythms: A Cơ Tu man plays the drum during a festival in Giàn Bí Village. — VNS Photo Công Thành
.
He said the two villages are close to the Bà Nà-Núi Chúa nature reserve – which is one of the richest area in biodiversity in Đà Nẵng City.
The locals can earn from the nature-based eco-tour services and by showcasing their traditional culture rather than logging or hunting illegally, according to Long.
Biologist Bùi Văn Tuấn from the Đà Nẵng-based Centre of Biodiversity Conservation, GreenViet, a NGO, says the Bà Nà-Núi Chúa nature reserve can be protected well with positive participation from the local community.
"They are the best guardians of forest and wildlife. They should understand that protecting the forest will bring them more benefits than destroying the nature and wildlife illegally," Tuấn says.
He says the nature reserve – 6km away from Tà Lang and Giàn Bí villages – is home to a population of the red-shanked douc langur (Pygathryx nemaeus), an endangered primate recognised by the International Union of Conservation of Nature (IUCN).
A community-based tourism pilot project has been started in the two villages with the aim to revive the traditional ethnic culture.
.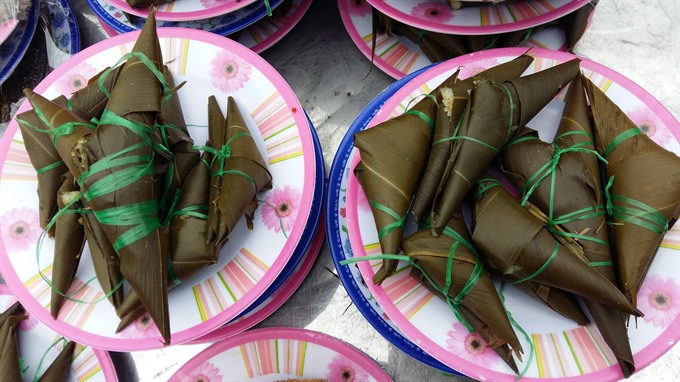 Tasty snack: Bánh sừng trâu (sticky rice cake in horn shape) is made by Cơ Tu people. The cake is offered for the harvest festival in June. — VNS Photo Công Thành
.
A group of 40 villagers were called to set up teams to prepare their cuisine, perform dances and gong play, offer home-stays and serve as tour guides.
Đinh Xuân Hải, 27, who plays the drum, says he earns a living from masonry, but he could spare time to serve tourists.
"We offer gong and dance performances to tourists staying in our villages. We introduce them to our traditional culture, cuisine and nature," he says, adding that providing tourism services will give him a stable income in the future.
Thiện, who has also joined the dance team, says she could earn more from tourism than the acacia farm and livestock.
"It's fine when we earn money from our traditional culture, at the same time preserving and boosting our culture," she adds. — VNS.
.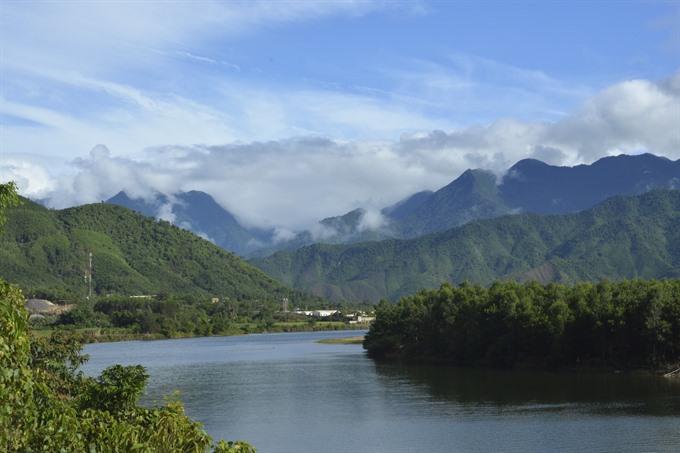 Middle of nature: A section of Sông Nam-Sông Bắc river is an ideal site for eco-tour service development. — VNS Photo Bùi Văn Tuấn

.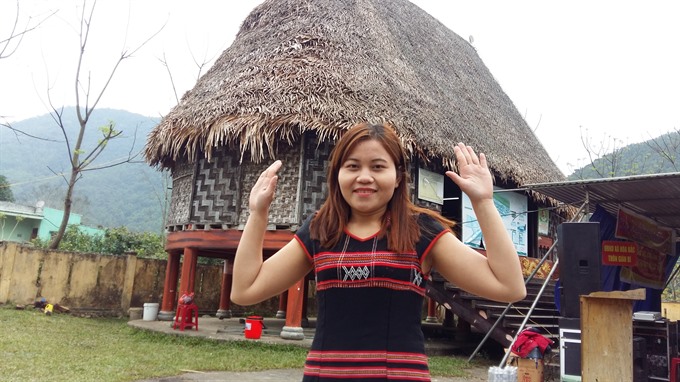 Saying thanks: A young Cơ Tu woman gestures an act of the tân tung da dá dance (to express gratitude to heaven). — VNS Photo Công Thành
.
Viet Nam News / Update: February, 25/2018 – 09:00 /
.
ASEANEWS EDITOR'S NOTE: The tradition is very similar to the Philippines' Ethnic IGOROT People of the Baguio, Benguet mountain province. Proof that Viet Nam and the Philippines have a common Ethnic background either through land or sea travel…
.
NOTE : All photographs, news, editorials, opinions, information, data, others have been taken from the Internet ..aseanews.net | [email protected] | For comments, Email to : Icarus d' Greek | [email protected] | – Contributor