TERRORISM: AUSTIN, Texas – Suspect in Austin bombings blows himself up as police move in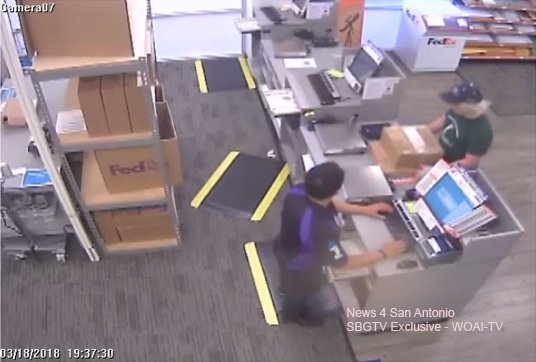 BREAKING: Exclusive photos of Austin bombing 'Person of Interest' dropping off 2 packages at Austin @FedEx store. Believed to be wearing wig. Recognize him?
.
.
AUSTIN: A man being sought over the deadly Austin parcel bombings blew himself up early Wednesday inside his car as authorities moved in to arrest him, police said.
"The suspect is deceased," Austin police chief Brian Manley told a news conference.
Manley said the suspect is believed to be responsible for all five bomb explosions that have killed two and wounded half a dozen more and put people on edge in the Texas capital since March 2. His motive was not known.
Police traced the man's car to a hotel outside Austin.
As authorities waited for tactical teams to arrive, the man started to drive away. And as police moved to stop and arrest him, the man detonated a bomb inside his car and was killed, Manley said.
One police officer was injured by the blast.
Manley said the suspect was a 24-year-old white man and that authorities could not rule out the possibility of there being other bombs out there somewhere. He did not release the man's name.
Police zeroed in on the suspect over the past 36 hours as evidence came in from video footage and witness accounts, Manley said.
"It has been a long almost three weeks for the community of Austin," the police chief said.
CBS affiliate KEYE in Austin published what it said were photos of the man, wearing a blue baseball cap, gloves and possibly a wig of long, straw-blond hair as he dropped off packages Sunday at a FedEx office. The photos came from security video at that office.
People urged to remain vigilant
One of the Austin bombs went off early Tuesday at a FedEx sorting facility.
Manley said it was not yet known if the man was acting alone or with accomplices.
Austin mayor Steve Adler told CNN the people of Austin still had to be vigilant because the probe continues and questions remain, such as where the suspect has been for the past 24 hours.
But for now, he said, "there is a sense of relief in this community as well as just extreme gratitude and thanks for this army of law enforcement agents that have been here." The FBI alone, for instance, sent in more than 350 agents to help in the investigation.
President Donald Trump said in a tweet, "AUSTIN BOMBING SUSPECT IS DEAD. Great job by law enforcement and all concerned!"
As the investigation proceeded, police said the bombs were growing in sophistication.
The first three were hand-delivered to the doorsteps of people's houses. The fourth featured a trip wire, and the fifth was sent into the FedEx delivery chain.
More than 1,200 calls came in from residents since police urged them to report suspicious activities after the first explosion.
In the end, police were offering a reward of $115,000 for information leading to an arrest.
Trump had weighed in on the wave of bombings for the first time on Tuesday.
"The bombings in Austin are terrible. Local, state and federal law enforcement working hand in hand to get to the bottom of it," Trump said.
"This is obviously a very, very sick individual or maybe individuals. These are sick people, and we will get to the bottom of it." AFP
AFP/CC    /  BY THE MANILA TIMES  / ON LATEST STORIES,     TODAY'S BREAKING NEWS / : All photographs, news, editorials, opinions, information, data, others have been taken from the Internet ..aseanews.net | [email protected] |For comments, Email to : JARED PITT | [email protected] | Contributor