ASEAN ARTS-CERAMIC ARTS: Exhibition pays tribute to talented lacquer artist – By Chị cõng em. — VNS Photo Ngọc Diệp
An image of a girl giving her younger brother a piggyback ride on the ceramic artwork Chị cõng em. — VNS Photo Ngọc Diệp
.
.
HCM CITY — A collection of 12 Thành Lễ ceramic pieces made in the 1960s is on display at the HCM City Book Pedestrian Street from March 19-25.
The ceramic pieces feature familiar images of Vietnamese culture and people such as the áo dài (Vietnamese traditional dress), chị cõng em (girl giving younger brother a piggyback ride), Trung thu (Mid-Autumn Festival), and Ngày Tết xin chữ (asking for calligraphy from scholars on Lunar New Year).
Collector Huyên Nguyễn is also showing the artwork titled con lân (unicorn) which was displayed in 1965 at an exhibition in Paris.
Production of Thành Lễ pottery, which is one of the best known ceramic makes in southern Việt Nam, began in the late 1950s.
Its founder was Nguyễn Thành Lễ, an artist who graduated from the Thủ Dầu Một Applied Fine Art School in Bình Dương Province.
Thành Lễ pottery, which was influenced by international art forms, was different from others at that time because the pieces were created by talented Vietnamese painters and artisans.
The products, decorated with a variety of techniques, often represented Vietnamese tales and historic battles.
The Thành Lễ brands, thanks to unique forms and subjects, remains popular and admired. Thành Lễ ceramic products had won awards at many exhibitions in Asia and Europe. — VNS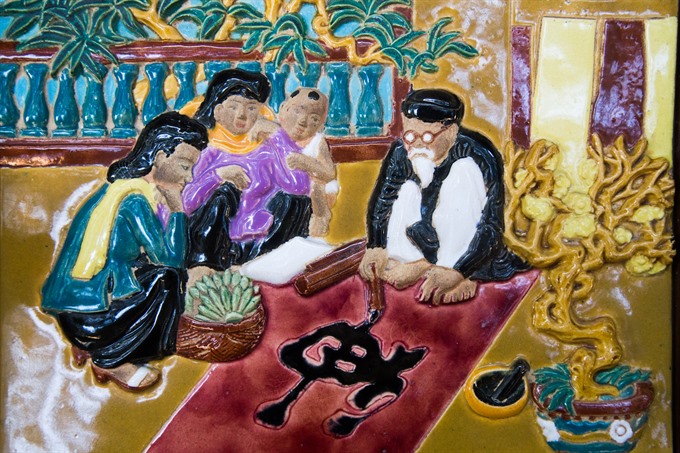 Ngày Tết xin chữ shows a Vietnamese asking scholars for calligraphy that they will later hang up for good luck. — VNS Photo Ngọc Diệp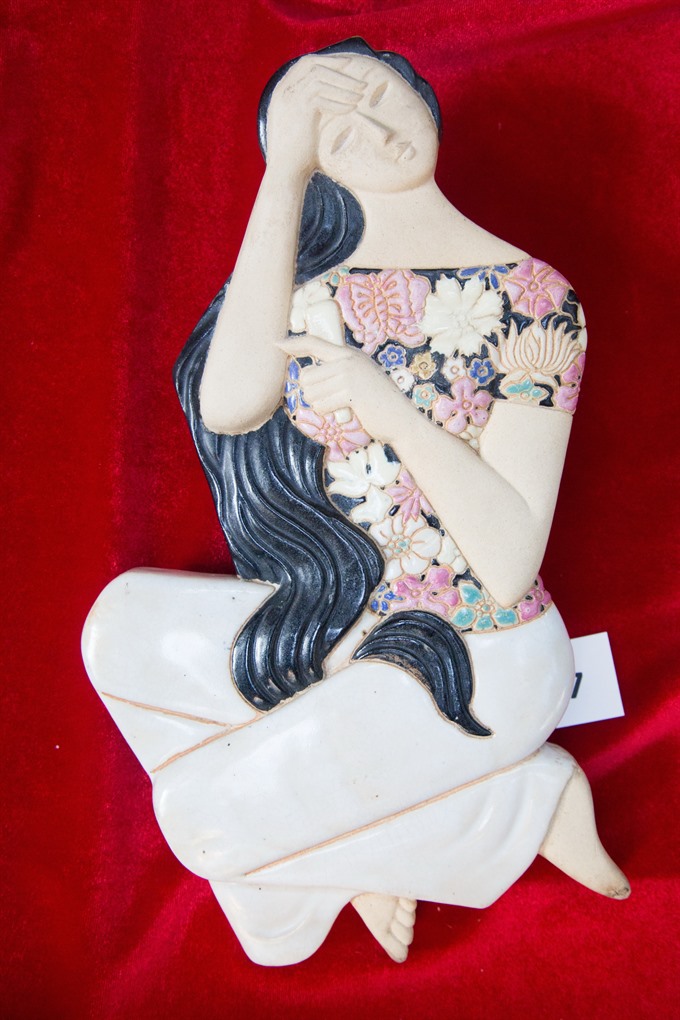 The ceramic piece titled Thiếu nữ chải tóc shows a young girl combing her hair. — VNS Photo Ngọc Diệp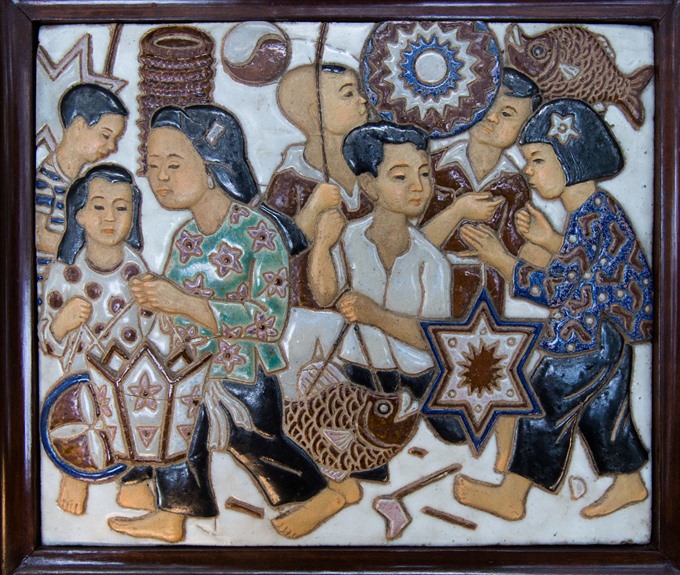 The Trung thu ceramic represents Vietnamese celebrating the Mid-Autumn Festival. — VNS Photo Ngọc Diệp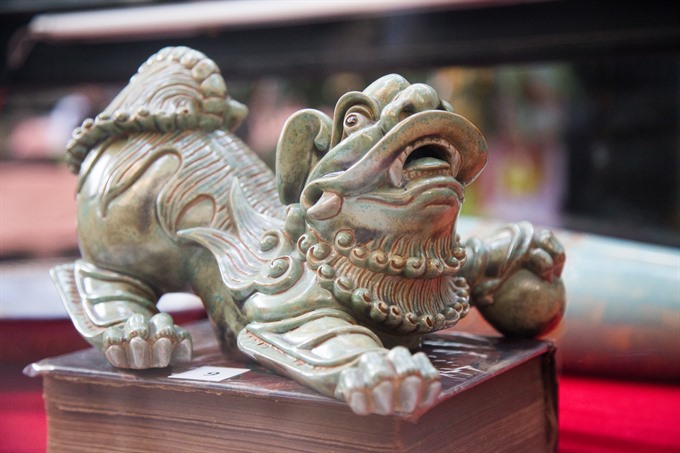 A ceramic artwork titled con lân (unicorn) was displayed in 1965 at an exhibition in Paris. — VNS Photo Ngọc Diệp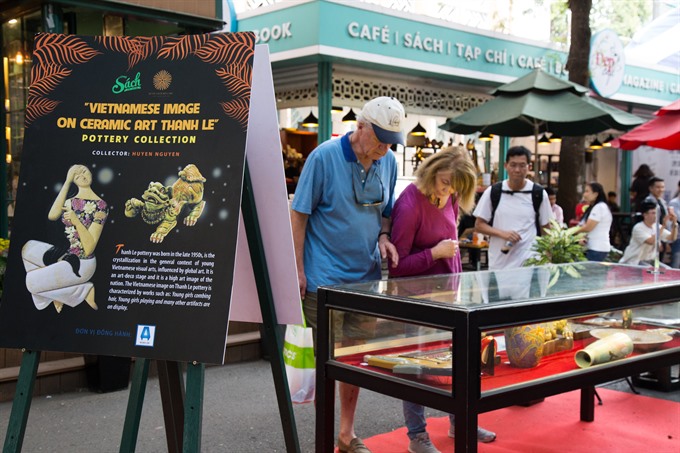 Thành Lễ ceramic features images of Vietnamese people and culture. — VNS Photo Ngọc Diệp
Collector Huyên Nguyễn is showing 12 Thành Lễ ceramic artworks on HCM City Book Pedestrian Street from March 19-25. — VNS Photo Ngọc Diệp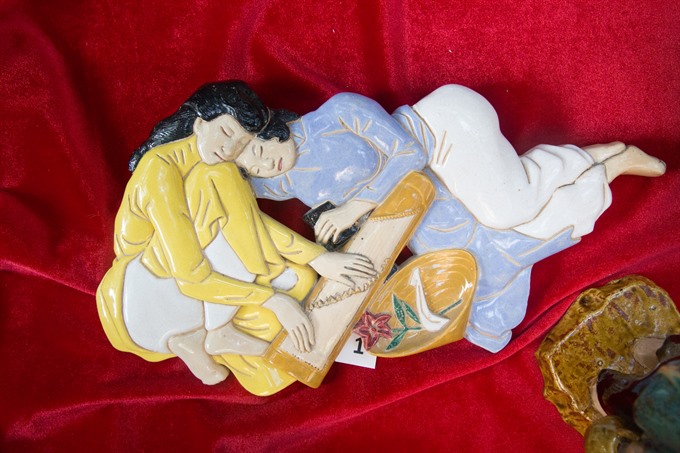 Young girls play the traditional Vietnamese instrument đàn tranh (zither). — VNS Photo Ngọc Diệp
 Viet Nam News /by Ngọc Diệp / Update: March, 24/2018 – 07:00 / / All photographs, news, editorials, opinions, information, data, others have been taken from the Internet ..aseanews.net |
[email protected]
| For comments, Email to : Goldenhands Arts Club |
[email protected]
| Contributor