ASEANEWS' HEADLINE 'Senators cool to Gordon report on Dengvaxia' By The Philippine Star– Friday, April 13, 2018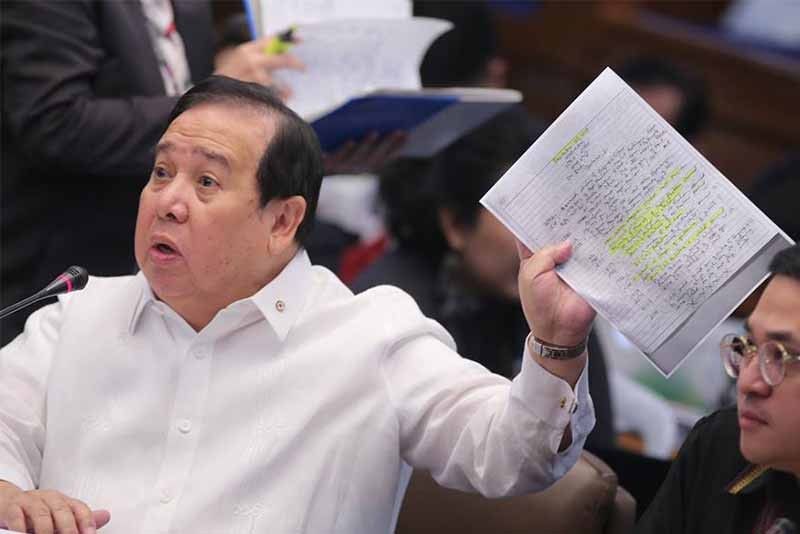 "PNoy should have exercised more prudence and oversight instead of allowing Garin and Abad to proceed with the purchase of the controversial vaccine. That is a failure of leadership that should hound his conscience and legacy," Sen. Joseph Victor Ejercito said in a statement yesterday. Senate PRIB/Joseph Vida
MANILA, Philippines — Senate colleagues of Blue Ribbon committee chairman Richard Gordon do not share his view that former president Benigno Aquino III should be held criminally liable for the Dengvaxia controversy.
In a press briefing last Wednesday, Gordon said his committee – in a draft report – recommended holding Aquino, former health chief Janette Garin, former budget secretary Florencio Abad and Philippine Children's Medical Center executive director Julius Lecciones liable for violation of the Anti-Graft and Corrupt Practices Act.
But Sen. Joseph Victor Ejercito, chairman of the Senate committee on health, said that while Aquino is guilty of negligence for not exercising due diligence before giving the green light to the vaccination program, Garin and Abad are the ones who should be held liable "for the Dengvaxia mess that has endangered the lives of almost one million children."
"PNoy should have exercised more prudence and oversight instead of allowing Garin and Abad to proceed with the purchase of the controversial vaccine. That is a failure of leadership that should hound his conscience and legacy," Ejercito said in a statement yesterday.
"But the Senate hearings have shown that former Department of Health secretary Janette Garin and former budget secretary Florencio Abad are the principal conspirators in the anomalous procurement and questionable implementation of the vaccine," he added.
Ejercito pointed out that it was Garin who recommended the purchase of P3.5 billion worth of the untested vaccine from Sanofi Pasteur.
In the case of Abad, he said it was he who "facilitated, recommended and approved the release of the money without congressional approval in amazing record time, and during a holiday period at that."
Ejercito urged the affected parents to file a class suit against Sanofi and for the government to pursue all legal remedies against the French firm with the end in view of establishing an indemnity fund for affected children "to provide them with financial assistance for medical care throughout their lifetimes."
"Filing of charges will give chance for all the accused to air their side and defend themselves in court," he said.
Sen. Panfilo Lacson also questioned Gordon's recommendations against Aquino.
"Having worked closely with ex-PNoy both in the Senate and Malacañang, it is difficult for me to believe that he was capable of committing graft and corruption," Lacson said.
Sen. Paolo Benigno Aquino IV said he could not comprehend why the former president and his officials were being held liable for graft and corruption when no issue had been raised about anyone profiting from the program.
He said there was no way for the former president to have prior knowledge of Dengvaxia's side effects at the time of the purchase of the vaccine. He explained Sanofi shared such information only recently.
The senator said Gordon's move was politically motivated as the administration and its allies have made it a habit to treat the Liberal Party as its "favorite punching bag."
Sen. Antonio Trillanes IV said the conspiracy mentioned by Gordon among Aquino, Garin and Abad was all in his mind and not based on fact.
He said the unsigned report was released as a stunt aimed at harassing the political opposition.
"It's political harassment. These things are happening within the context of the Chief Justice under fire. Of course Sen. (Leila) De Lima is in jail right now and even myself, I was a subject of political harassment. So all of these things are part of that big picture. It cannot be taken in isolation," Trillanes pointed out.
He said the committee report would never be approved or adopted by the Senate.
One-sided
A leftist party-list representative called Gordon's report "one-sided."
"It should be noted that the report presented by Senator Gordon to the public is a mere draft that does not, at this point, represent the findings of the Senate Blue Ribbon committee," Rep. Antonio Tinio of the militant Alliance of Concerned Teachers said.
"We hope that the Senate as a whole will not allow its investigation into this issue to be reduced to yet another one-sided and partisan exercise but will ascribe accountability to all who played a role in exposing the health and safety of hundreds of thousands of Filipinos to undue risk," he said.
He said Gordon was right about holding Aquino and his officials accountable for approving the dengue vaccination program and procuring P3-billion worth of Dengvaxia vaccine from Sanofi.
"However, he is silent on the role played by the Duterte administration in perpetuating the same, despite the availability of more information and studies regarding the risks of the experimental vaccine," he added.
Other colleagues of Tinio earlier said President Duterte was ultimately responsible for the hysteria created by separate investigations by state agencies on the alleged adverse effects of Dengvaxia inoculation.
They said people have become so afraid of the dengue vaccine that they do not want their children to undergo any vaccination.
Another congressman, Gary Alejano of Magdalo, said there is no solid evidence yet linking Dengvaxia to any of the reported deaths of children who received the Sanofi vaccine.
He said even the high profile Public Attorney's Office (PAO), which has refused to cooperate with the DOH, has not found evidence.
"Due to baseless fear, the public has lost trust in the government's vaccination program. As a result, there is now a rising incidence of ailments that could be prevented through vaccination," he said.
Alejano's opposition colleague Edcel Lagman of Albay earlier denounced PAO for its "hysterics."
Lagman said the agency has instilled so much fear about Dengvaxia that many parents do not want their children given vaccination against preventable diseases like measles.
Meanwhile, Health Secretary Francisco Duque III said his department is "one with the Senate Blue Ribbon committee in bringing those responsible to justice" in the Dengvaxia fiasco.
"Since day one, my marching order was to assist investigations aimed at determining gaps in processes and the culpability of officials in rolling out the dengue vaccination program," he said.
 Garin: Gordon prejudged the case
"Sen. Gordon has prejudged the case from the very beginning based on the inputs of vested interest parties who want to control the DOH," Garin said.
In a statement, Garin explained that it was former health chief Enrique Ona who declared that there was a dengue epidemic when he was the health secretary.
"We, in the DOH, then acted accordingly to meet the health crisis. It is manifest that the anti-dengue immunization program was important because secretary-designate Ubial continued and even expanded it," she said
"I am thankful that the report will be submitted so as his opinions and allegations may be answered in the proper forum. Again, I strongly believe he has been ill advised and has already made his own conclusions on the issue."
She said she was awaiting a copy of the announced report for review and would respond to "every point the Senate committee has raised."
"My conscience is clear and I am ready to answer any charge that will be filed against me in a court of law," she said.– With Jess Diaz, Mayen Jaymalin / Marvin Sy  (The Philippine Star) – April 13, 2018 – 12:01am
.
| All photographs, news, editorials, opinions, information, data, others have been taken from the Internet ..aseanews.net | [email protected] | For comments, Email to : aseanews.net |