OP-ED EDITORIAL: OPINION – 'Six-notch fall' – Friday, April 27, 2018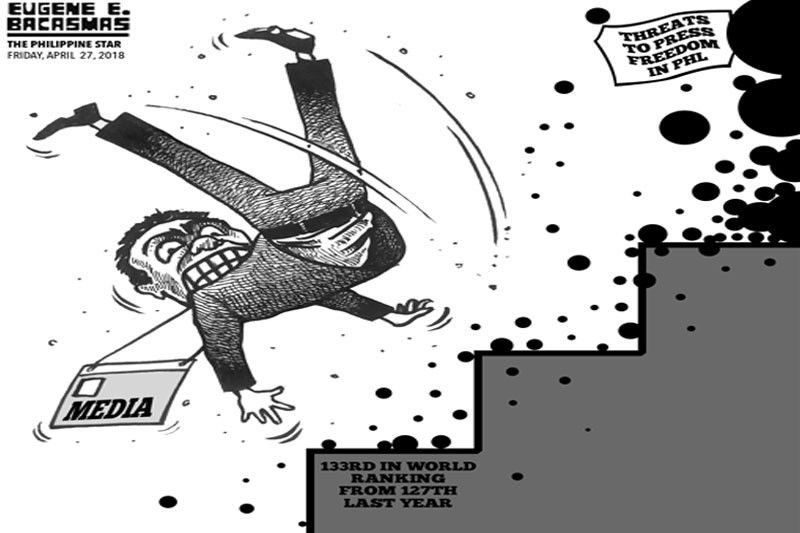 With four journalists murdered last year in attacks believed to be related to their work, the Philippines has again emerged as the deadliest country in Asia for media workers in 2017. And with other issues seen as attacks on press freedom, the country fell by six notches in the 2018 World Press Freedom Index prepared by watchdog Reporters Without Borders.
The Philippines joined the 25th celebration of World Press Freedom Day on April 26, with a theme that resonates in this country – "keeping power in check: media, justice and the rule of law." The United Nations Educational, Scientific and Cultural Organization, which is spearheading events to mark the special day, explains that the theme seeks to highlight transparency in the political process, independence and media literacy of the judicial system, and public accountability of state institutions.
Of 180 economies included in the study, the Philippines ranked 133rd, down by six notches from 127th in the previous year. Apart from the impunity that reigns in murdering journalists in this country, Reporters Without Borders noted President Duterte's skirmishes with media organizations.
While some of the world's largest economies rank low in the index, press freedom has been linked to overall quality of life, quality of governance, and happiness as measured according to human development indicators. The top 10 slots in the World Press Freedom Index are dominated by advanced economies: Norway, Sweden, the Netherlands, Finland and Switzerland occupy the top slots.
.
This is one area where Asia's dynamic economies do not lead the pack, but those that rank high also happen to be among the most prosperous. Taiwan is the highest ranked Asian economy, improving by three notches to 42nd place, followed by South Korea, which jumped by an impressive 20 notches. Japan ranked 67th and Hong Kong 70th. East Timor placed 95th – a three-notch improvement – while Indonesia retained its 124th place.
The Philippines at least did better than Myanmar (137th place, down by six notches), Thailand (140th), Cambodia (142nd) and Malaysia (145th). Singapore, with its different concept of the role of mass media, remained at 151st place. Communist Vietnam was in the bottom 10 at 175th, with China right behind it at 176th. North Korea retained its bottom spot.
A free press plays a critical role in promoting good governance and social justice. Any government that professes to give priority to these issues should address threats to press freedom and promote an enabling environment for mass media. / The Philippine Star -April 27, 2018 – 12:00am
ASEANEWS EDITORIAL CARTOONS:.
7.1.  Red's agenda is not peace – The Daily Tribune
7.2  Threats to the economy –  The Manila Bulletin
.
7.3.  Threats to the economy –  The Manila Standard
7.4. THE RECENT TRUMP/MACRON MEET –  The Manila Times
.
7.5.  The rescue caper–  The Philippine Daily Inquirer

.
7.6  Six-notch fall   – The Philippine Star
 .
.
7.  Sinibak pero ibinalik muli– Pilipino Star Ngayon
.
.
8.1.   Premium-   Watershed moment on Korean Peninsula – For The Straits Times
– Ravi VelloorAssociate Editor – For The Straits Times
A 35-year veteran of the trade, he has reported from across Asia, and the US. Formerly Foreign Editor and South Asia Bureau Chief of ST, he is as much at ease with global business and macro-economic issues as he is with diplomacy and international politics. A Jefferson Fellow, Ravi previously worked with Bloomberg News, Time Warner magazines and Agence France-Presse.
.
9.1.  Regime's best-laid plans still subject to folly –
VEERA PRATEEPCHAIKUL FORMER EDITOR
– The Bangkok Post
10.1   Keeping a balanced view on access to high places – Viet Nam News by Thu Trang
llustration by Trịnh Lập
.
.
NOTE : All photographs, news, editorials, opinions, information, data, others have been taken from the Internet ..aseanews.net |
[email protected]
|.For comments, Email to :D'Equalizer |
[email protected]
| Contributor.