ASIAN PAINTINGS: HÀ NỘI – Vietnamese, Thai, Japanese artists give silent talk through art
Sewing the Sunset, a lacquer by Công Kim Hoa.
.
.HÀ NỘI — Imposing landscapes, daily life stories and internal sensations are themes of a joint exhibition between Vietnamese, Japanese and Thai artists.
The exhibition, entitled Silent Talk, opened on May 15 at the Việt Nam Fine Arts Museum, featuring paintings and sculptures of Wattanachot Tungateja, Mukai Katsumi and Công Kim Hoa.
Coming from three different cultures, the three artists have their own materials and methods of expression.
Tungateja uses modern acrylic material. The objects in his paintings appear to be simple, such as rocks or the sky, but they represent abstract images of the world and humanity, when the audience takes a closer look.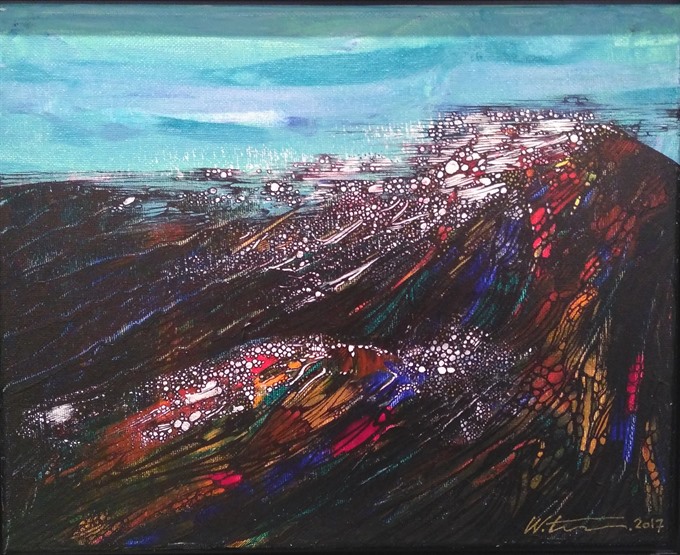 One painting in Eart and Sky series by Wattanachot Tungateja.
.
Meanwhile, Hoa uses Vietnamese traditional lacquer. Her abstract paintings are made up of bold shades and brushstrokes, and successfully make the most of the colour lacing technique of lacquer art. In her paintings, shapes and strokes are just a tool to embellish the background.
Art critic Phan Cẩm Thượng observed her creative journey with the appreciation of how she has brought out the beauty by using her own language.
"She seems to be at the balance point, without showing off formality, without complexity, but also there exists no sign of negligence nor carelessness," said Thượng.
"She consciously discovers any subtle forms to expose that emotional world."
A visitor walks by sculpture by Katsumi Mukai. — VNS Photo Minh Thu
.
Mukai is familiar with Vietnamese audiences, with many majestic works displayed in grand art centres in the country. His artworks exhibited at the exhibition are made of wood. These wooden sculptures are neither human-shaped nor anything-shaped, but evoke the invisible links between humans and nature. Mukai also showcases some abstract pencil paintings with the same inspiration with wooden sculpture.
"These sculptures from Mukai bring the audience to a space where they can observe and feel the organic sensibility of creations – purity and consistency – there are even metaphors of up and down rythms of planes, a transforming between solid and spatial volume of forms, various sizes of shapes and the continuous moving of lighting gradients, which are created by an energetic soul and precise carving hands," said art critic Phạm Long.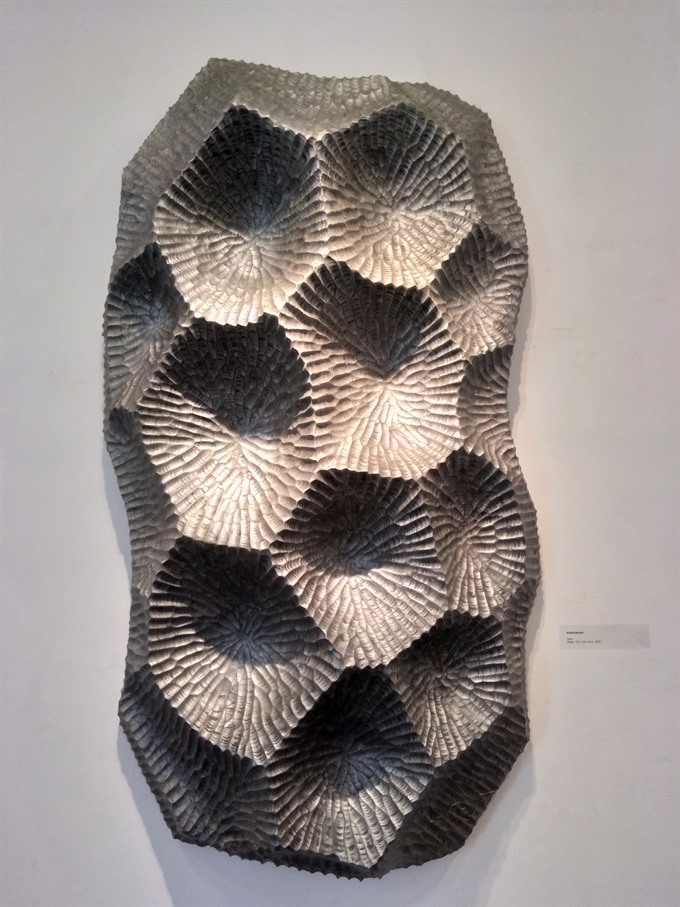 Faces, a sculpture by Katsumi Mukai. — VNS Photo Minh Thu
.
"Being open to the dawn, resigning themselves to the twilight or the solitude at the corner of an unknown room, the inelegant sculptures of Mukai are standing quietly, but vibrating an enormous energy, the energy of silent spirit, the energy which whisper to us about the fate of trees, the destiny of human beings and the cycle of life and death in this world," he said.
The art critics shared the same opinion, that the exhibition is highly recommended to see because the artists are all noted names and serious about their creativity.
The exhibition will run until May 22 at the Việt Nam Fine Arts Museum, 66 Nguyễn Thái Học Street, Hà Nội. — VNS
Viet Nam News /  Update: May, 16/2018 – 15:27   /All photographs, news, editorials, opinions, information, data, others have been taken from the Internet ..aseanews.net | [email protected] | For comments, Email to : Goldenhands Arts Club | [email protected]| Contributor