ASEANEWS EDITORIAL-CARTOONS: 'Above suspicion'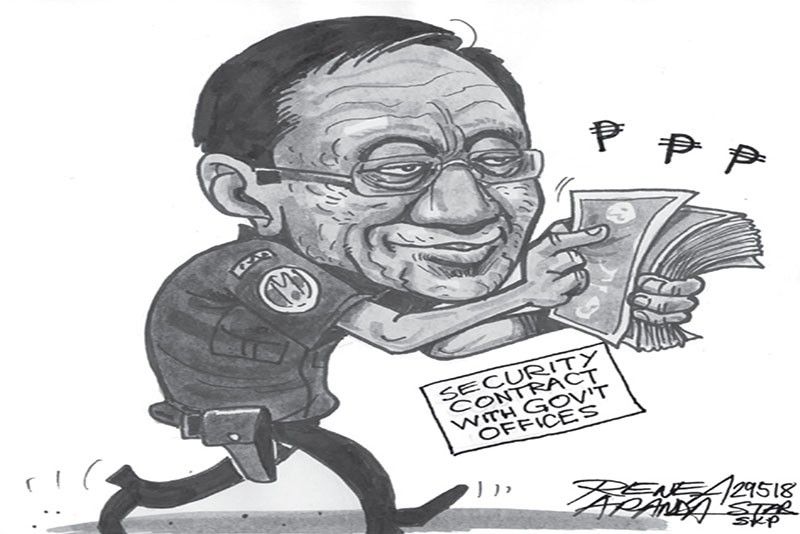 If President Duterte wants his war against corruption to enjoy credibility, he must make sure one of his principal warriors is above reproach. Solicitor General Jose Calida, who now has the power to remove a chief justice by merely petitioning the Supreme Court, is under fire for contracts bagged by his family's security firm with several government agencies.
Since Calida became the government's chief lawyer, the lucky company, Vigilant Investigative and Security Agency Inc., has reportedly won over P150.8 million in 10 contracts from six government agencies including the Department of Justice. Calida denies conflict of interest, stressing that he resigned as chairman and president of Vigilant on May 30, 2016, shortly before assuming his post as solicitor general.
The company remains safely in the hands of the new chair and president, Calida's wife Milagros, and its vice president and corporate secretary, their son Josef. Daughter Michelle is treasurer. The company is wholly family-owned. Securities and Exchange Commission records as of Sept. 29, 2016, according to published reports, show that Milagros, Josef, Michelle and third child Mark Jorel own 10 percent each of corporate shares while Calida owns 60 percent.
Calida has denied any conflict of interest and indicated that his resignation from his posts in the family business constitutes compliance with anti-graft laws. His defenders say there is nothing wrong with his family business winning multimillion-peso deals with the governmen
.
The solicitor general is not the principal watchdog against corruption. That is the role of the Office of the Ombudsman, which is looking into accusations of wrongdoing hurled against Calida. There is also a presidential task force created recently, which has reportedly drawn up a long list of officials from national and local government agencies implicated in corrupt deals.
But the government's chief lawyer is supposed to represent everything that the Chief Executive stands for. And President Duterte has often said two of his priorities are the war on illegal drugs and the campaign against corruption. He has been firing members of his official family, including friends from his student days, even before guilt is conclusively established on accusations of graft. His chief lawyer is also expected to be like Caesar's wife, above suspicion of wrongdoing.   The Philippine Star – May 29, 2018 – 12:00am
.
ASEANEWS EDITORIAL CARTOONS:.
7.1.  The Daily Tribune –  One step at a time
7.2   The Manila Bulletin – We will put dev't loans to good use
.
7.3.  The Manila Standard –A matter of perception
7.4.  The Manila Times –NATIONAL ID SYSTEM
7.5.  The Philippine Daily Inquirer – Cleaning house at the DOJ
7.6   The Philippine Star –  Above suspicion
 .
7.  Tax sa petroleum products, ibaba – Pilipino Star Ngayon – – Madi-LIM at kulim-LIM ang MAYNILA!
.
8.1.  For The Straits Times –   The value of unpaid housework

Euston Quah
  All photographs, news, editorials, opinions, information, data, others have been taken from the Internet ..aseanews.net |
[email protected]
|.For comments, Email to :D'Equalizer |
[email protected]
| Contributor.