TOURISM-TRAVEL: Davao City exerts of beguiling charm
Walking curve: Part of a 700-metre suspension bridge at Hijo Resorts Davao. — VNS Photo Trần Văn Giáp
.
.
It is easy to "get lost" in the many attractions that the largest city in the Philippines offers, discovers Xuân Hương.
I have to confess that despite being a fellow ASEAN member, my knowledge of the Philippines was relatively scant, and impressions limited.
Of course, I knew the Philippines and Việt Nam shared recent experiences of devastation wrought by natural disasters.
My curiosity was piqued therefore, when I got the opportunity to visit a city that I heard was naturally protected from disasters and which enjoyed stable weather all year round.
Another confession I have to make is that despite doing some research before going on the familiarisation trip organised by the Philippines Department of Tourism and sponsored by Philippine Airlines, I was more than pleasantly surprised by Davao City.
What struck me was not just the natural beauty of the place, with its sandy beaches, spectacular sunsets, forests and waterfalls, but the vibrancy of the place. I got the feeling that the city pulsated with an energy not easily found elsewhere.
The largest city in the country lines the coast of Mindanao Island in southern Philippines. The culturally diverse city now enjoys the added fame of being the hometown of President Rodrigo Duterte.
The "Island to Highland Destination" trip was facilitated and made enjoyable by tour guide Ervin Bansot, who kept plying us with useful, interesting information.
Explaining why Davao is sheltered from stormy weather, he said that a mountain chain stood guard, as it were, blocking strong winds that could bring in troubling weather phenomena. Standing particularly tall is Mt Apo, constantly casting a protective gaze on the hinterland.
The city also lies outside the typhoon belt. Days are marked by mild sunshine and showers at night cool the place down.
Blessed with this kind of weather, it is not a surprise that Davao is home to the national bird, the Philippine Eagle, and the national flower, the Waling-Waling.
Furthermore, it is known as the nation's fruit basket, producing and exporting many kinds of fruits including the durian, mangosteen, pomelo, banana, papaya, and marang.
As a coastal city, it receives due bounty from the sea, which enriches the local cuisine.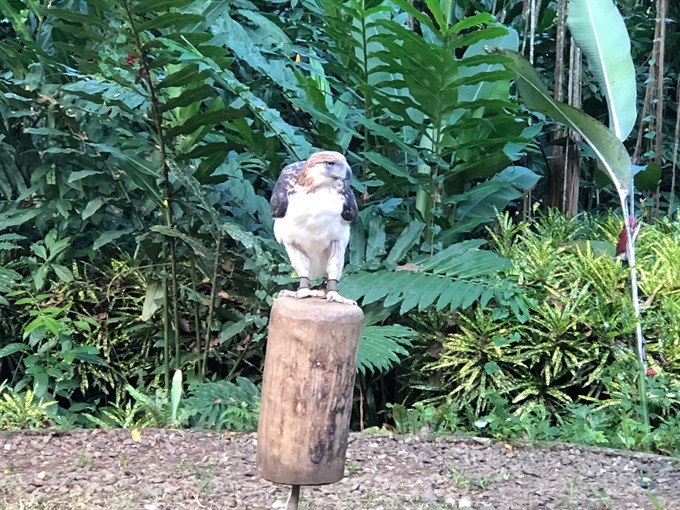 High flyer: The Philippine Eagle, which is endemic to the Philippines. — VNS Photo Xuân Hương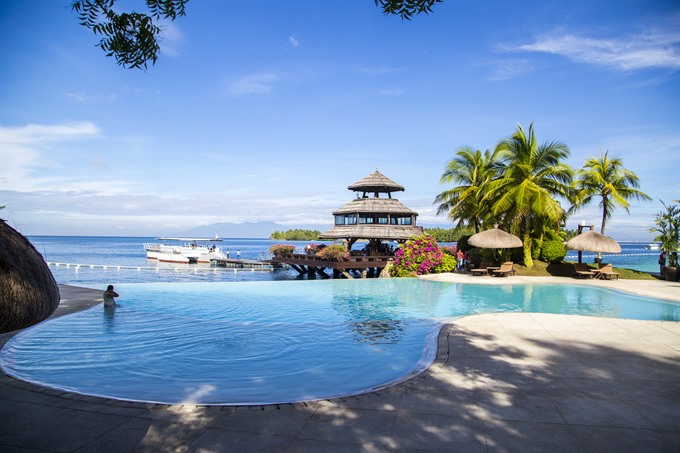 Dreamlike: A view of the Pearl Farm Beach Resort in Samal Island. — VNS Photo Trần Văn Giáp
Flying high
Reaching Davao after a nearly two-hour flight from Manila, one of our first destinations was the Philippine Eagle Centre.
This must-visit place at the foot of Mt Apo is the only breeding facility in the world for the critically endangered Philippine eagle. Almost half of the inmates here have been bred in captivity.
The centre is also home to other, rare indigenous birds of prey, mammals and reptiles, so it is destination not to be missed.
The guide at the centre was a treasure trove of information. She told us about the different species of eagles, including their common names, scientific names and their characteristics and behaviours, as well as the centre's efforts to breed and increase their population.
She said the maximum weight of male eagles is around 6kg, while the female could reach up to 8kg.
Endemic to the Philippines, the Philippine Eagle can only be found on four of more than 7,000 islands in the country.
I felt sad that such an amazing creature had been pushed by us humans to the brink of extinction.
Sweet somethings
Information and pleasure combined well at our next destinations, the famous Malagos Garden Resort and the Chocolate Museum.
As someone who thoroughly enjoys every opportunity to taste a chocolate, learning how the cacao is cultivated and processed was a new experience. The information was given via infographics, AVP, audio lectures and interactive displays.
Chocolates produced in Malagos have achieved international recognition, winning the 2-star medal at the 2016 Great Taste Competition and a silver for the Best Unflavoured Drinking Chocolate at the 2016 Academy of Chocolate Awards in London.
The museum gave me one of the indelible memories I collected during this trip: hot chocolate combined with a kind of sticky rice cooked with coconut. It was wonderful!
Crystal clear waters
It is now common knowledge that no trip to Davao can be complete without a dip or two in the clear waters of its coast.
On the third day, we took a hopping tour to Samal Island, and no lost no time in jumping into the sea. Many polite small fish kept us company as we snorkelled above the coral reef, taking in underwater sights that will remain etched in memory.
Then we headed for the Pearl Farm Beach Resort on a speed boat. It will not be an exaggeration to say that the resort is a postcard picture of coconut palms and pristine white beaches. The picture gets its finishing touch from cottages on stilts that stand serenely in the blue sea.
For me, the resort evoked images of a place I have never been to – the Maldives, a personal dream destination. What a luxury, I thought, to breathe such clean air, not to mention all other luxuries like purple sunsets and sunrises, clear blue skies during the day, the peace and quiet and the overall beauty of the landscape.
The icing on the cake at this resort was good food and several cultural presentations including fire dancing.
I would highly recommend this place to anyone seeking a real break from the rigours of city life, wherever they are.
Gets better
Thankfully, I did not have to suffer any withdrawal symptoms from the trip to Samal Island.
Our next destination, Hijo Resorts Davao, turned out to be such a soothing balm, not just with its verdant setting, but with its motto of forest protection and sustainable agriculture, mainly through organic farming.
It is the first and only eco-agri tourism destination in the Philippines.
Kris Porio, rooms division manager at the resort and also our tour guide there, said the resort supplies itself the ingredients for making food served at its restaurants, including yellow rice, vegetables, meat and seafood, all organically farmed.
This is surprising, because the resort hosts a thriving banana and coconut plantation and a fully operational industrial zone. It also offers the usual assortment of entertainment, including fishing, a river cruise, a banana plantation tour, a jungle experience, and a river cruise.
Seeing how bananas are grown and harvested before being shipped worldwide was an eye opener for me.
On the road leading to the local forest, we saw many long-tailed macaque monkeys and wild boars. This tour includes walking through the trees on swaying suspension bridges and ground level exploration, but we were thwarted by the rain.
Kris said preservation of the forest was one of Hijo Resorts Davao's priorities in its thrust for sustainability, conservation, and environmental preservation.
I had only one thought as we left Davao City: I want to return with less time constraints and a completely flexible itinerary. VNS
How to get there
There is no direct flight from Việt Nam to Davao, so you can choose Philippine Airlines from HCM City or Cebu Pacific from Hà Nội to Manila, and then take domestic flights from Manila to Davao City.
Davao is a no-smoking city, so you need to ask a tour guide or locals to find a smoking area if you do not want to be fined for smoking in public.
Viet Nam News / Update: June, 03/2018 – 09:00
All photographs, news, editorials, opinions, information, data, others have been taken from the Internet ..aseanews.net | [email protected] | For comments, Email to : Icarus d' Greek | [email protected] | – Contributor