ASEANEWS HEADLINES: 'China in control of Panatag shoal, say Filipino fishermen'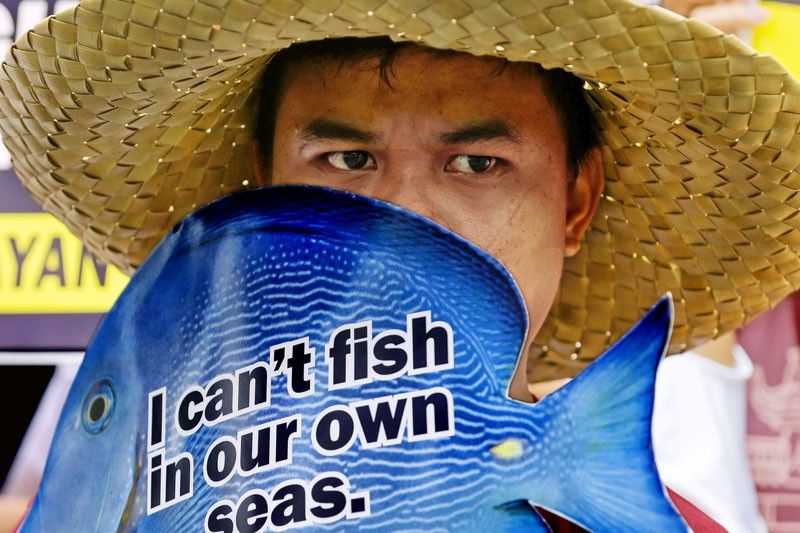 A Chinese coast guard vessel approaches a banca owned by Filipino fisherman Yoyoy Rizol before getting a portion of the Filipinos' catch. The photo was taken last May 25 by Neajoy Razol, the son of the fisherman.
.
MANILA, Philippines — China is in control of Panatag or Scarborough Shoal off Zambales and its coast guards are seizing the best catch of Filipino fishermen.
Romel Cejuela, a Filipino fisherman, raised the accusation at Malacañang in a briefing organized yesterday by presidential spokesman Harry Roque.
"They would check our containers and pick our best catch. We can't do anything," Cejuela said in Filipino.
"We are just trying to get along. Their ships are huge. What can we do as fishermen? If we refuse to yield, we will end up like crushed cans," he said.
.
Cejuela said Chinese coast guard personnel would give them noodles, cigarettes and water in exchange for their catch but these are not enough to feed the families of fishermen.
"I feel hard inside, but I have to accept it. They are the ones in power there," he added.
Asked who he thinks is in control of Panatag Shoal, Cejuela replied: "Sa tingin ko ngayon, parang Tsina pa rin (I think it's still China)." Cejuela said only small boats are allowed to enter the shoal.
Located 124 nautical miles from the nearest point in Zambales, Panatag Shoal, also known as Bajo de Masinloc, is a traditional fishing area for local fishermen. It is well within the Philippines' 200-nautical mile exclusive economic zone.
China started occupying the shoal on April 10, 2012, when surveillance ships from Beijing prevented the Philippine Navy from arresting Chinese poachers who had harvested endangered marine species.
The Philippines under former president Benigno Aquino III filed diplomatic protests over the incident but was ignored by China.
Months after Duterte assumed office in 2016, officials said China allowed Filipino fishermen to fish in the shoal because of improved ties between Manila and Beijing.
However, a TV network released last week a video showing members of the Chinese coast guard taking away the catch of local fishermen. Roque said the incident happened last month.
No harassment?
Even if the Chinese were getting part of their catch, Cejuela said he does not consider the act a form of harassment.
"I would like to clarify that they are not harassing us. They are just insisting that they get the fish we caught. We did not totally understand each other," Cejuela said.
"We are just getting along with them. They might drive us away again if we refuse to give them our catch," he added.
Cejuela said an incident of harassment happened in December, when the Chinese confiscated the Filipino fishermen's spear gun.
"Inagawan sila ng pana, may dala silang sandata noon, pero hindi naman sila tinutukan (The Chinese took away their arrow. The Chinese had weapons but they did not point the weapons at the Filipinos)," he said.
A reporter asked Cejuela to elaborate on the incident but Roque stopped him, saying the question had been answered.
Cejuela urged the media not to sensationalize reports about Panatag Shoal as he expressed fears that China might bar Filipinos again from fishing in the area.
"We might not be able to enter Panatag Shoal again. Our families would go hungry again," he added.
He also urged the government to ask China to limit the actions of its coast guard in the area. "If they approach us, they should just wait for the fish we will provide hem," he said.
The catch seized recently by the Chinese cost about P4,000, he added.
Another fisherman, 46-year-old Yoyoy Rizol, also talked about Chinese bullying at Panatag in an interview with The STAR in Infanta, Pangasinan. He said Chinese coast guard on rubber boats approached them and got some 25 kilograms of their catch. The incident happened last May 25.
Roque said the actions of the Chinese coast guard were "unacceptable" but insisted that the conditions of Filipinos at Panatag Shoal are better than during the previous administration.
He claimed that the Philippines had already informed China about the harassment of Filipino fishermen as far back as December.
"We cannot accept this situation. We will fight for the rights of our fishermen because we have an agreement (with China). We expect China to comply with the agreement. They (Chinese coast guard) should not seize even a kilo of fish (from Filipino fishermen)," Roque said.
"But the fishermen said our policy, which involves talking with China, is better because it allowed them to fish again," he added.
Throughout the briefing, Roque kept repeating that Filipinos can now fish at the shoal because of the Duterte administration's move to seek warmer ties with China.
He said the Chinese had refused to leave Panatag Shoal after Aquino deployed Navy ship BRP Gregorio del Pilar in the area.
"The Chinese are there but the fishermen from Masinloc and other areas are now allowed to fish," he added.
Asked if Filipino fishermen deserve better, Roque replied: "Of course they deserve better, that's why we are taking steps to address the issue with the Chinese. We have addressed this issue to the Chinese and we are demanding that the Chinese take steps to stop the coast guard from doing these acts."
The Philippine Coast Guard (PCG), through acting spokesman Captain Genito Basilio, admitted they only have one vessel – BRP Sindangan – patrolling the waters between Panatag Shoal and Kalayaan Island in Palawan.
The Sindangan is a 44-meter multi-role response vessel.
When fishermen do not see any PCG vessel at Panatag "it is because it was in Kalayaan Island," Basilio said.
A vessel of the Bureau of Fisheries and Aquatic Resources (BFAR) would sometimes assist the PCG in patrolling Panatag Shoal
"If it is the wish of the President that we increase the number of our Coast Guard ships in the West Philippine Sea, then we would deploy more ships to the area," Basilio stressed.
"We are cautious because we might be adding more strain to the situation if we would put additional ships in the area. We have to recognize that President Duterte has a good rapport with Chinese President Xi Jinping," he added.
He also recalled one fisherman saying they'd rather see the area clear of any PCG ship to avoid tensions with the Chinese.
Meanwhile, Vice President Leni Robredo renewed yesterday her call for the administration to continue asserting the country's sovereignty in the West Philippine Sea.
"We must assert our claim on the West Philippine Sea, but that means each of us must stand united, so that we can fight for what is ours," said at a forum at the University of the Philippines-Diliman.
"This is simple: what is ours is ours." – Helen Flores, Evelyn Macairan, Eva Visperas
Alexis Romero (The Philippine Star) – June 12, 2018 – 12:00am
All photographs, news, editorials, opinions, information, data, others have been taken from the Internet ..aseanews.net | [email protected] / For comments, Email to : Aseanews.Net | [email protected] | Contributor