ASEANEWS FRONT PAGES: HÀ TĨNH, Viet Nam – Two dead, hectares of rice flooded due to typhoon Son Tinh
Cửa Lò Town in the Central Province of Nghệ An is now ready to welcome tourists after the storm faded. — VNA/VNS Photo Nguyễn Oanh
.
Viet Nam News
HÀ TĨNH — Floods brought by typhoon Sơn Tinh killed two people, damaged 15 houses and thousands of hectares of crops yesterday in the central and northern provinces.
The typhoon weakened into a tropical low-pressure system after making landfall over the central provinces of Thanh Hóa and Nghệ An on Wednesday at midnight.
Authorities in Sơn Hòa and Sơn Thủy communes in Hà Tĩnh's Hương Sơn District reported that two men drowned in the floodwaters ahead of the arrival of the typhoon in the locality Wednesday evening.
Both Nguyễn Thành, 56, and Phan Đình Tường, 52, died in the water when they were fishing. Hà Học Tuấn, chairman of Sơn Hòa Commune, said the commune had warned of the dangers but some locals ignored them.
A whirlwind struck early yesterday evening, blowing the rooftops off 15 houses in Nghi Xuân District. No casualties were reported.
In Hương Sơn District, rocks falling down from the mountain due to streams created by heavy rains blocked National Highway 8A, which leads to Cầu Treo Border Gate.
Due to the influence of the tropical low-pressure system, torrential rains are forecast to continue hitting northern and north-central provinces until Saturday, especially the localities of Hòa Bình, Sơn La, Thanh Hóa, Nghệ An and Hà Tĩnh.
The National Centre for Hydro-meteorological Forecasting on Thursday morning warned that due to prolonged torrential rains, Hòa Bình Province's districts of Đà Bắc, Tân Lạc, Cao Phong, Kỳ Sơn, Lạc Thủy, Lạc Sơn and Lương Sơn; Sơn La Province's districts of Mai Sơn, Bắc Yên, Phù Yên, Yên Châu and Mộc Châu; Quảng Ninh Province's Tiên Yên, Bình Liêu, Ba Chẽ and Hoành Bồ could be hit by landslides and flash floods starting Thursday afternoon.
A quick report of the Central Steering Committee for Natural Disasters Prevention and Control on Thursday morning showed that the typhoon had damaged over 63,500 ha of crops in affected localities. Nam Định Province suffered the most with over 21,500 ha of the inundated crop. Thanh Hóa ranked second with over 14,400 ha of the destroyed crop.
Reservoirs in the central provinces of Nghệ An and Thanh Hóa are facing the threat of a complete breakdown. Water in 95 reservoirs in Hà Tĩnh, has reached the maximum level, raising the possibility that the reservoir walls will break.
Many of them are releasing water at a large volume. Water from the reservoirs is expected to worsen the flooding in the coming days. — VNS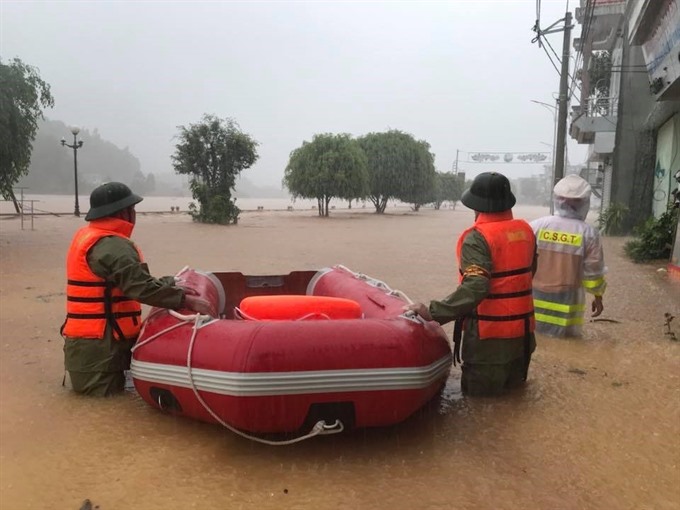 Rescue team prepares a rubber canoe to take local residents out of inundated areas in Quảng Ninh Province.— VNA/VNS Photo
Update: July, 19/2018 – 15:00
.
JAKARTA GLOBE:  Five Dead, Seven Missing After Fishing Boat Sinks in East Java
.
BANGKOK POST:  'Good Morning Vietnam' broadcaster dies
ASEANEWS FRONT PAGES:
All photographs, news, editorials, opinions, information, data, others have been taken from the Internet..aseanews.net | [email protected] / For comments, Email to : Aseanews.Net |                                                                                 [email protected] | Contributor