EDITORIAL & CARTOONS: MANILA – Another silenced journalist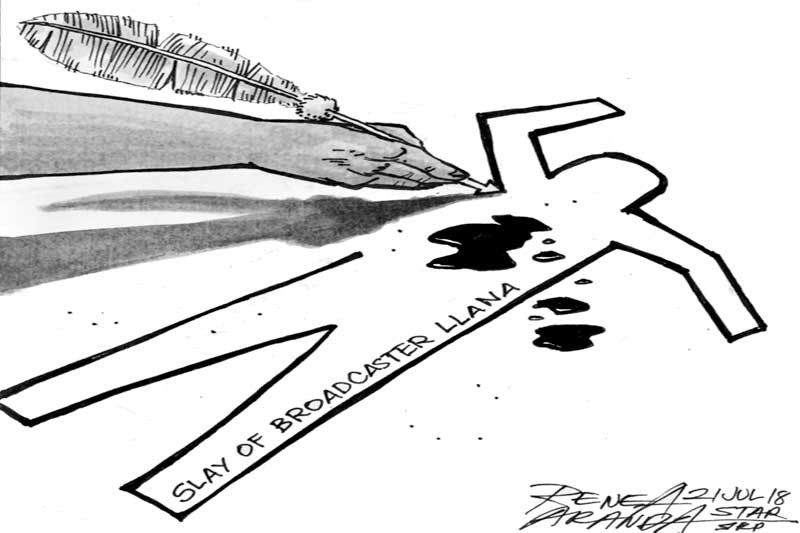 Since last year, relatives said radio broadcaster Joey Llana had been receiving death threats. Llana was unfazed and continued his hard-hitting commentaries on his morning program in dwZR Hypersonic Broadcasting Network in Legazpi City, Albay.
At daybreak yesterday, as Llana pulled out of his garage at his home in Barangay Peñafrancia to drive to work, gunmen approached and opened fire. Emergency responders found Llana dead in his car with gunshot wounds in the head and body.
Later in the day, his relatives lamented that seven sachets of shabu that police reported finding in a sling bag in the car had been planted. The victim's brother said Llana did not use a sling bag and was not into drugs. This was echoed by Llana's media colleagues.
The only way to determine if the murder might be linked to illegal drug deals is to catch the gunmen. A special group has been formed by the Albay police to investigate the murder. Similar special teams have been formed in previous killings of journalists, however, with underwhelming results.
.
Llana, 43, is the 185th media worker to be murdered in this country since democracy was restored in 1986. His death is the third media killing in the Bicol region and the 12th under the watch of President Duterte.
Malacañang, which has formed a presidential task force to monitor efforts to solve media killings, condemned Llana's murder, calling it "yet another infringement on the rights to life and a free press." It will take more than condemnation, however, to solve murders and get the Philippines out of the list of the world's worst in terms of media security and impunity in journalist killings.
Last year, the Philippines was listed by Reporters Without Borders as the deadliest country in Asia for journalists, and among the five most dangerous in the world for media workers, together with Syria, Iraq, Afghanistan and Mexico. Left unsolved, Llana's murder can only encourage more people to permanently silence media workers. (The Philippine Star) – July 21, 2018 – 12:00am
ASEANEWS EDITORIAL & CARTOONS:.
7.1.   D. Tribune –  US gets jittery   <> Concept News Central –  Caesar's wife test
 .
  All photographs, news, editorials, opinions, information, data, others have been taken from the Internet ..aseanews.net | [email protected] |.For comments, Email to :D'Equalizer | [email protected] | Contributor