ASEANEWS HEADLINES: MANILA – Fed up with corruption, Duterte mulls resigning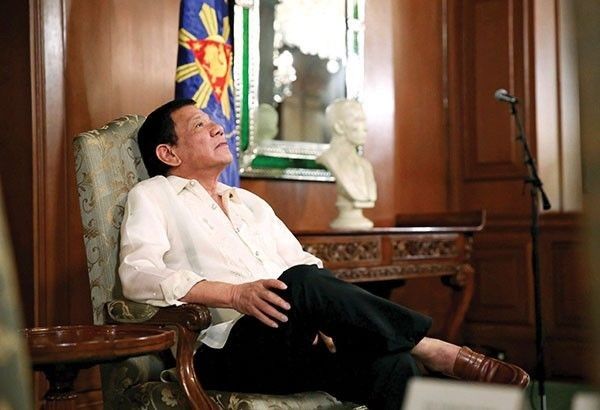 But Duterte prefers the likes of former senator Ferdinand "Bongbong" Marcos Jr. and Sen. Francis Escudero to succeed him as he claimed that Vice President Leni Robredo "cannot do the job." File
Only if Chiz or Bongbong replaces him
MANILA, Philippines — Exhausted and frustrated over his failure to curb widespread corruption in government, President Duterte said he is ready to step down before his term ends in 2022.
But Duterte prefers the likes of former senator Ferdinand "Bongbong" Marcos Jr. and Sen. Francis Escudero to succeed him as he claimed that Vice President Leni Robredo "cannot do the job."
"Guys, I want you to know that I am thinking of resigning because I'm tired," Duterte said during a gathering of business leaders led by Manny V. Pangilinan of the MVP Group, Jaime Augusto Zobel de Ayala, Lucio Tan as well as diplomats at Malacañang on Tuesday night.
"I am not angry with anybody. My chase against corrupt government officials seems to be endless, and it has contaminated almost all government departments and offices."
The President made the statement after he sacked 20 military officials and the entire board of the Nayong Pilipino Foundation for alleged corruption.
"So graft is embedded, it is endemic and will always be part of the transactions in government," Duterte said, forgoing his prepared speech during the launching of Pilipinas Angat Lahat Alliance.
"I do not think that I can fulfill my promise to the people. I said I will try to stop corruption, which I'm doing. But I cannot succeed even beyond my term," he added.
Two weeks ago, Duterte hinted that he would resign during a command conference with the Armed Forces and the Philippine National Police.
"I am tired of chasing corrupt government officials. I am ready to go," he said.
"Drugs will not be solved at the end of my term," the President admitted, adding the problem might just worsen instead of being eradicated.
Military junta
Admitting his failures to solve corruption and the drug menace, Duterte said he is ready to give up the presidency. But he said Robredo is not competent to replace him.
"The problem is, I cannot suggest to them that you follow the succession which is (in) the Constitution. I have nothing against Robredo but I don't think she can improve on anything here. I am hesitant to suggest a constitutional succession," the President said.
"I would suggest to the military, grant a junta… line up here, I'll put you in your proper place," he added.
The military is keeping its hands off the President's pronouncement that he prefers a junta to lead the country.
"I do not want to comment. I think the President is the best person to make clarifications about that," Armed Forces of the Philippines spokesman Col. Edgard Arevalo said.
Duterte also claimed that Robredo's hometown, Naga City, was once a hotbed of shabu.
"Of course she will deny it," the President said.
Leni camp: Follow the Constitution
Robredo's camp reminded the President to follow the Constitution with regard to the rules on presidential succession.
Lawyer Barry Gutierrez, spokesman for the Vice President, issued the statement after Duterte said that he prefers a military junta over Robredo.
Gutierrez also hit Duterte for belittling anew the capabilities of Robredo to lead the country.
"The 'competent' according to the President: the former tourism secretary who did nothing but take money from the government; an NDRRMC head who is missing during flooding and an NFA chief who creates rice shortage," Gutierrez posted on his Twitter account.
Gutierrez was referring to former tourism secretary Wanda Tulfo-Teo; National Disaster Risk Reduction and Management Council executive director Ricardo Jalad and National Food Authority administrator Jason Aquino.
Teo is facing an investigation at the Office of the Ombudsman over corruption allegations.
Jalad was criticized over the NDRRMC's late response during the recent flooding in Metro Manila.
Some lawmakers called for the resignation of Aquino amid allegations of corruption and mismanagement at the NFA under his watch.
Bongbong or Chiz
President Duterte wants the likes of Marcos and Escudero to succeed him if he steps down from office.
While the Constitution provides that the vice president will assume power if the presidency is declared vacant, Duterte does not want Robredo to replace him.
"The reason why I cannot tell you… that we follow the constitutional succession is this: I am not angry with Robredo. I don't pick a fight with women. I do not respond to their tirades. But I think, deep in my heart, if you follow the succession and Robredo takes over, she can't do it," the President said on Tuesday.
"That's my honest opinion. I would prefer the likes of Escudero or Bongbong Marcos," he added.
Both Marcos and Escudero ran but lost in the 2016 vice presidential race.
Marcos has a pending electoral protest against Robredo.
Escudero was amused to know that Duterte preferred him to be his successor.
"I feel that I'm gifted… That's hypothetical because it's not for him to grant that (vice presidency)," Escudero said.
Former senator and now Foreign Affairs Secretary Alan Cayetano was Duterte's runningmate in the 2016 polls.
Presidential spokesman Harry Roque Jr. said Duterte would not yet resign because the Constitution states that the vice president should succeed him.
"I think he is serious about stepping down if he believes in the capabilities of his successor. But he thinks that the Vice President does not have the capability," Roque said.
Three Cabinet members urged the President not to resign.
Health Secretary Francisco Duque III, Finance Secretary Carlos Dominguez III and acting Interior Secretary Eduardo Año see no reason for Duterte to quit.
Duque said the President could just be complaining about his frustrations in the fight against corruption.
"We hope that the President will finish his term because there is so much to do," Año said, referring to the government's war on drugs.
Dominguez, a former classmate of Duterte at Ateneo de Davao, advised the President: "Take a break Mr. President, you deserve it."
Senators react
Senators were not bothered by President Duterte's remarks that he wants to resign.
Senate President Vicente Sotto III said the President was not the kind of person who abandons his duties.
"Maybe he just said that in the heat of the moment or he was just getting frustrated with the corruption in government," Sotto said. "I've known him since 1988, he does not know the spelling of surrender."
When asked whether Duterte's statement could cause instability, Sotto said, "Your question is hypothetical. Our government is stable. So whoever sits, it will continue to operate."
Sen. Panfilo Lacson shrugged off Duterte's remarks and said it was understandable that he was exasperated.
"We heard it several times from him, so let's not take what he says literally. I think he was just expressing his exasperation, his frustration over what he saw in the last few weeks, the corruption in the Armed Forces and issues involving people close to him," Lacson told reporters. "Let's just try to find out where he's coming from."
Sen. Manny Pacquiao said Duterte had privately expressed his frustrations about his job in the past. "The President loves the Filipino people," he said.
Sen. Francis Pangilinan, president of the Liberal Party that is chaired by Robredo, reminded Duterte of the constitutional succession process where the president is succeeded by the vice president in the event he resigns or can no longer hold office. – With Helen Flores, Paolo Romero, Jaime Laude
ASEAN NEWS STAND HEADLINES:
All photographs, news, editorials, opinions, information, data, others have been taken from the Internet..aseanews.net | [email protected] / For comments, Email to : Aseanews.Net |