OP ED EDITORIAL & CARTOONS: MANILA – Longer martial law?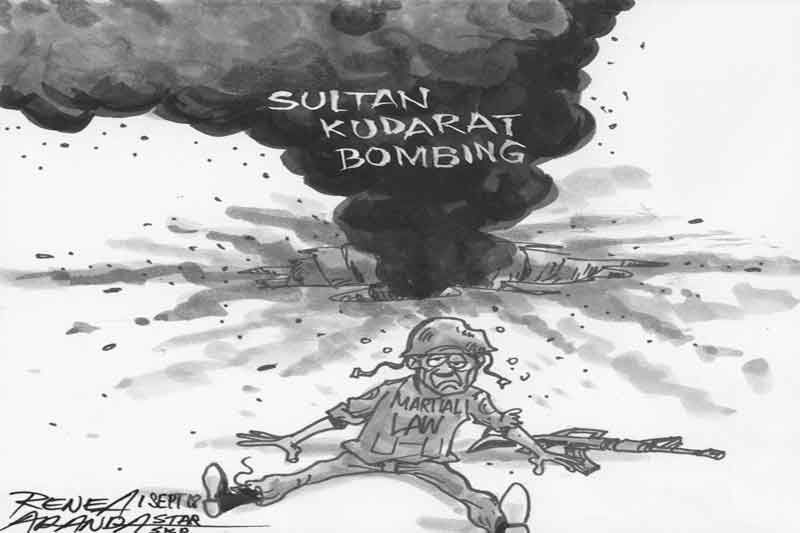 With a few more months to go before the end of the one-year imposition of martial law all over Mindanao, the government is reportedly considering another extension. This possibility was raised following a bomb attack last Tuesday in Sultan Kudarat that left three dead and many others wounded.
Yesterday, however, the presidential spokesman doused speculation on another martial law extension. There have been regular mass protests staged by various groups, particularly indigenous communities, calling for the lifting of martial law all over Mindanao. But thanks largely to the conduct of the Armed Forces of the Philippines, there have been remarkably few complaints directly related to the enforcement of martial law.
But martial law connotes a crisis situation calling for extraordinary measures. This was the case in the siege of Marawi last year. Extending the Mindanao-wide martial law needs careful consideration of its impact on perceptions of stability and safety not only in Mindanao but also in the rest of the country.
image: https://video.unrulymedia.com/native/images/in-art-close-icon-128×128-16481b937f87b244a645cdbef0d930f8.png
The government has pointed to the Bangsamoro Islamic Freedom Fighters as the likely perpetrators, brushing aside claims that any group allied with the terrorist Islamic State might have been responsible for the bombing in Sultan Kudarat. Also being eyed are "spoilers" of the peace process with the Moro Islamic Liberation Front.
Opponents of martial law in Mindanao say the attack showed that military rule has not served its purpose. Proponents, on the other hand, argue that the attack showed the need for a longer period of martial law.
With Malacañang issuing a statement yesterday, the issue has been put to rest for now. And security forces can focus on catching the perpetrators of the bombing as well as preventing more attacks. The explosion is nowhere on the scale of the Marawi siege, but it still claimed lives and caused injuries.
The attack should lead to greater effort to boost the capability of security forces to deal with such threats. The Human Security Act, which has not been enforced because of provisions that leave no room even for honest mistakes in going after terrorists, can be amended. Or if the law cannot be enforced, it should just be repealed and a new measure crafted against terrorism.
The peace process is seen as a significant step in reducing armed violence in Mindanao. But there will always be groups posing a threat to peace and order, and government forces must be sufficiently equipped and prepared to deal with them. / The Philippine Star
7.1  Ring of US desperation   – D. Tribune – Free bail for a better jail