SOCIAL: ĐÀ NẴNG – Expat community to perform in Đà Nẵng
A foreigner plays an instrument at 'Đà Nẵng's Expats Got Talent 2017'. The city will host the annual contest for expats living in Đà Nẵng, Huế and Hội An. — Photo courtesy Trưng Vương Theatre
.
ĐÀ NẴNG — Representatives of expat communities and individuals living, working or studying in the cities of Đà Nẵng, Huế and Hội An will join the annual 'Đà Nẵng's Expats Got Talent 2018' at the city's Trưng Vương Theatre on December 8-9.
The city's culture and sports department said participants will perform either international or Vietnamese music, including folk songs, instrumental performances, dancing, singing, magic, circus performances, theatre, hip-hop and beat-boxing.
It said the performance will present the cultural characteristics of participants' countries with each contestant getting seven minutes to perform alone before group performances ranging from 15 to 20 minutes.
.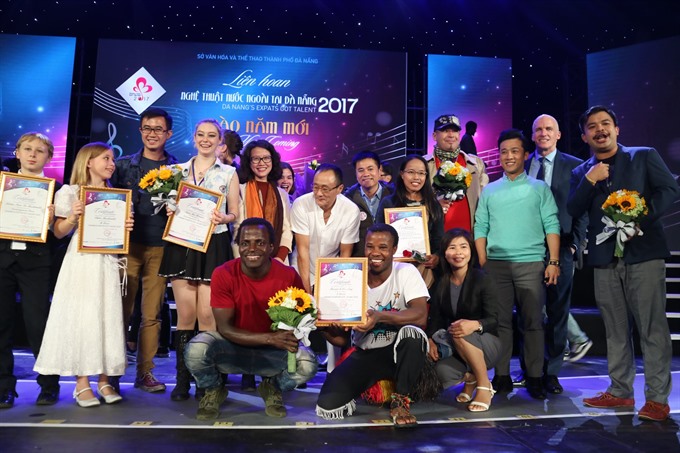 Winners of the 'Đà Nẵng's Expats Got Talent 2017'. — Photo courtesy Trưng Vương Theatre
.
The event's organising committee said all performers will be getting a Certificate of Participation.
The group performance winner will walk away with the first prize of VNĐ10 million (US$442), while the solo award will get VNĐ5 million ($221).
The department said the contest aims to promote art and cultural exchange among expatriate communities and locals in the city in celebration of the New Year.
The opening ceremony will start in the evening at Trưng Vương Theatre, 35A Phan Châu Trinh street on December 8.  — VNS
Ad by Cloud 9:
.
– SPACE RESERVE FOR YOUR ADVERTISEMENT –
.
.
All photographs, news, editorials, opinions, information, data, others have been taken from the Internet..aseanews.net | [email protected] / For comments, Email to : Aseanews.net