Aseanews Headline: ĐÀ NẴNG- Heavy rains cause serious flooding in central region
ĐÀ NẴNG — Heavy rains over the weekend caused serious flooding across the central region with two people reportedly dead in Quảng Trị Province after being swept away. Their bodies were found on Sunday.
Earlier on Saturday evening, strong currents from the province's municipal Đông Hà Township entered the house of Phạm Quốc Việt and broke a big hole in the house's back wall, sweeping Việt, his wife and his mother-in-law away.
Việt was saved by locals while the two women were found dead behind his house. Fortunately, Việt's three children had been sent to a neighbouring house before the incident.
In the province's remote Vĩnh Linh District, strong water broke a wall and made it fall into a man passing by, breaking his leg.
Various districts in the coastal city of Đà Nẵng were inundated on Sunday afternoon, according to the municipal Steering Committee for Natural Disaster Prevention and Rescue.
.
ADS by Cloud 9:
.
– SPACE RESERVE FOR YOUR ADVERTISEMENT –
.
.
Hải Châu District suffered from 30cm-1m high floodwater, making it difficult for vehicles to travel.
Downpour also submerged Ngũ Hành Sơn District by 30-50cm floodwater, with about 33ha of vegetables in the district reportedly damaged.
It also submerged Thanh Khê District, causing obstacles for people to access the municipal coach terminal.
The rainfall in the city measured yesterday morning was 115-300mm.
The municipal steering committee assigned workers to be on duty around the clock to deal with the consequences of the flooding.
Nearly 2,000 students will be excused from school today to ensure their safety, said Nguyễn Đình Vĩnh, director of the Đà Nẵng Department of Education and Training.
By yesterday noon, the Highway 1A and the north-south railway passing Hòa Vang District in Đà Nẵng City was out of order due to flooding measured at 50-60cm.
Lieutenant colonel Lê Thế Chiến, from the Hòa Phước Traffic Police Station, said the north-south railway area faced a high risk of landslide, and the police had to go on patrol to give warnings to drivers.
Huỳnh Văn Sơn, deputy director of the Quảng Nam-Đà Nẵng Railway Corporation, said the company had suspended its services to ensure safety.
ADS by Cloud 9:
.
– SPACE RESERVE FOR YOUR ADVERTISEMENT –
.
.
Elsewhere, torrential rainfall brought severe floods Hà Tĩnh and Nghệ An provinces.
In Hà Tĩnh, torrential rains on Friday evening created heavy flooding on the National Highway 1A section across the province. The flood blocked traffic on the highway for hours on Saturday.
In Nghệ An, 730 houses and 1,500ha of crops, 244ha of fishing ponds were flooded, while traffic in many parts of Vinh City was paralysed.
Meanwhile, many flights to Thừa Thiên-Huế were cancelled due to bad weather and several airplanes had to land in other airports as landing at local Phú Bài Airport was prevented by heavy rain.
The rain continued over the weekend in the province, with average rainfall of 65mm to 90mm. Water in the reservoirs around the province has reached the maximum level and many of them were in danger of breaking.
Water in local rivers has exceeded the green level. Once it reaches the yellow level, flooding will occur in the lowland areas of these central provinces. — VNS
.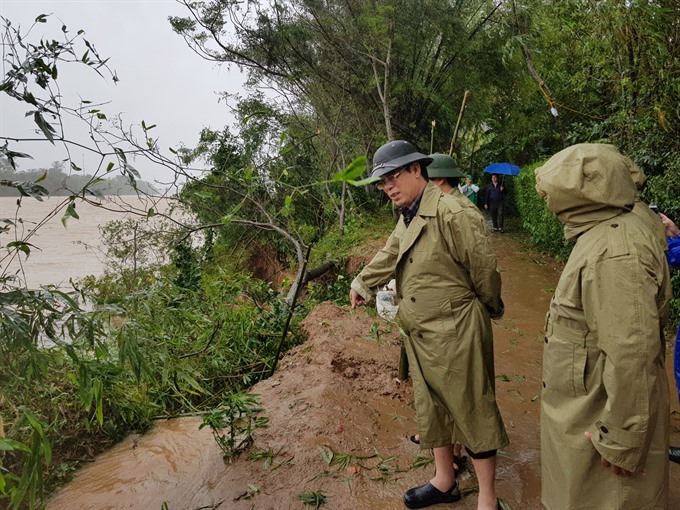 Chairman of Quảng Trị Province People's Commmitee Nguyễn Đức Chính inspects a landslide-hit site in Thiệu Phong District. — VNA/VNS Photo Thanh Thủy

.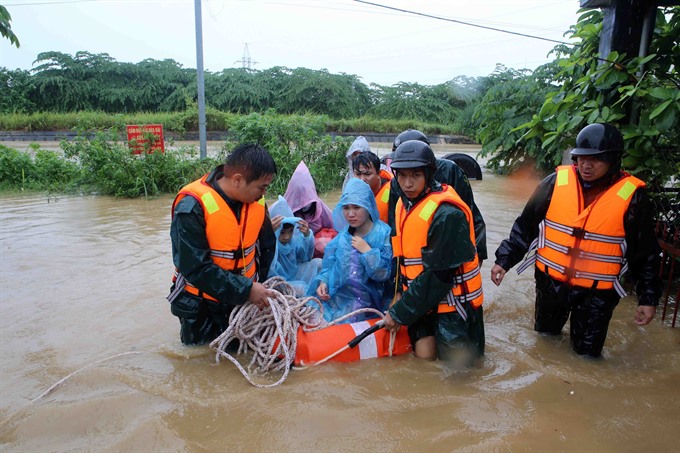 Local police and military help residents of Hòa Khánh Nam ward of Liên Chiểu District, Đà Nẵng, move from flood-stricken areas. — VNA/VNS Photo Trần lê Lâm
.
ADS by Cloud 9:
.
– SPACE RESERVE FOR YOUR ADVERTISEMENT –
.
.
All photographs, news, editorials, opinions, information, data, others have been taken from the Internet..aseanews.net | [email protected] / For comments, Email to : Aseanews.net