MISS UNIVERSE: BANGKOK- Former Philippine Miss Universe winners: Catriona Gray destined for crow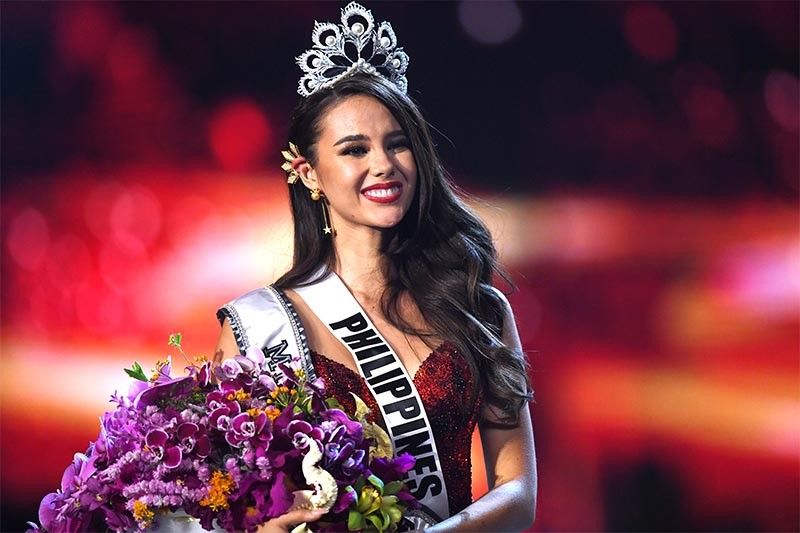 Catriona Gray of the Philippines smiles after being crowned the new Miss Universe 2018 on December 17, 2018 in Bangkok, Thailand.
AFP/Lillian Suwanrumpha
.
MANILA, Philippines — Catriona Gray is the fourth Filipina Miss Universe and former beauty queens who held the crown said that she was destined to follow their footsteps.
Miss Universe 1973 Margie Moran said that Gray "nailed" the question and answer segment of the competition and clinched her win against more than 90 beauty queens across the world.
In an interview with ANC's "Headstart," Moran said: "I think she had a hard time I believe so because there are so many beautiful women and they spoke well but that last question… she nailed it because it was complete and she handled it well."
.
ADS by Cloud 9:
.
– SPACE RESERVE FOR YOUR ADVERTISEMENT –
.
.
The latest format of the Miss Universe has two question and answer segments, one for the Top 5 finalists and another for the Top 3.
READ: FULL TEXT: Miss Universe 2018 Q&A with top 5, final 3
Gray, Miss South Africa Tamaryn Green and Miss Venezuela Sthefany Gutierrez were asked: "What is the most important lesson you've learned and how will you apply it to your time as Miss Universe?"
Gray answered: "I work a lot in the slums of Tondo, Manila and the life there is poor and very sad. And I've always taught to myself to look for the beauty of it and look in the beauty of the faces of the children and to be grateful. And I will bring this aspect as a Miss Universe to see situations with a silver lining and to assess where I could give something, where I could provide something as a spokesperson. And this I think if I can teach people to be grateful, we can have an amazing world where negativity could not grow and foster and children will have smile on their faces."
.
ADS by Cloud 9:
.
– SPACE RESERVE FOR YOUR ADVERTISEMENT –
.
.
Actress Gloria Diaz, who is first to give the Philippines a Miss Universe crown in 1969, thought Gray's answer was "perfect and simple."
Diaz said that Gray's Final 2 competitors also gave good answers. "But like you (Moran) said, it's her destiny."
Moran said that Gray has a gift as she was able to express her thoughts in the question and answer round.
"With her, it's a skill. It's a gift because she can be intelligent but not articulate… she's just gifted," Moran added.
RELATED: From Gloria to Catriona: Winning answers of 4 Filipina Miss Universe winners
.
ADS by Cloud 9:
.
– SPACE RESERVE FOR YOUR ADVERTISEMENT –
.
.
Pia Wurtzbach: 'How could anyone forget that walk?'
2015 Miss Universe Pia Wurtzbach meanwhile took it to Instagram to send her congratulations to Gray.
Wurtzbach was among the thousand spectators at Impact Arena in Bangkok who witnessed Gray's win. She posted in her account a photo of her and Gray wearing the Mikimoto crown.
"You started strong and captured our hearts with your grace, commitment and fearlessness! And that walk… how could anyone forget that walk?" Wurtzbach said in her caption.
Gray sashayed in a fiery red gown—inspired by the Mayon Volcano—and dubbed her walk as the "lava walk." She also made hearts skip a beat when she did a slow-motion turn during the swimsuit round of the preliminary competition.
READ: Mom dreamt of Catriona Gray's Miss Universe win in red gown
"Now, you've conquered the Universe! This is just the beginning," Wurtzbach added.
"You have made us all proud. Raise your flag!" she also said. — Kristine Joy Patag
.
ADS by Cloud 9:
.
– SPACE RESERVE FOR YOUR ADVERTISEMENT –
.
.
Aseanews Headlines:
.
ADS by Cloud 9:
.
– SPACE RESERVE FOR YOUR ADVERTISEMENT –
.
.
All photographs, news, editorials, opinions, information, data, others have been taken from the Internet..aseanews.net | [email protected] / For comments, Email to : Aseanews.net