Aseanews Headlines: Voluntary troops showered with flowers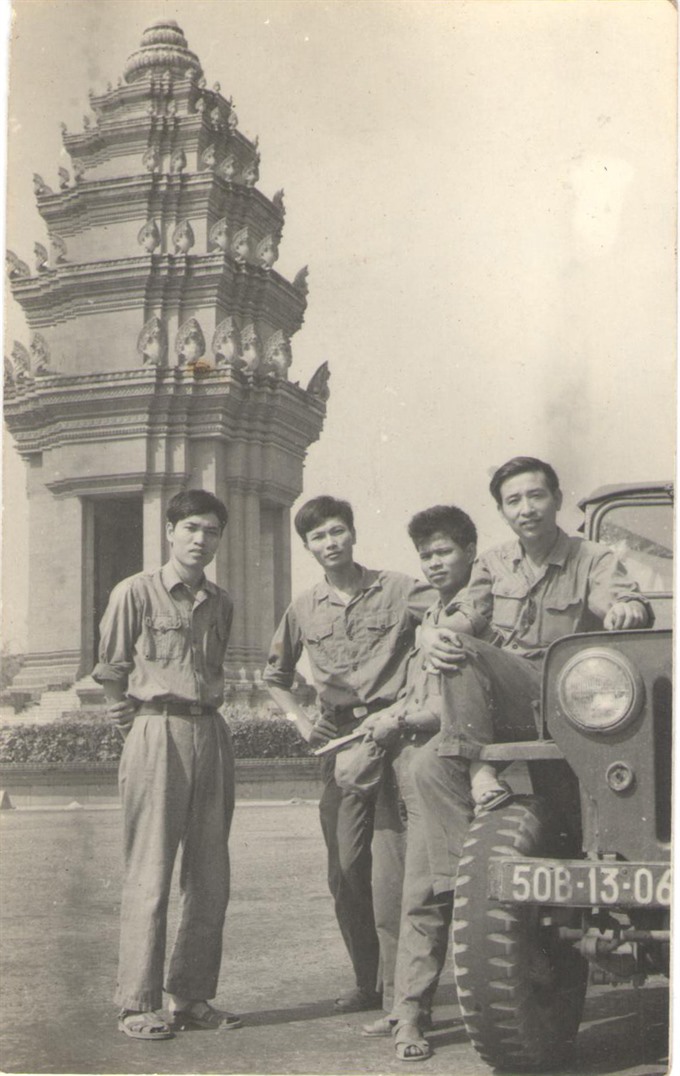 Welcomed as heroes: Vietnamese war correspondents at the Independence Monument, Phnom Penh in 1979. From right: Phạm Vũ Tâm (Vietnam News Agency), Xuân Trường and Vũ Hưng (People's Army newspaper) and Trần Mai Hưởng (Vietnam News Agency). VNA/VNS Photo Tiến Lợi
By Trần Mai Hưởng, former general director of the Vietnam News Agency and editor- in- chief of the Việt Nam News
Though 40 years have passed, I cannot forget the first time I accompanied the volunteer soldiers of the Cửu Long Division  Group of the Vietnam People's Army advancing through provinces of Pray Veng, Svay Rieng and Kandal, into the Cambodian capital Phnom Penh on January 7, 1979.
In front of us, there were 'killing fields' and deserted villages. The atmosphere was thick with the stink of dead corpses. People in black walked along the national highway from the so-called 'common houses' of the Pol Pot genocidal regime. They looked as if they were coming from hell…
I cannot forget the scenes in Phnom Penh – a truly dead city.
There were absolutely no people. All houses were shut. The streets looked destroyed. Empty royal palaces. Tung Sleng prison was full of human skeletons. On the streets, one might find rooms with unfinished meals left in 1975 as the owners had been forced from their homes during a meal. The atmosphere was unimaginable!
During the two years fulfilling my international mission (working as a war correspondent for the Vietnam News Agency) in Cambodia, I travelled around almost all of the country. I attended court dealing with the mass killings of the Khmer Rouge. Their inhuman crimes and those of their supporters will be seriously judged and condemned forever by history.
I also witnessed the miraculous revival of Cambodia with the support of volunteer soldiers from Việt Nam.
Helping hand: After the liberation from the Pol Pot regime, Cambodia's revolutionary armed forces supported locals to settle down in their homelands. VNA/VNS File Photo
.
I can never forget the first morning after liberation. On Monivong Boulevard, a soldier from the Cambodia revolutionary forces played a folk song on a worn-out piano on the pavement. The sound, full of hope, echoed into the blue sky, moving everyone around. His comrades, who had just returned to the city with Vietnamese voluntary troops, their eyes full of tears, sang and danced to his music.
As never before, normal routines became so meaningful in Cambodia during those initial days – a meal with the whole family, a dance under the moonlight, the first rainy day working on the rice fields, the first wedding after returning home…
Because, in order to have those very simple days, thousands of voluntary soldiers from Việt Nam had given their blood and even their lives.
My memories of those days are always full of heroic images of Vietnamese army volunteers.
As an embedded reporter, I went with the Cửu Long Division Group to liberate Phnom Penh and other localities. I was with soldiers from the 3rd Army Corps during those fierce fightings in Kongpong Cham and Siem Reap. I also accompanied army units in the 479th Battle Field to Angkor, the Tonle Sap Lake, Phnom Malai, Poi Pet… I witnessed the volunteer soldiers' bravery and sacrifices.
I remember General Kim Tuấn, commander-in-chief of the 3rd Army Corps, whom I met with Political Commisar Phạm Sinh, on the advance to Kongpong Cham.
On an urgent flight with him to Phnom Penh, he told the pilots: "Please fly slowly for me so I can watch this city for a while."
But just few days later, the brave commander died on the way to Siem Reap.
Iconic site: Cambodia Revolutionary army soldiers take control of Angkor Wat on January 8, 1979. VNA/VNS File Photo
.
I also never forget a brief meeting with Commander Vũ Cao of Division 341 on the night of January 7, 1979. Though the fighting was fierce, he provided the group of VNA journalists the most valuable information and helped us to work most efficiently.
Colonel Ba Cúc, political commander of the Cửu Long Division Group left various unforgettable memories as we travelled with the Group from the beginning of the campaign.
All of them were brave commanders, who had experienced several fierce wars, once again went with their soldiers to fight for Cambodia's peace, and also for Việt Nam's sovereignty.
I feel sympathetic to, and very proud of, the Vietnamese voluntary soldiers, experts and officers we met along the hard roads, during fierce fighting at key localities.
They had faced long lasting challenges on every road, in villages and on bridges, where enemies hid in darkness, in shelters and launched sudden attacks.
I met soldiers who were suffering from malaria after fighting in Phnom Malai.
I saw flights carrying seriously wounded soldiers from Siem Reap Airport heading for Việt Nam.
I passed many bridges where Vietnamese soldiers had been stationed day and night, longing for news from home, sharing small pieces of cigarettes, facing danger on each guard duty.
It's impossible to list sacrifices by Vietnamese soldiers during those fierce days. Our country paid a great price to help Cambodia revive from the Khmer Rouge genocidal regime.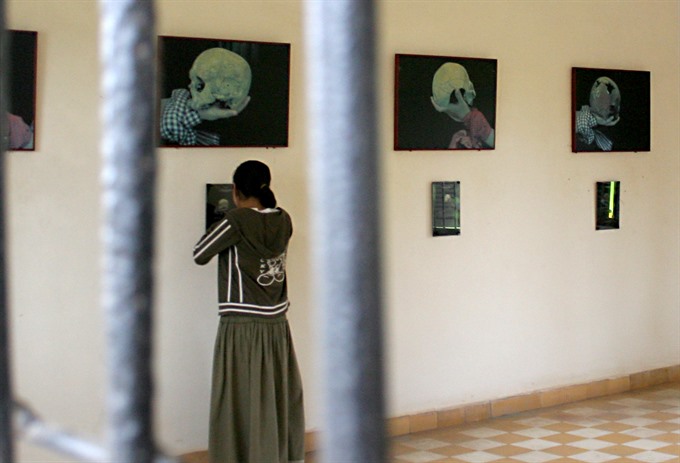 Painful history: A woman looks at photos featuring crimes by the Pol Pot regime displayed at Tuol Sleng Prison in Phnom Penh, Cambodia. VNS Photo Đoàn Tùng
.
As is the natural way, it's easy to feel the Cambodian people's gratitude to the Vietnamese voluntary army or "Buddha's army" as the survivors called them.
"If Vietnamese soldiers came a little later, my village would have died," a young woman, named Phonni, told me in tears.
Locals in Chong kho Niek Village in Tonle Sap Lake would never forget three Vietnamese soldiers who led the whole village across the lake in dry season to return to their former settlement.
In the first years after the liberation, I met famous intellectuals including Princess Linda (real name Sisowath Sovethvong), Minister of Heath Dr Myxamodi and Minister of Education Prof Penna Vut, who all expressed their gratitude to Vietnamese people and their army.
In 1983, I had the chance to witness the first withdrawal of Vietnamese voluntary troops. We visited many places and met soldiers from the tank unit that would lead the army contingent in the withdrawal ceremony.
The tank unit's commander Trần Ngọc Giao was the person who himself directed the first tank into Phnom Penh four years before. A few years before liberation day, the Quảng Ninh-born man sustained several injuries while many of his comrades died. In our talk, he expressed his joy on returning home and sympathy for his dead comrades as well as deep gratitude for the sincere care offered by locals.
Dola, the headmistress of a primary school in the capital Phnom Penh told me "3,000 pupils in her school wrote letters to express their gratitude to Vietnamese soldiers.
In Giao's pocket, there is a letter from a pupil named Mit Chum, who wrote innocent and moving words.
Many such letters had been sent to Vietnamese soldiers, who were just in the beginning of a years-long process, with lots of challenges ahead until the day the last Vietnamese soldiers returned home in 1989.
Thankful: A Cambodian woman in Xang ke, Battambang Province, gives flowers to a Vietnamese voluntary soldier before he leaves Cambodia for home in early 1980s. VNA/VNS Photo Hứa Kiểm
.
On the first withdrawal ceremony, leading tanks passed by Independent Monument in downtown Phnom Penh, then came  military vehicles carrying soldiers.
A solemn ceremony was dedicated to Vietnamese voluntary soldiers with speeches by the top leaders of the Cambodian Party and State.
But locals made the strongest impression. They queued along Monivong Boulevard, roads to the outskirts, along National Highway 1, through Kandal, Pray Veng and Svay Rieng… Thousands of locals with flowers in their hands waving to their rescuers. Smiles, tears and colourful flowers were given to Vietnamese soldiers. VNS
.
Remembering heroic efforts
*Cambodia's Chairman of National Assembly Heng Samrin said at a ceremony to celebrate the 40th anniversary of the establishment of Kampuchean United Front for National Salvation (KUFNS), today's Solidarity Front for Development of the Cambodian Motherland (December 2, 1979 – December 2, 2018) in Snuol District, Kratie Province, Cambodia:
"The ceremony is organised based on the spirit of the Cambodian people, who always remember great efforts by heroic male and female soldiers of Cambodia and voluntary soldiers from Việt Nam, who sacrificed their blood and bones during the cause of overthrowing the Pol Pot genocidal regime."
"Real compatriots of the Cambodia People's Party, who survived after mass killings by the Pol Pot regime, stood up to fight against the Khmer Rouge and established the Front on December 2, 1978 together with the support by Vietnamese voluntary troops. They destroyed the Pol Pot regime on January 7, 1979.
"History cannot be changed, what was real cannot be denied. The army of the KUFNS, though just established, thanks to the support of all people, especially the timely, great and effective support and assistance by Vietnamese voluntary army, succeeded in toppling the genocidal regime in a glorious victory on January 7, 1979.
"The victory turned Cambodia from a 'killing field' into a peaceful Cambodia as it is today."
*Cambodian Prime Minister Hun Sen spoke at a press conference after a meeting with Vietnamese Prime Minister Nguyễn Xuân Phúc on December 7, 2018 in Hà Nội:
"We are glad to see the relationship between the two countries is developing comprehensively in all fields…
"Two-way trade turnover in 2018 reached huge advancements, approximately US$4.5 billion. With this speed, the two sides may reach the aim of $5 billion before the target year of 2020 and even reach a further amount….
"In 2018, with over half a million visitors to Cambodia, Việt Nam ranked second in the list of international tourists to Cambodia.
"Especially, the two countries have completed 84 per cent of the task of erecting land border markers. This is evidence of the huge efforts and determination by the two sides in building the common border line in peace, friendship, for co-operation and development.
The two sides agreed to organise solemn ceremonies to celebrate the 40th anniversary of the victory over the Pol Pot regime (January 7, 1979 – 2019) to confirm the history when the two countries supported each other to fight together, to sacrifice together for today's peace in the two countries so that next generations will continue to preserve and develop this noble tradition, continue to nurture the traditional solidarity and friendship and comprehensive co-operation between Việt Nam and Cambodia.
"Cambodia has been focusing on two main strategies. First, turning the battlefields into markets. Second, turning border areas into areas of co-operation, peace, friendship and mutual development.
"I'm happy to see co-operation at border areas; and what used to be battlefields are now markets, where people exchange goods in friendship."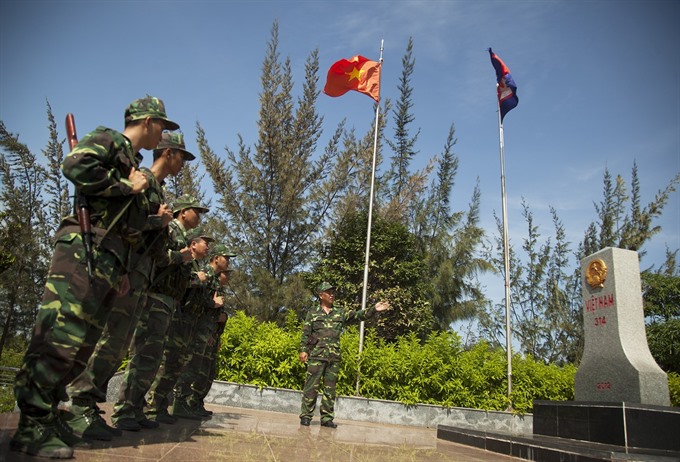 Friendly neighbours: Border guards in the southern province of Kiên Giang, which hosts a 56.8-km border with Cambodia, on a patrol mission. The force aims to establish a peaceful border area with Cambodia for friendship and mutual development. VNA/VNS Photo Nguyễn Vũ Thành Đạt
* Việt Nam People's Army Sr Lt General Nguyễn Chí Vịnh, vice Defence Minister:
"… I could confirm that we were not surprised at the nature of the Khmer Rouge, the group's betrayal, first to the Cambodian people and second to Việt Nam. Hence, we were not surprised at all during that war…
"When we understood we could not avoid the war – in other words, sitting still was committing suicide, Việt Nam decided: Fight! Fight to protect people and protect the sovereignty of the country! Fight to revive our neighbours, the Cambodian people! Fight to maintain peace…
"Up to now, we can be proud to say that the international community and the Cambodian people highly appreciated the justice of our sending troops to Cambodia, our staying for more than ten years to support the Cambodian people to settle down to their new lives after liberation, finding a solution for the Khmer Rouge problem, and maintaining stability and development until today."
.
ADS by Cloud 9:
.
– SPACE RESERVE FOR YOUR ADVERTISEMENT –
.
.
Aseanews Headlines:
.
ADS by Cloud 9:
.
– SPACE RESERVE FOR YOUR ADVERTISEMENT –
.
All photographs, news, editorials, opinions, information, data, others have been taken from the Internet..aseanews.net | [email protected] / For comments, Email to : Aseanews.net