WATER: QUẢNG NINH, Viet Nam –Rural residents thirsty for clean water
Yellow water found in a well due to alum contamination in Hoành Bồ District, Quảng Ninh Province. Photo thanhnien.vn
.
.
QUẢNG NINH – Thousands of households in the northern province of Quảng Ninh are thirsty for fresh water as most wells they use have recently been contaminated with alum.
Around 15km from Hạ Long city, the centre of Quảng Ninh Province, more than 1,000 households in Lê Lợi and Thống Nhất communes, Hoành Bồ District are using water from hand-dug wells, Thanh Niên (Young People) newspaper reported.
According to local residents, this water source was recently contaminated with alum. The water in the wells has a yellowish colour and horrible smell.
"My family used water from a drilled well for years. But about a year ago, the water became full of dirt. I have suffered from skin diseases after using this contaminated water," said Bùi Vĩnh Chuyên, a resident from Lê Lợi Commune.
..
ADS by Cloud 9:
.
– SPACE RESERVE FOR YOUR ADVERTISEMENT –
.
.
Nguyễn Tiến Mạnh from An Biên Village said his family and six other households pooled money to dig a well and build a 10 cu.m tank to filter the water as there were no other sources, adding that it could not supply a stable water source, especially in the dry season.
"This source of water has become cloudy in recent months and I had to buy another water filter. But I'm not sure it's really clean," Mạnh said.
In order to have clean water, households have to buy water in nearby communes or towns or build a filter costing up to hundreds of millions of đồng each.
Each filter has many layers of sand, gravel and activated charcoal. However, the water still smells bad, although it looks clearer.
According to Chuyên, since last year, his family has spent nearly VNĐ100 million (US$4,300) installing a pipeline to transport clean water from a business in Hoành Bồ District's Trới Township.
..
ADS by Cloud 9:
.
– SPACE RESERVE FOR YOUR ADVERTISEMENT –
.
.
.
The company transported water to each house for VNĐ200,000 per cu.m.
Chuyên bought it from a nearby family who have an uncontaminated well.
The lack of clean water has been repeatedly reported to local authorities but no fresh water has reached them.
The cost is too high for building a water supply plant.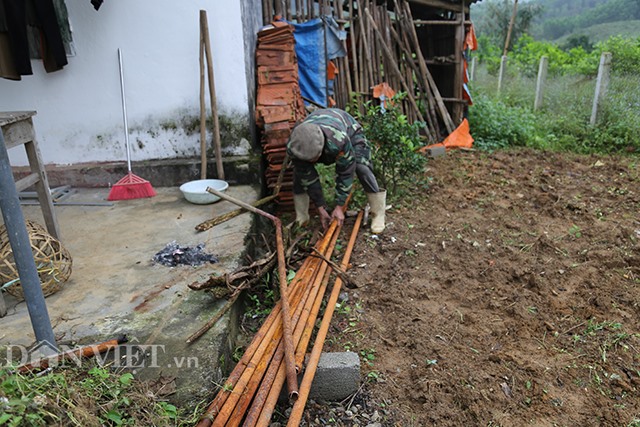 Water pipes in a disadvantaged village in Quảng Đức Commune are rusty and damaged. Photo danviet.vn
..
ADS by Cloud 9:
.
– SPACE RESERVE FOR YOUR ADVERTISEMENT –
.
.
Chairman of the People's Committee of Lê Lợi Commune, Hoàng Đức Tự, said in this commune alone, about 500 households are using water from wells.
"We have reported the situation to competent agencies many times but we see no water works yet," Tự said.
According to Trần Mạnh from Quảng Ninh Clean Water Joint Stock Company, the company set up a plan to supply water for Lê Lợi and Thống Nhất communes with investment of VNĐ20 billion.
However, the project could not be carried out due to problems in selecting contractors, he said.
It was expected that the project would be started this month and the local residents could access fresh water in September, Mạnh told the newspaper.
..
ADS by Cloud 9:
.
– SPACE RESERVE FOR YOUR ADVERTISEMENT –
.
.
Families living near the centre have not yet been installed a clean water supply system while the people in mountainous districts of Quảng Ninh Province also have no clean water for daily use although they live near the water system which has been built for many years.
More than 30 houses were built in Quảng Đức Commune's Khe Lánh 2 Village since 2005 for families in a resettlement project of Hải Hà District but there are only seven households staying here. Most of them left Khe Lánh Village to live in their old place because there is no water, danviet.vn reported.
"In 2007, residents here were very happy because each household was installed with a water pipeline. But we had used this water for a short time. Since then people still have to walk into the forest to get water in the streams. The water is now very dirty but we still have to use it, residents have no way out," said Phùn Sau Nhì, a Dao ethnic man, one of the few households still living in Khe Lánh 2 village.
..
ADS by Cloud 9:
.
– SPACE RESERVE FOR YOUR ADVERTISEMENT –
.
.
In Tân Đức Village, a village of about 55 migrant households, there are only 23 families living here and only six of them have access to the local water supply project.
In 2014, Hải Hà District built a VNĐ11 billion water system project for eight disadvantaged villages in Quảng Đức Commune.
But the system has so far only supplied regularly water for four villages, two villages have no water and 30 per cent of two remaining villages have water for daily use regularly.
According to information from Quảng Đức Commune People's Committee, since 2006, there were four water supply projects. Many water pipes were damaged due to weather, flooding and not being repaired.
Nguyễn Văn Đông, chairman of Quảng Đức Commune, said the authorities sent requests to the Agriculture and Rural Development Department for repairing the damaged water pipes but they have not received any answers.  – VNS
..
ADS by Cloud 9:
.
– SPACE RESERVE FOR YOUR ADVERTISEMENT –
.
.
All photographs, news, editorials, opinions, information, data, others have been taken from the Internet..aseanews.net | [email protected] / For comments, Email to : Aseanews.net