ARTS: HÀ NỘI – Lacquer and Contemporary Multimedia Artists Exhibition
.
Lacquer exhibition inspired by places of worship opens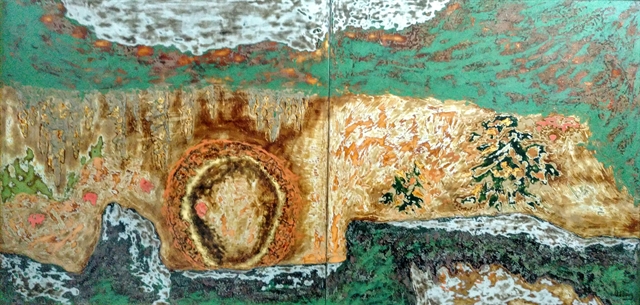 .
.
HÀ NỘI — Eight contemporary artists will showcase lacquer artworks inspired by cửa võng, the decorative door frames at places of worship.
Highlighting the work of both lacquer artists and contemporary multimedia artists, the exhibition illuminates the historic aesthetic of lacquer through time by creating a dialogue between the medium of lacquer and cửa võng.
The exhibition, entitled The Lacquer Story: Dialogue Cửa Võng, will take place on June 22 showcasing 15 pieces of art including 12 paintings, two installations and one performance which will take place at the opening ceremony.
Widely known – especially in the north – cửa võng is a special decorative object found in sacred worship spaces. It is a door frame divided into three parts. The right and left parts are attached to a pair of columns, close to the pair of phrases or text on the horizontal lacquered panel above.
This door frame separates the sacred worship area from normal life outside, indicating that it is a space to show respect and express prayers and desires to the Gods.
Along with the altar, the ornaments, the sacred atmosphere and animal statues, this symbolic door frame is an essential part of the whole sacred space of a family, a family line and a village.
In the worship space, the door frame is not only a separation but also a connection between the spiritual world and earthly life. As a result, artisans put a lot of devotion into every stage of their work to create each decorative door frame, from deciding on the content, to sculpting using delicate techniques and especially to the technique of lighting and illumination.
Participating artists include Nguyễn Trường Linh, Nguyễn Hồng Phương and Công Quốc Thắng.
This exhibition challenges each artist to push the limits of the material and also to honour their own visual language. Through this, the story of each artist is conveyed to the audience, said curator and artist Linh.
"This is the first exhibition where multimedia artists create using the lacquer medium, and by doing so, bring to the public a fresh new perspective of the possibilities and potential of using the traditional material," he said.
.
–THIS SPACE BELOW IS RESERVE FOR YOUR ADVERTISEMENT –
.
"The exhibition gives each of the artists the opportunity to have a conversation with this symbol in their own way, to connect with the public by stepping through that door and to inherit and touch the true values of fine art," said Linh. "Visitors will listen to the lacquer stories told by the artists, in which they share inspiration of tradition, culture and history."
During the exhibition, there will be artist talks and art tours with the curators.
The exhibition will run until July 31 at Cuci Art Studio, 25 Hàng Bún Street, Hà Nội. — VNS
.
–THIS SPACE BELOW IS RESERVE FOR YOUR ADVERTISEMENT –


All photographs, news, editorials, opinions, information, data, others have been taken from the Internet ..aseanews.net | [email protected] | For comments, Email to : Goldenhands Arts Club | [email protected]