LAS VEGAS: Split decision gives Pacman at 40 WBA crown, downs Thurman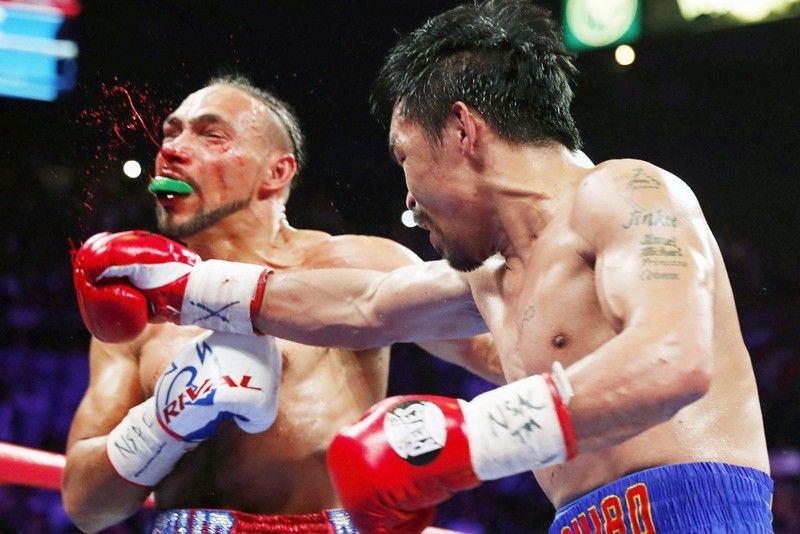 Manny Pacquiao lands a hard right against Keith Thurman during their WBA welterweight title fight at the MGM Grand Garden Arena in Las Vegas yesterday. AFP
.
.
A force at 40: Vintage Pacman downs Thurman
.
LAS VEGAS – Manny Pacquiao continued to write history by scoring a narrow yet thrilling decision over previously unbeaten Keith Thurman before a sellout crowd at the MGM Grand Garden Arena Saturday (Sunday in Manila).
Pacquiao proved that at 40 years old, he still has the speed, power and stamina that once made him the face of boxing. He knocked Thurman down late in the first round with a left to the body and a right to the face.
That was the only knockdown in the fight that took place before a crowd of 14,356, including retired superstar Floyd Mayweather Jr. and 2019 NBA champion Kawhi Leonard, who both sat at ringside.
.
–THIS SPACE BELOW IS RESERVE FOR YOUR ADVERTISEMENT –
.
That knockdown proved to be the key to victory. It gave Pacquiao the early momentum and just enough cushion to withstand Thurman's gallant stand that won him the sixth, seventh, ninth and 11th rounds.
If not for that knockdown, the fight could have gone either way or could have ended in a draw.
.
–THIS SPACE BELOW IS RESERVE FOR YOUR ADVERTISEMENT –
.
Pacquiao pulled off a split decision to deal Thurman the first loss of his career, and win the WBA "super" welterweight crown to add to his WBA "regular" welterweight title.
At his age, Pacquiao remained a world champion, and one that can keep up with boxers 10 years younger, including Adrien Broner, 29, whom he overpowered last January in the same arena.
The eight-division champion, who drew loud cheers and chants from his fans, won on two scorecards, 115-112, while Thurman, who is taller, longer and 10 years younger, earned the nod of the third judge, 114-113.
Pacquiao improved his record to 62 wins with 39 knockouts, seven defeats and two draws.
"It was fun. My opponent is a good fighter and boxer. He was strong," said Pacquiao on top of the ring.
"I think he did his best, and I did my best. I think we made the fans happy tonight because it was a good fight," added the Filipino legend.
Thurman had vowed to either send Pacquiao into retirement or destroy him. But he couldn't pull it off, and tipped his hat to the latter.
"Tonight was a blessing and a lesson. Thank you everybody, and thank you Manny Pacquiao," Thurman said.
Pacquiao hurt Thurman again in the fifth round where the latter started to bleed from the nose, and again in the 10th with a body shot that had the dethroned champion backpedaling to avoid being floored once more or for good.
The fighting senator seemed to have slowed down beginning in the sixth round. But each time Thurman turned on the heat, Pacquiao found the answer, just refusing to be overwhelmed.
Thurman looked stunned by the first-round knockdown but found a way to get back at Pacquiao. He came close to convincing the judges, who were unanimous in giving him four rounds.
The 30-year-old, who won 29 of his first 30 fights (with one no-contest), relied on his big right hand that hit its target from the middle rounds until the championship rounds.
The crowd chanted Pacquiao's name each time he took control of the fight and each time he looked in trouble.
When the final decision was announced, the crowd roared in approval. He joined Thurman at the center of the ring, and they raised each other's hands like they were co-winners.
Pacquiao went down on his knees to pray in one corner then climbed the ring post to face the crowd. He blew kisses and saluted his fans who came in full force to support him against an opponent who also gave his best.
Thurman referred to Pacquiao as "the senator." Yes, he was gracious in defeat.
"I wish I had a little bit more output to go toe to toe. I felt like he was getting a little bit tired, but he did have experience in the ring," Thurman said.
"My conditioning and my output was just behind Manny Pacquiao's. I would love the rematch," he said.
.
–THIS SPACE BELOW IS RESERVE FOR YOUR ADVERTISEMENT –
.
Kind words
Pacquiao had kind words for Thurman.
"Even though Thurman lost, he did his best. He's not an easy opponent. He's a good boxer and he's strong. I was just blessed tonight," Pacquiao said.
Mayweather arrived in the arena one bout before the Pacquiao fight. He sat very close to the ring, and was often up on his feet. At the close of the second round, there was a sign of disbelief on his face.
The undefeated boxer, who fought and defeated Pacquiao in the mother of all boxing matches in 2015, rose from his seat and headed to the exit moments after the final bell, not bothering to wait for the final decision.
In the fifth round, Thurman got off to a hot start, and was actually winning the round when Pacquiao came back real hard, landing heavy blows to the head and body, and nearly sent Thurman's mouthpiece flying.
After the bell ending the fifth round rang, Thurman, who breathed heavily through the nose, spat blood onto the canvass, and almost dragged his feet to his corner, as if he was done.
But he came back strong in the following round, and made the fight very entertaining for the fans, the live audience and those who watched from around the world.
As the closing rounds progressed, Thurman continued to land one big shot after another, mostly his right. Pacquiao took those shots, hard ones, but was never really in danger.
In the seventh round, Thurman connected with a perfect one-two combination, and Pacquiao, during a brief clinch, smiled as if to say he was fine, exposing his mouth guard.
It was typical Pacquiao.
Pacquiao and his entourage, including his wife, Jinkee, and reigning Miss Universe Catriona Gray of the Philippines, made it to the arena at 6 p.m.
The Pacquiao couple held hands as they walked to the dressing room.
Earlier in the day, Pacquiao played billiards in his suite, and enjoyed quiet time with a limited number of visitors.
Video clips showed Thurman holed out in his own suite hours to the fight. He sat on a couch, his legs raised and wrapped in some kind of plastic material.
.
–THIS SPACE BELOW IS RESERVE FOR YOUR ADVERTISEMENT –
.
Undercard
Jon Leo Dato of Bangar in La Union kicked off the day's action with a fifth-round knockout win over Juan Antonio Lopez of Dallas, Texas.
Dato, always seen here with a Philippine flag draped on his body, landed a powerful body shot to end the featherweight contest in the 2:05 mark of the fifth.
Now based in California, the 26-year-old Dato was ahead on all scorecards when the fight was stopped, marking his 12th win and eighth knockout in a dozen fights.
Genesis Libranza of Bayugan in Agusan del Sur followed suit, stopping Carlos Maldonado of East Los Angeles in the fourth round.
Libranza was all over his foe and landed combinations that were unanswered, forcing referee Russell Mora to halt the bout in the 2:58 mark.
Javar Inson of Davao, a last-minute replacement, was not as fortunate against Sergei Lipinets of Kazakhstan, getting knocked out in the second round.
Lipinets connected with a left hook to the jaw that sent Inson down on the floor. He managed to get up but was waved off by the referee.
Inson's stint at the MGM ended at the 57-second mark of the second.
.
–THIS SPACE BELOW IS RESERVE FOR YOUR ADVERTISEMENT –
.
.