ASEAN DRUG WAR: Philippine 'Vice President Leni Robredo's drug war to be relentless'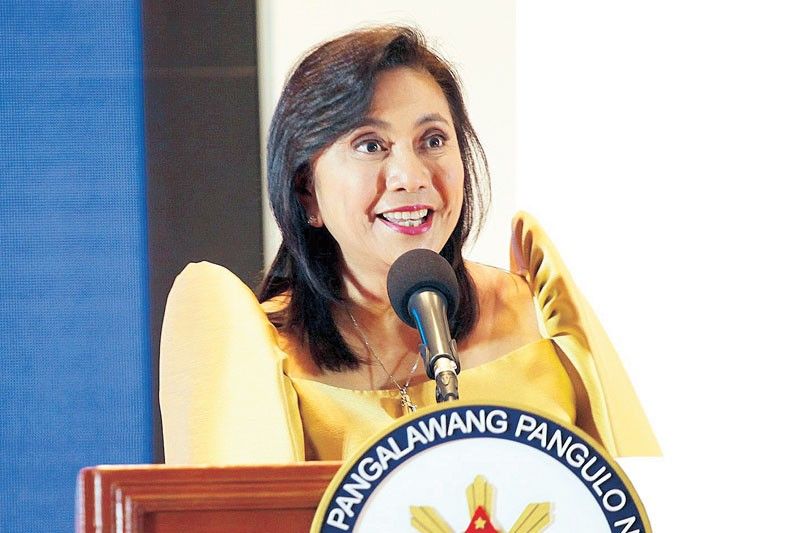 Vice President Leni Robredo speaks during the Women Today forum at the Marriott hotel in Pasay City yesterday. The forum, organized by The Philippine STAR, gathered several of the country's most influential women to tackle various issues, including challenges facing female innovators.
.
MANILA, Phillipines — As attacks and "fake news" against Vice President Leni Robredo went "into overdrive" just days after her appointment as drug czar, her spokesman assured the public that she would not be soft on drug traffickers.
Barry Gutierrez said Robredo would be "unrelenting" in going after large-scale traffickers and the drug war would be pursued "with the same intensity and the same vigor" as in the recent past, but with less bloodiness.
"Definitely she will not be soft," Gutierrez told "The Chiefs" last Monday on Cignal TV's One News, as he described as "counterproductive and very very premature" criticisms of her new role in fighting illegal drugs.
Addressing the Women Today forum organized by The Philippine STAR yesterday at the Marriott hotel, Robredo disclosed that "I accepted the challenge against the advice of everyone, including my children."
"I needed to do this sacrifice for the greater good," Robredo said.
She will meet with officials of the US embassy today to discuss possible partnerships in the country's war on drugs.
Robredo could not confirm whether US Ambassador Sung Kim, who earlier expressed support for her appointment as drug czar, would attend the meeting.
"We want to know how we can ask for help, not in the area of law enforcement, but we want to know the available resources especially in the area of intelligence," Robredo told reporters after attending the women's forum in Pasay City.
"We will be needing greater help in running after the big-time drug lords," she added.
Kim earlier expressed support for Robredo following her appointment as co-chairperson of the Inter-Agency Committee on Anti-Illegal Drugs (ICAD).
Robredo said she will also meet the law enforcement cluster of ICAD tomorrow.
The Vice President said she will allow the law enforcers to be actively involved in crafting the new strategy.
"I'd rather let the law enforcers conceptualize a more effective program so they can have ownership of it," she said.
Robredo also welcomed the House's invitation for her to attend its hearing and clarify her plans.
"I'd love to attend that because this could serve as a platform to lay down the direction of the campaign," she said.
In her speech at the forum, Robredo said her strength as a mother helped her in accepting President Duterte's offer to lead the anti-drug campaign.
"Perhaps it was my instinct as a mother that I accepted this responsibility," she said.
"Within my days of acceptance of the designation by the President, statements and fake news pushed by trolls on social media were already coming out insinuating that I lack courage and resolve because I was only a mother and woman," Robredo, a mother of three, said.
DFA chief-approved
Foreign Affairs Secretary Teodoro Locsin Jr. approved yesterday of the meeting of Vice President Robredo with officials of the United Nations Office on Drugs and Crime (UNODC) on Monday.
Posting on Twitter, the country's top diplomat thanked Robredo, the newly appointed anti-drug czar, for her "superb" move.
"Thank you Leni. I've been trying without success to get us engaged with Vienna's UNODC which is focused on fighting drug trafficking and dealing, not coddling them like Geneva," Locsin tweeted.
"We can trust UNODC while it is headed by a Russian," he said.
Yury Fedotov of the Russian Federation has been executive director of the UNODC since UN Secretary General Ban Ki-moon appointed him in 2010.
"Superb. That's what I've been trying to get our side to do. Meet with UNODC. The leadership is Russian for now," he added.
The United Nations Human Rights Council (UNHRC) voted in July to investigate the bloody "war on drugs" in the Philippines and urged the Philippine government to do more to prevent extrajudicial killings, linked to its campaign against illegal drugs.
In a close vote, the 47-member council adopted the Iceland-initiated resolution which expressed concern that since President Duterte announced his so-called war on drugs in 2016, there have been allegations that thousands of people involved in the drug trade and drug use have been killed.
The resolution, adopted by 18 votes in favor to 14 against, with 15 abstentions, also appeals to the authorities to investigate the deaths and to hold perpetrators accountable.
The text also calls on the Philippine government to cooperate with the Office of the High Commissioner for Human Rights by facilitating country visits and "refraining from all acts of intimidation or retaliation" against rights experts.
"Been trying to get us engaged with UNODC after Geneva showed its true colors as protectors of the drug trade, made up of ex-pro Nazi countries and impecunious whites in need of handouts from cartels," Locsin tweeted.
Meanwhile, Sen. Leila de Lima has lauded Robredo's unrelenting spirit and determination in solving the worsening illegal drug problem in the country despite early efforts by some administration allies to discredit her.
"Sincerity. Decency. Professionalism. Rare commodities in Duterte's world. Bountiful traits in VP Leni," De Lima said. "People see a determined VP Leni out to right the wrongs and restore sanity in the enforcement of the drug war, save lives and pursue justice and pounce on the real drug lords, their cohorts and protectors."
Last Oct. 31, Duterte designated Robredo as co-chairperson of ICAD. The Vice President accepted his offer despite warnings from her allies and partymates that such could be a "trap" and is doomed to fail.
In accepting the offer, Robredo justified that her new designation is an opportunity to help end the violence and unprecedented deaths under the Duterte administration's all-out war against illegal drugs.
As the new head of the government's anti-illegal drugs campaign, the Vice President underscored that she will focus on reducing the supply of illegal drugs in the country by taking down big-time dealers.
De Lima, a fierce critic of the administration's war on drugs, said she is also praying for her fellow Bicolana's continued safety and strength as the latter works in improving the government's anti-narcotics campaign.
"We pray for VP Leni's safety, enduring strength and success," said De Lima.
De Lima said she is confident that Robredo could provide a genuine solution to the country's illegal drug problems because "she will bring compassion where there is none; and leadership and direction where it is needed." – With Cecille Suerte Felipe, Pia Lee-Brago / Helen Flores (The Philippine Star)
.
BELOW IS RESERVE FOR YOUR ADVERTISEMENT –
.
.
BELOW IS RESERVE FOR YOUR ADVERTISEMENT –
.
.
BELOW IS RESERVE FOR YOUR ADVERTISEMENT –
.
All photographs, news, editorials, opinions, information, data, others have been taken from the Internet..aseanews.net