PHOTONEWS- Dec. 8, 2019– Ongoing Days 54: Novel CoronavIrus- nCoV
WUHAN CITY: Wuhan party chief admits city should have acted sooner
Passengers waiting to board a flight yesterday at Rome's Fiumicino airport, as a number of airlines halted or reduced flights to China in a bid to contain the spread of the Wuhan coronavirus. China sent two planes to Malaysia and Thailand yesterday t
.
.
WUHAN CITY: Nations take drastic steps to rim spread

ANOTHER WUHAN VICTIM. The photo, taken on Thursday, shows an official in a protective suit checking on an elderly man wearing a face mask who collapsed and died on a street in Wuhan, the epicenter of the now spreading coronavirus, AFP journalists saw the body on Jan. 30, not long before an emergency vehicle arrived carrying police and medical staff in full-body protective suits. AFP
>
MANILA: Philippines sets off airlift in Wuhan
First batch of evacuees to fly out on chartered planes next week
REPATRIATION, QUARANTINE. French citizens arrive and settle aboard an evacuation plane with destination southeastern France, before departure from Wuhan Airport Thursday night. They are being repatriated from the coronavirus hot zone, their expected time of arrival in France placed Friday night where they will be put on quarantine for 14 days in a holiday center in Carry-le-Rouet, near Marseille. AFP
>
MANILA: Wider Chinese ban pushed as PH grapples with virus
PRECAUTIONS Personnel at Ninoy Aquino International Airport wear face masks as they prepare to receive newarrivals who may be sick or in need of assistance on Friday, a day after health officials confirmed the first of the newnovel coronavirus in the country.—LYN RILLON
.>
MANILA: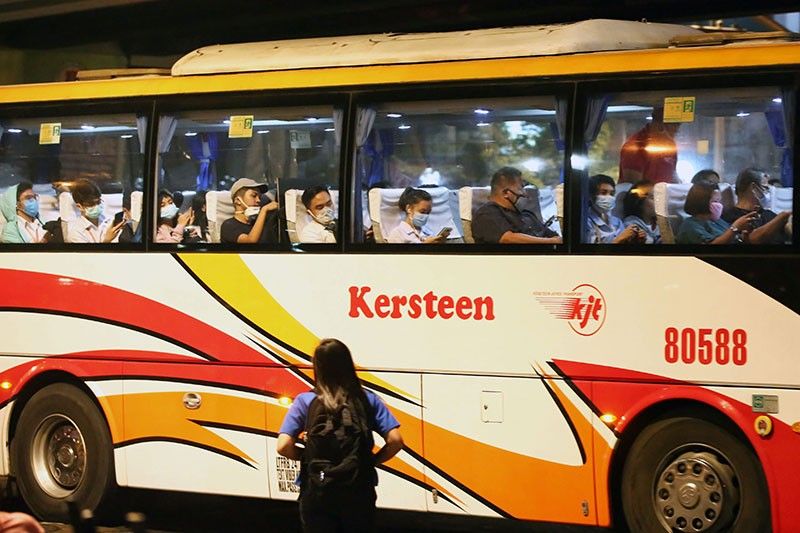 Naka-mask lahat ang mga pasahero ng bus bilang proteksiyon laban sa nCoV matapos makumpirma ang unang kaso ng nasabing sakit sa bansa.
>
New coronavirus has infected more than 9,800 globally
A student pours alcohol on his hands before entering the campus as a precautionary measure against the spread of a new virus at a school in Manila. (AP)
>
MANILA: DOH to big hospitals: You can't turn away suspected nCoV patients
TEMPERATURES MONITORED. Students wearing protective masks have their temperatures taken while entering their college campus in Manila on Friday. AFP
>
MANILA:
TEMPERATURES MONITORED. High school students of Araullo in Manila similarly wear face masks. Norman Cruz
BEIJING CITY: Wuhan virus: China death toll rises to 258, with total cases surpassing 11,000
.A security guard checks the temperature of a woman at the entrance to a park in Beijing on Jan 31, 2020.PHOTO: AFP
>
SINGAPORE: Wuhan virus: Visitors with recent travel history to China not allowed to enter or transit in Singapore
>
SINGAPORE: Wuhan virus: First Singaporean case confirmed; she was on Scoot flight from Wuhan
Passengers boarding a Scoot flight from Wuhan to Singapore on Jan 30, 2020.PHOTO: MINISTRY OF FOREIGN AFFAIRS
.
Memento Maxima Digital Marketing
– SPACE RESERVE FOR YOUR ADVERTISEMENT –
 .
.
MY CAMERA –  Griffith Observatory