GLOBAL IMAGES: COVID19 PANDEMIC- 12.01.2019 -Day 76 / Virus death toll soars as China changes counting methods
WHO announces new name for 2019 novel coronavirus: COVID-19
WHO tags virus from Wuhan very grave threat
. 
.
WHO:
GENEVA-   Cases stabilise, but outbreak could go any direction
WHO chief Tedros Adhanom Ghebreyesus attends a news conference in Geneva.PHOTO: AFP
From Wikipedia, the free encyclopedia
Epidemiology
The earliest reported symptoms occurred 1 December 2019, in a person who did not have any exposure to the Huanan Seafood Wholesale Market or to the remaining 40 affected people. Of the following 40 confirmed cases of COVID-19, two-thirds were found to have a link with the market, which also sold live animals.Of cases that began before 1 January 2020, 55% were linked to the market. By 22 January, this figure was reported to have dropped to 8.6%.[73] Hence, as the number of cases has increased, the significance of the market has lessened
During the early stages, the number of cases doubled approximately every seven and a half days. In early and mid-January 2020, the virus spread to other Chinese provinces, helped by the Chinese new year migration. On 20 January, China reported a sharp rise in cases with nearly 140 new patients, including two people in Beijing and one in Shenzhen.By 25 January, the number of laboratory-confirmed cases stood at 2,062, including 2,016 in Mainland China, seven in Thailand, six in Hong Kong, five in Macau, five in Australia, four in Malaysia, four in Singapore, three in France, three in Japan, three in South Korea, three in Taiwan, three in the United States, two in Vietnam, one in Nepal and one in Sweden.[76]
The virus was soon carried to other countries by international travellers: Thailand (13 January); Japan (15 January); South Korea (20 January); Taiwan and the United States (21 January); Hong Kong and Macau (22 January); Singapore (23 January); France, Nepal and Vietnam (24 January); Australia and Malaysia (25 January); Canada (26 January); Cambodia (27 January); Germany (28 January); Finland, Sri Lanka and the United Arab Emirates (29 January); India, Italy and Philippines (30 January); the United Kingdom, Russia, Sweden and Spain (31 January); Belgium (4 February)
Citing 7,711 cases essentially in China and 83 cases abroad across 18 countries as of 29 January, the World Health Organization declared the novel coronavirus outbreak to be a Public Health Emergency of International Concern on 30 January. As of 12 February, 44,793 cases have been confirmed worldwide, over 99% in mainland China.
While spread between people has been confirmed no active centres of propagation have been confirmed outside China as of 30 January.
On 7 February 2020, Singapore's Ministry of Health announced 3 new cases where none are linked to the existing cases or have been in China recently.
On 6 February, the Chinese National Health Commission started to change how cases were reported – asymptomatic carriers, who tested positive for the virus but did not show clinical symptoms, would no longer be included in the number of confirmed cases. This had the effect of reducing the total number of cases reported, but also meant that potentially contagious individuals were ignored in reportsruary 2020
.
CHINA:
.
THE EPICENTER:
HUBEI PROVINCE, CHINA
Coronavirus patients and medical staff in Wuhan have entertained themselves by dancing at makeshift hospital to fight against the virus.
.
<g.image
SHANGHAI- Virus death toll soars as China changes counting methods
<g.image>
TAIPEI- Taiwan mulls countermeasures if Philippines doesn't lift entry ban.
Taiwan Foreign Ministry Spokeswoman Joanne Ou speaks at a news conference in Taipei, Taiwan, February 11, 2020. REUTERS/Ben Blanchard.
ADS by:
Memento Maxima Digital Marketing
– SPACE RESERVE FOR YOUR ADVERTISEMENT –
.
ASEAN:
 .
BRUNEI- Updates on COVID-19 shared.
A briefing session by the Ministry of Health (MoH) discussed the current status of the COVID-19 outbreak, preventive measures, and a temporary travel ban on two more provinces in the People's Republic of China. The briefing was held at Al-'Afiah Hall of the MoH yesterday. It was delivered by Health Officer at the Disease Control Division of the MoH's Environmental Health Services Dr Lena binti Haji Mat Salleh, who said the travel restrictions had been expanded to include Zheijiang and Jiangsu, as well as non-essential trips to mainland China.
.
<g.image>
.
 VIENTIANE, Laos- China, ASEAN foreign ministers to meet next week in Laos over new coronavirus spread.
A man wears a mask as he walks past a mural showing a modified image of the Chinese Communist Party emblem in Shanghai, China after the country is hit by an outbreak of the new coronavirus, January 28, 2020. Aly Song, Reuters
.
BEIJING – Chinese and foreign ministers of Southeast Asian nations have decided to hold an emergency meeting in Laos next week over the recent outbreak of a new pneumonia-causing coronavirus raging across mainland China, diplomatic sources said Tuesday.
The gathering would be convened as proposed by China, which wants to tie up with the Association of Southeast Asian Nations to curb a further spread of the new virus, which has so far infected more than 40,000 people and killed over 1,000, the sources said.
.
.
<g.image>
ADS by:
Memento Maxima Digital Marketing
– SPACE RESERVE FOR YOUR ADVERTISEMENT –
.
ON LIGHTER BEWS:
MANILA- Postpone Valentine's Day, SC justice proposes amid coronavirus woes.
MANILA, Philippines – If Supreme Court Associate Justice Marvic Leonen had his way, Valentine's Day should have been postponed this year.
.
SINGAPORE- Rally through Total Defence to combat coronavirus, like during Sars: Ng Eng Hen

<>
BINH XUYEN, Viet Nam- Vietnam quarantines area with 10,000 residents over coronavirus.
BINH XUYEN, VIETNAM (AFP) – More than 10,000 people in villages near Vietnam's capital were placed under quarantine yesterday after six cases of the deadly new coronavirus were discovered there, authorities said. In the first mass quarantine outside of China since the virus emerged there in late December, the Son Loi farming region about 40 kilometres from Hanoi will be locked down for 20 days, the health ministry said. Checkpoints have been set up around the six villages that make up Son Loi, said an AFP team on the outskirts of the area in Binh Xuyen district. More details in Friday's
.
<g.images>
.
ASIA:
.
YOKOHAMA CITY – Japan woman with coronavirus dies as cruise ship cases soar.
Japanese military personnel set up a covered walkway next to the quarantined Diamond Princess cruise ship in Yokohama port/ Harumi Ozawa with Sara Hussein in Tokyo,AFP News 10 hours ago.
YOKOHAMA CITY -Japan cruise ship virus cases jump to 218 as elderly offered escape.
YOKOHAMA, JAPAN (AFP) – Japan said yesterday it would allow some elderly passengers off a quarantined cruise ship and into government-designated lodging, as the number of new coronavirus cases on the vessel jumped to 218. Thousands of passengers and crew on the Diamond Princess – the single largest cluster of infected people outside China – face several days more of quarantine, with many taking to social media to voice their concerns. Those working on the ship have been reluctant to speak to reporters for fear of losing their jobs, but two crew members broke their silence in a video broadcast by Indian media yesterday.
<g.image>
.
AMERICA:
WASHINGTON, United States — White House 'disappointed' in China's virus transparency.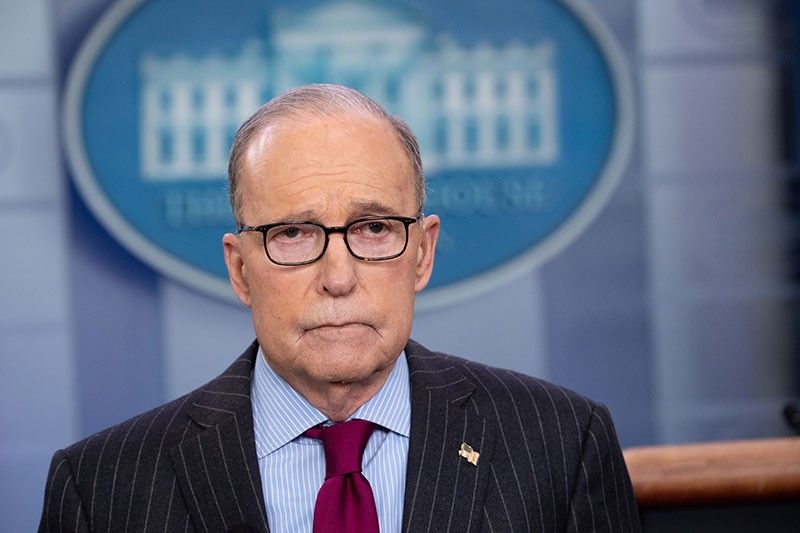 In this file photo taken on January 29, 2020 Larry Kudlow, Director of the National Economic Council, speaks during a television interview in the Brady Press Briefing Room of the White House in Washington, DC. The United States feels let down by a lack of transparency from China over the coronavirus, COVID-19 outbreak, a senior White House official said February 13, 2020. "We are a little disappointed that we haven't been invited in and we're a little disappointed in the lack of transparency coming from the Chinese," Larry Kudlow, the director of President Donald Trump's Economic Council, told reporters.
AFP/Saul Loeb
.
WASHINGTON, United States — The United States feels let down by a lack of transparency from China over the new-coronavirus crisis, a senior White House official said Thursday, contradicting President Donald Trump's confidence in Beijing.
<g.image>
EUROPE:
MOSCOW- Two patients in Russia with COVID-19 have fully recovered
MOSCOW (AP) — Two Chinese nationals hospitalised with COVID-19 in Russia last month have fully recovered from the disease and were discharged from hospitals this week, officials said. A tourist from China hospitalised in the Zabaykalye region in eastern Siberia was discharged yesterday after a series of tests revealed that he was no longer infected. He is "completely healthy and poses no danger to people around him," local health officials said.
.
<g.image>>
.
All photographs, news, editorials, opinions, information, data, others have been taken from the Internet ..aseanews.net | [email protected] | Fo r comments, Email to :  Al Bulario