GLOBAL IMAGES: COVID19 PANDEMIC- 12.01.2019 -Day 84 –MANILA- Masks and kisses: Philippine couples brave virus to exchange vows
Filipino couples kiss while wearing their face masks in a government-sponsored mass wedding in Bacolod City
.

WHO says window of opportunity to stem virus 'narrowing' as cases soar
 Drop in new China virus cases as toll reaches 2,345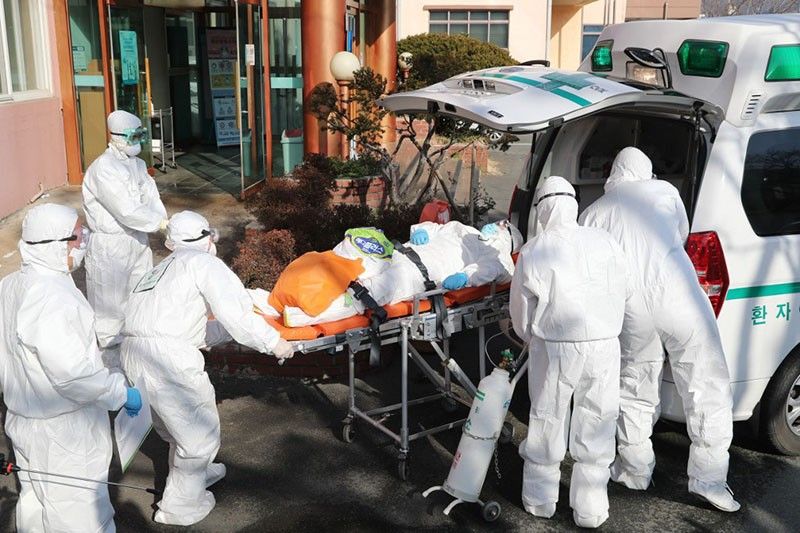 Medical workers wearing protective gear transfer a suspected coronavirus patient (C) to another hospital from Daenam Hospital where a total of 16 infections have now been identified with the COVID-19 coronavirus, in Cheongdo county near the southeastern city of Daegu on February 21, 2020. South Korea's coronavirus cases nearly doubled on February 21, rising above 200 and making it the worst-affected country outside China as the number of infections linked to a religious sect spiked.
.
<g.images>
.
BEIJING: New virus cases soar in S.Korea and Chinese prisons, more die in Iran
Restaurant workers wear protective clothing as they prepare food to sell on the street outside their restaurant in Beijing

Laurent Thomet with Kang Jin-kyu in Daegu, South Korea,AFP 
BEIJING-  China's car sales plunge 92% due to coronavirus
BEIJING — Retail sales of passenger cars in China crumbled 92% on an annual basis in the first 16 days of February, according to China Passenger Car Association (CPCA), as the coronavirus outbreak slammed the brakes on businesses across the country.
<g.images>
.
ASEAN
.
MANILA – Filipinos quarantined in New Clark City set to go home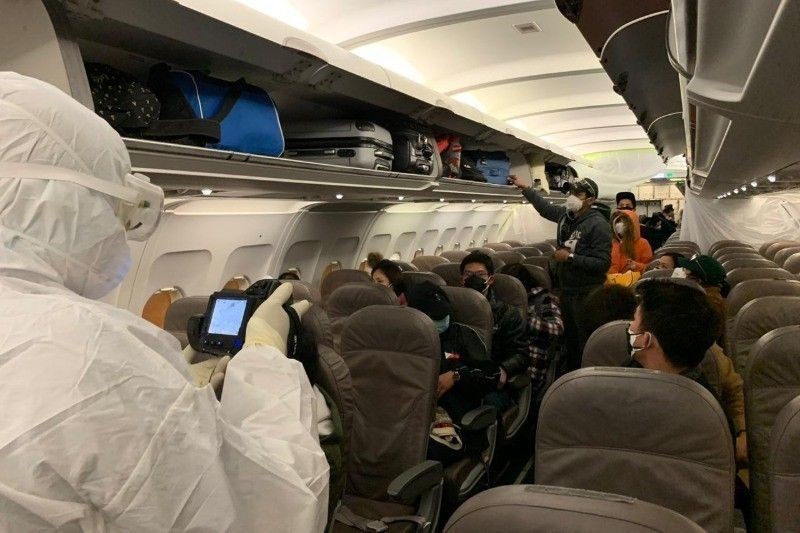 The first batch of repatriates quarantined in New Clark City will be allowed to go home after showing no signs and symptoms of the potentially deadly coronavirus disease, the Department of Health said Friday.
DOH Assistant Secretary Ma. Rosario Vergeire said a send-off ceremony for the 49 Filipinos will be held on Saturday, the last day of the 14-day mandatory quarantined imposed by the government..
.
<>
.
MANILA- Masks and kisses: Philippine couples brave virus to exchange vows
MANILA (Reuters) – Wearing blue surgical masks amid a coronavirus outbreak, 220 couples exchanged vows and kisses in the central Philippines to launch their married lives.
Lovers and their relatives braved the virus, which has killed 2,236 people, to attend Thursday's mass ceremony sponsored by the coastal city of Bacolod.
<g.images>
.
AMERICA
MONTREAL, Canda- China anti-doping agency to resume testing halted by coronavirus
US STOCKS-Wall St slides as gloomy data adds to coronavirus fears
.
Memento Maxima Digital Marketing
– SPACE RESERVE FOR YOUR ADVERTISEMENT –
.
<g.images>
All photographs, news, editorials, opinions, information, data, others have been taken from the Internet ..aseanews.net | [email protected] | Fo r comments, Email to :  Al Bulario