GLOBAL IMAGES: COVID19 PANDEMIC- 12.01.2019 -Day 90- Virus engulfs six continents
FILE PHOTO: Tourists wear protective masks in Saint Mark's Square in Venice as Italy battles a coronavirus outbreak
.
.

WHO defines pandemic: Word doesn't apply to COVID-19 yet
What is a pandemic? Is the novel coronavirus disease 2019 (COVID-19) already one?
No and no, according to Dr. Rabindra Abeyasinghe, World Health Organization representative to the Philippines ­—and he can't tell the last time the 
world witnessed a pandemic.
"
.
A pandemic would be a disease that is spreading uncontrollably, affecting all continents, across the world," he said in an interview with ABS-CBN News.
.
But since there have been "changes in the classification in how we talk about pandemics. We haven't recently had a global pandemic," Abeyasinghe added.
.
Regardless of a pandemic's more technical definition, the WHO official said COVID-19, the disease caused by a new strain of coronavirus, is still not 
considered a pandemic. / 
posted
by
Manila Standard
READ MORE: https://manilastandard.net/news/top-stories/318328/who-defines-pandemic-word-doesn-t-apply-to-covid-19-yet.html
Asked if the WHO agrees with experts claiming that it's possible COVID-19 will eventually become a seasonal pandemic like the common flu, he said: "That's speculation.
.
<G.IMAGES>
.
GENEVA/BEIJING-  World prepares for coronavirus pandemic; global recession forecast.
FILE PHOTO: Tourists wear protective masks in Saint Mark's Square in Venice as Italy
battles a coronavirus outbreak
.
GENEVA/BEIJING (Reuters) – Hopes the coronavirus would be contained to China vanished on Friday as infections spread rapidly around the world, countries started stockpiling medical equipment and investors took flight in expectation of a global recession.
Share prices were on track for the worst week since the global financial crisis in 2008 as virus-related disruptions to international travel and supply chains fuelled fears of recession in the United States and the Euro zone./  By Stephanie Nebehay and Ryan Woo,Reuters
.
The virus has so far mainly battered China, causing nearly 80,000 infections and almost 2,800 deaths, according official Chinese figures. It has spread to another 46 countries, where about 3,700 cases and 57 deaths have been reported, according to the WHO.
There is no cure for the coronavirus, which can lead to pneumonia, and a vaccine may take up to 18 months to develop.
READ MORE: https://ph.yahoo.com/news/world-prepares-coronavirus-pandemic-global-020019853.html
.
THE EPICENTER: CHINA
BEIJING- Coronavirus outbreak will be under control by late April, says China expert
China registered 29 deaths from the coronavirus on Wednesday, the lowest in a day in nearly a month, as its top epidemiologist sounded hope that the country could curb the outbreak by the end of April.
The death toll is a marked improvement from the day before, when 52 deaths were reported. The epidemic has killed 2,744 people in China, mostly in Hubei province.
Dr Zhong Nanshan, the country's leading infectious disease expert, said China's swift intervention, such as locking down the epicentre Wuhan, helped prevent the outbreak from erupting in other cities.
READ MORE: https://www.straitstimes.com/asia/east-asia/outbreak-will-be-under-control-by-late-april-says-china-expert
.
GUANGDONG, China-  Top Chinese expert Zhong Nanshan clarifies only 1 case in coronavirus study shows 24-day incubation period
GUANGDONG (CHINA DAILY/ASIA NEWS NETWORK) – Only one in a sample of 1,099 patients infected with the new coronavirus was found to have an incubation period of as long as 24 days, a top Chinese scientist has clarified.
The time between initial exposure and development of the first symptoms of the illness is based on the patient's account of the illness.
READ MORE: https://www.straitstimes.com/asia/east-asia/top-chinese-expert-zhong-nanshan-clarifies-only-1-case-in-coronavirus-study-shows-24
.
BEIJING- China reports 327 new coronavirus cases, 44 deaths
BEIJING (REUTERS) – Mainland China had 327 new confirmed cases of coronavirus infections on Thursday (Feb 27), the country's National Health Commission said on Friday, down from 433 cases a day earlier.
That brings the total accumulated number of confirmed cases in mainland China so far to 78,824.
The death toll from the outbreak in mainland China reached 2,788 as of the end of Thursday, up by 44 from the previous day.
.
<g.images>
.
ASEAN
.
BRUNEI- Move to seek government's help as virus hits travel industry
The Association of Travel Agents Brunei (ATAB) is planning to seek assistance from the Government of Brunei Darussalam, to mitigate the adverse impact of the COVID-19 outbreak on the travel industry. The assistance can be a temporary suspension, or a lowering of financial payment to banks or tax breaks. ATAB members have also been urged to give full details, for a strong case in seeking government assistance
.
.
MANILA- Korea travel ban on hold, says BI / But 26 from Daegu entered Cebu before the ban, now quarantined
FACE MASK ANYONE? Koreans wait in line to buy face masks in front of a store at Dongseongro shopping district in Daegu on Thursday. South Korea has reported 334 new coronavirus cases, taking its total to 1,595, still the largest in the world outside China, where the disease first emerged. AFP
.
The Bureau of Immigration admitted Thursday that it has yet to enforce the 
travel ban of passengers
 coming from South Korea, which has the most number of novel coronavirus (COVID-19) cases after China even as 26 Koreans who enplaned from Daegu City to Cebu have been placed under quarantine by the Health Department in Region 7.
.
.
Bureau spokesperson Dana Kriza Sandoval said immigration personnel at the Ninoy Aquino International Airport could not determine inbound passengers from South Korea if they camefrom Daegu and North Gyeongsang province in South Korea, where a large number of persons with COVID-19 were recorded. / 
Vito Barcelo and Joel E. Zurbano, Macon Ramos-Araneta, Rey E. Requejo, Maricel V. Cruz
READ MORE: https://manilastandard.net/news/top-stories/318418/korea-travel-ban-on-hold-says-bi.html
.
SINGAPORE- Singapore emerges as litmus test for coronavirus containment
(Bloomberg) — As the novel coronavirus starts to gather speed in Europe, the Middle East and the U.S., there's one place it is seemingly being contained: Singapore.
With no reported virus-related deaths despite 96 cases, and a slowing rate of infection that's been outpaced by recoveries, the Asian city-state is emerging as a litmus test of whether the deadly pathogen can be, if not contained, then neutralised. /  By Philip J. Heijmans  /  Bloomberg
.
HA NOI- PM pushes for COVID-19 preventive measures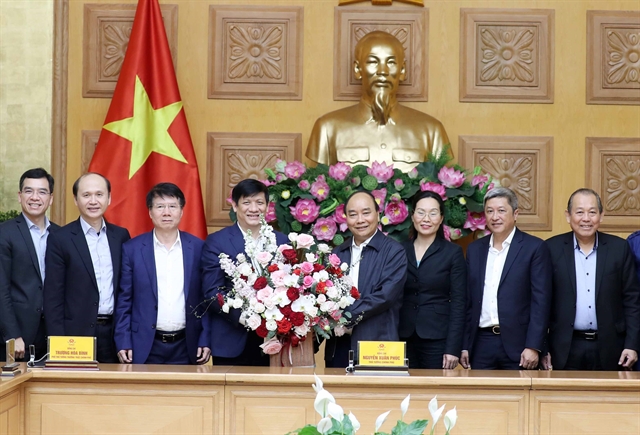 .
HÀ NỘI — Prime Minister Nguyễn Xuân Phúc on Thursday called for stronger implementation of quarantine measures to prevent COVID-19 from spreading..
.
The PM was speaking at a meeting of the Government and the National Steering Committee on COVID-19 Prevention and Control.
.
HÀ NỘI —Khánh Hòa Province clear of COVID-19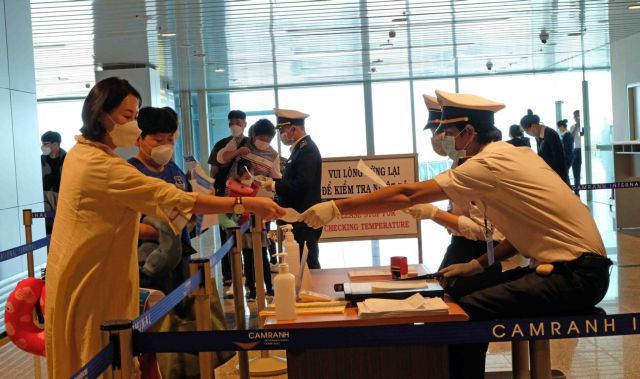 HÀ NỘI — The Ministry of Health (MoH) on Wednesday officially announced that the COVID-19 epidemic had ended in the south-central province of Khánh Hòa.
Under the decision signed by Deputy Minister of Health Đỗ Xuân Tuyên, the MoH asked the province to continue supervising and ensuring preventive measures are followed
ADS by:
Memento Maxima Digital Marketing
– SPACE RESERVE FOR YOUR ADVERTISEMENT –
 .
ASIA
.
TOKYO- Japan's public schools to be closed from next week in bid to control coronavirus outbreak
Japan will close all public schools from Monday to fight the coronavirus outbreak, Prime Minister Shinzo Abe said yesterday.
.
.
PYONGYANG, N. Korea- UN prepared to make humanitarian exemptions for N. Korea on coronavirus
The UN Security Council on Thursday declared that it would adopt humanitarian exemptions to the heavy economic sanctions imposed on North Korea to help the impoverished country fight the novel coronavirus, Germany's ambassador to the UN said.
"The coronavirus issue was discussed and the committee immediately had given permission to export the equipment" used to fight the illness, said Christoph Heusgen, who heads the United Nations body that applies the sanctions imposed on Pyongyang in an effort to force it to give up its ballistic and nuclear programs.
.
.
SEOUL, South Korea- BTS Cancels Korea Concerts Due to Coronavirus
BTS has canceled concerts planned for Korea, the group announced on Thursday, Feb. 27, due to concerns about the worldwide coronavirus pandemic.
According to a post on an official BTS Twitter (@bts_bighit), "Map of the Soul" tour shows scheduled for April 11, 12, 18 and 19 at Seoul's Jamsil Olympic Stadium have been called off, with ticket buyers being automatically refunded the price of their purchase. /  Kristine Kwak,Variety
.
SEOUL- S.KoreaUS- South Korea postpone joint military exercises over virus
.
TEHRAN- Iran raises its death toll to 19 amid 139 coronavirus cases
DUBAI, UNITED ARAB EMIRATES (AP) — Iran's President said Tehran has no immediate plans to quarantine cities over the new coronavirus rapidly spreading across the country, even as the Islamic Republic suffers the highest death toll outside of China with 19 killed amid 139 cases confirmed yesterday. President Hassan Rouhani went on to acknowledge that may take "one, two or three weeks" to get control of the virus in Iran, linked to most of the over 160 confirmed cases of the virus now spread across the Mideast.
.
RIYADH-  Saudi Arabia halts travel to Islam's holiest site over virus
DUBAI, United Arab Emirates (AP) — Saudi Arabia on Thursday halted travel to the holiest sites in Islam over fears about a new viral epidemic just months ahead of the annual hajj pilgrimage, a move coming as the Mideast has over 220 confirmed cases of the illness.
The extraordinary decision by Saudi Arabia stops foreigners from reaching the holy city of Mecca and the Kaaba. It also said travel was suspended to Prophet Muhammad's (pbuh) mosque in Medina.
The decision showed the worry about the outbreak potentially spreading into Saudi Arabia, whose oil-rich monarchy stakes its legitimacy on protecting Islam's holy sites. The epicenter in the Mideast's most-affected country, Iran, appears to be in the holy Shiite city of Qom, where a shrine there sees the faithful reach out to kiss and touch it in reverence.
"Saudi Arabia renews its support for all international measures to limit the spread of this virus, and urges its citizens to exercise caution before traveling to countries experiencing coronavirus outbreaks," the Saudi Foreign Ministry said in a statement announcing the decision. "We ask God Almighty to spare all humanity from all harm."
.
AMERICA
.
SANTO DOMINGO- Dominican Republic turns back cruise ship amid virus fears
.
SANTO DOMINGO, Dominican Republic  — A cruise ship heading to the Dominican Republic to disembark hundreds of passengers after a 14-day tour was turned away on Thursday because officials feared eight of those aboard showed potential symptoms of the COVID-19 virus, officials announced.
A joint statement by the Public Health Ministry and Port Authority said that the captain of the Braemar reported four Filipinos, two British citizens and two U.S. citizens were under medical observation for symptoms such as fever, coughing, or breathing difficulty.
Fred. Olsen Cruise Lines said in an emailed statement that it had reported "a small number of influenza-like cases on board. Our medical team has now advised that they are all feeling better. No guests or crew are, or have been, displaying symptoms that are considered to be consistent with those of Coronavirus. "
 .
WASHINGTON, USA- Trump urges calm even as US reports worrisome new virus case.
WASHINGTON (AP) – United States (US) President Donald Trump declared on Wednesday that a widespread US outbreak of the new respiratory virus sweeping the globe isn't inevitable even as top health authorities at his side warned Americans that more infections are coming. Shortly after Trump spoke, the government announced a worrisome development: Another person in the US is infected – someone in California who doesn't appear to have the usual risk factors of having travelled abroad or being exposed to another patient.
.
WASHINGTON, USA- Pence tries to project calm as virus response coordinator
Vice President Mike Pence, left, and Health and Human Services Secretary Alex Azar, second from left, look at a large monitor displaying a tally of total coronavirus cases, deaths, and recovered, as they tour the Secretary's Operations Center following a coronavirus task force meeting at the Department of Health and Human Services, Thursday, Feb. 27, 2020, in Washington. (AP Photo/Andrew Harnik)
WASHINGTON (AP) — Vice President Mike Pence sought to project calm Thursday in his new role as chief coordinator of the government's response to the coronavirus as the Trump administration rushed to contain mounting public concerns and some of the worst stock market declines in more than a decade.
Pence convened his first meeting of President Donald Trump's coronavirus task force one day after the president made him the government's point-person for the epidemic. Pence also tapped a seasoned medical professional to be his chief adviser and said Trump had "tasked us to take every step necessary" to protect the American people." / ZEKE MILLER and DARLENE SUPERVILLE,Associated Press
.
SACRAMENTO, California- US patient with coronavirus of unknown origin denied test for days
Medical staff caring for a California woman with the first US case of novel coronavirus of unknown origin were unable to get her tested for five days because she had not traveled to outbreak-hit regions, a lawmaker revealed Thursday./  Jocelyne Zablit with Issam Ahmed in Washington,
.
U.S. regulator announces first shortage of drug related to coronavirus.
(Reuters) – The U.S. Food and Drug Administration on Thursday announced the first coronavirus-related drug shortage in the United States but declined to name the drug in question.
.
All photographs, news, editorials, opinions, information, data, others have been taken from the Internet ..aseanews.net | [email protected] | Fo r comments, Email to :  Al Bulario