GLOBAL IMAGES: COVID19 PANDEMIC- 12.01.2019 -Day 92: WHO sounds highest alert on COVID-19
.

WHO sounds highest alert on COVID-19
SEOUL, South Korea — South Korea reported its biggest surge in new coronavirus cases on Saturday as concerns grew of a possible epidemic in the United States and the World Health Organization raised its risk alert to its highest level.
The virus has rapidly spread across the world in the past week, causing stock markets to sink to their lowest levels since the 2008 global financial crisis over fears that the disease could wreak havoc on the world economy.
More than 2,900 people have died and over 85,000 have been infected worldwide since it was first detected in the central Chinese city of Wuhan late last year.
The vast majority of infections have been in China but more daily cases are now logged outside the country, with South Korea, Italy and Iran emerging as major hotspots.
READ MORE: https://newsinfo.inquirer.net/1235179/who-sounds-highest-alert-on-covid-19
In Iran, unnamed health sources told the BBC that at least 210 people had died of the coronavirus — far beyond the official death toll, but Tehran angrily denied that figure.
The death toll in Iran jumped to 43 on Saturday. / Agence France-Presse / 05:05 AM March 01, 2020
.
Memento Maxima Digital Marketing
– SPACE RESERVE FOR YOUR ADVERTISEMENT –
.
THE EPICENTER: CHINA
BEIJING-   China virus cases rise again, Trump urges calm after US death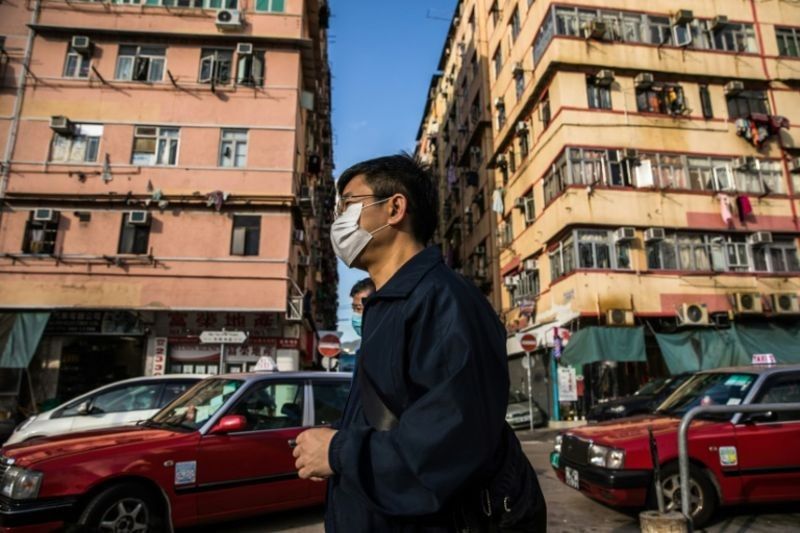 The new coronavirus has spread to more than 60 countries around the world
AFP/Dale De La Rey
BEIJING — China reported a fresh spike in coronavirus infections on Sunday, as President Donald Trump urged calm after the first death on US soil and Australia registered its first fatality.
The virus has spread to more than 60 countries around the globe, prompting the World Health Organization to raise its risk assessment to its highest level.
Worldwide, nearly 3,000 people have been killed and about 87,000 infected since the virus was first detected late last year in the central Chinese city of Wuhan.
 READ MORE: https://www.philstar.com/world/2020/03/01/1997298/china-virus-cases-rise-again-trump-urges-calm-after-us-death
China on Sunday reported 573 new infections, the highest figure in a week after a dip. All but three of them were in Hubei province, of which Wuhan is the capital.
While the numbers in China are still far lower than the huge daily increases reported during the first two weeks of February, COVID-19 has spread rapidly across borders, with South Korea, Italy and Iran emerging as hotspots.
South Korea, which has the most infected people outside China, reported 376 new cases on Sunday, bringing its total to 3,526.
Australia reported the first death on its soil — a 78-year-old man who had been evacuated from the coronavirus-stricken Diamond Princess cruise ship in Japan.
There are fears the disease could hammer the global economy, and stock markets last week plunged to their lowest levels since the 2008 financial crisis.
.
Wuhan Marathon postponed
 A woman walks in front of the closed Huanan wholesale seafood market. 
NOEL CELIS/AFP via Getty Images
.
BEIJING — Wuhan Marathon, originally set for April 12, has been postponed to the second half of the year to prevent the spread of the novel coronavirus, the organizing committee said in a notice on Saturday.
READ MORE: https://newsinfo.inquirer.net/1235341/wuhan-marathon-postponed
.
BEIJING- China's oldest COVID-19 patient, 98, leaves hospital
BEIJING — A 98-year-old woman infected with novel coronavirus, the oldest critically ill patient in the country, was discharged from hospital on Sunday morning in Wuhan, Hubei province.
READ MORE: https://newsinfo.inquirer.net/1235343/chinas-oldest-covid-19-patient-98-leaves-hospital
Hu's daughter, surnamed Ding, said when she left the hospital she thanked very much the medical staff for saving their lives.
 ,
 ASEAN
.
SINGAPORE-  Second OFW tests positive for COVID-19 in Singapore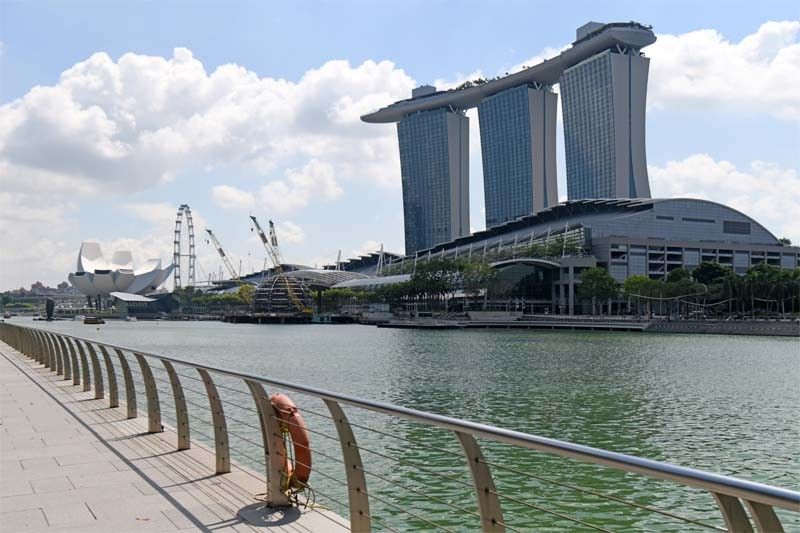 A view of Marina Bay Sands resorts and hotels in Singapore is seen on April 4, 2019.
AFP/Roslan Rahman
MANILA, Philippines — Singapore's 102nd confirmed case of novel coronavirus (COVID-19) in Singapore is an overseas Filipino worker.
This was confirmed in a bulletin by the Singapore Ministry of Health on Saturday night.
READ MORE:  https://www.philstar.com/headlines/2020/03/01/1997280/second-ofw-tests-positive-covid-19-singapore
Singapore has 102 confirmed cases of novel coronavirus, with 30 of them hospitalized and 72 discharged.
.
BANGKOK- Thailand records first death, 35-year-old man also had dengue fever
BANGKOK (BLOOMBERG, REUTERS) – Thailand has reported its first coronavirus fatality, local health officials said on Sunday (March 1).
The 35-year-old retail worker had dengue fever and the new disease know as Covid-19, Suwannachai Wattanayingcharoenchai, director general of the Department of Disease Control, said in a briefing on Sunday.
.
Memento Maxima Digital Marketing
– SPACE RESERVE FOR YOUR ADVERTISEMENT –
ASIA
.
THE NEW EPICENTER: SOUTH KOREA
Nearly 90 percent of the cases were in Daegu, the center of the country's outbreak, and neighboring North Gyeongsang province, the Korea Centers for Disease Control and Prevention said in a statement. The country's death toll remains at 17.
South Korea has an advanced health system and a free media, factors observers say improve the reliability of its statistics, with the numbers expected to rise as it checks more than 260,000 people associated with the Shincheonji Church of Jesus.
A 61-year-old female member developed a fever on February 10, but attended at least four church services in Daegu — the country's fourth-largest city with a population of 2.5 million — before being diagnosed.
Around 60 percent of the cases were linked to the entity, the KCDC said.
"Until now, the COVID-19 outbreak in the country has been excessively led by a specific group," said KCDC vice director Kwon Jun-wook.
Shincheonji apologized Sunday on behalf of its members who had kept their religion secret, adding: "It will be hard for our devotees to reveal their identity when political leaders… are recklessly criticising Shincheonji as the epicenter."
Daegu has filed a police complaint against the local branch of the sect for submitting an incomplete list of its members, while other provincial governments have warned of taking similar action.
The city's streets have been largely deserted for days, aside from long queues at the few shops with masks for sale, with authorities urging the public to exercise caution.
"The best way to prevent the COVID-19 is for the citizens to refrain from going outside," said Daegu mayor Kwon Young-jin.
But officials say they are not considering a citywide quarantine similar to Wuhan's lockdown, where the virus first emerged.
The new school term start has been delayed one week nationwide and three weeks in Daegu, while the US and South Korean militaries have postponed forthcoming joint exercises.
.
SEOUL- South Korea wages 'all-out responses' to virus with 376 new cases
SEOUL, South Korea — South Korean President Moon Jae-in said Sunday the government was waging "all-out responses" to contain the novel coronavirus as the country reported 376 new cases, taking the total to 3,526.
READ MORE: https://newsinfo.inquirer.net/1235274/south-korea-wages-all-out-responses-to-virus-with-376-new-cases
.
RELATED STORY:
SEOUL-  S. Korea, US militaries have 31 infected
SEOUL — Twenty-seven members of the South Korean military were confirmed to have contracted COVID-19 as of Sunday, as 8,880 service members have been quarantined.
READ MORE; https://newsinfo.inquirer.net/1235333/s-korea-us-militaries-have-31-infected
On Thursday, Korea and the US postponed their annual joint military exercises until further notice due to the COVID-19 outbreak that had over 3,700 confirmed cases and had killed 18 people in Korea, as of press time.
It was the first time the two countries put off the drills over an infectious disease.
.
TEHRAN, Iran- China sends team to help Iran fight virus
BEIJING — China has sent a group of experts to Iran to help combat the novel coronavirus in the country, Foreign Ministry spokeswoman Hua Chunying announced. She said on Twitter that the Chinese experts are on their way to Iran.
READ MORE: https://newsinfo.inquirer.net/1235338/china-sends-team-to-help-iran-fight-virus
The coronavirus disease is enemy of all, Hua said, adding "we must fight together".
During his phone call with Iranian Foreign Minister Mohammad Javad Zarif earlier, State Councilor and Foreign Minister Wang Yi said China will continue to provide assistance within its capabilities to Iran in curbing the epidemic and treating the sick.
China has already donated a batch of nucleic acid detection kits and medical supplies to Iran.
.
AMERICA
.
SEATTLE –  First coronavirus death on US soil confirmed, Trump calls for calm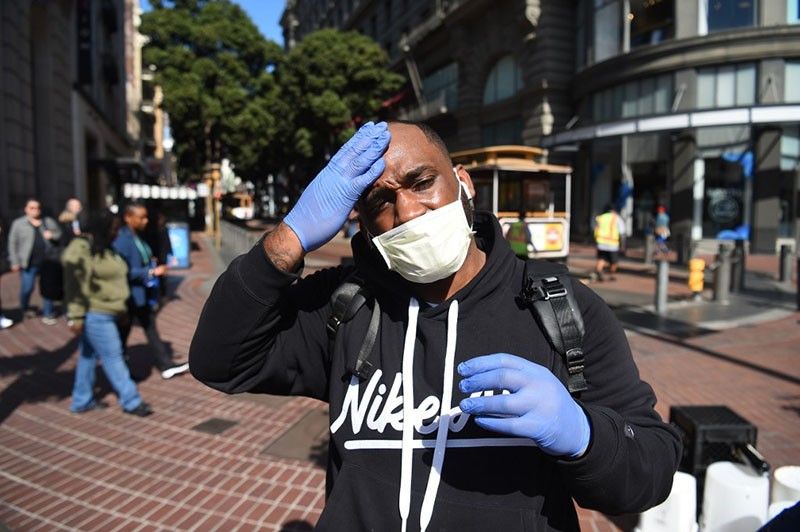 Cameron Nightingale adjusts his mask and gloves, a precaution to protect himself from coronavirus, while walking by cable car in San Francisco, California on February 27, 2020. California said it was monitoring some 8,400 people for the new coronavirus, after officials confirmed a woman had contracted the disease without travelling to outbreak-hit regions. The Centers for Disease Control and Prevention (CDC) said it doesn't know how the woman — who had not travelled or been in contact with another coronavirus patient — got sick.
AFP/Josh Edelson
SEATTLE — The first fatality from the novel coronavirus has been confirmed on US soil, as US President Donald Trump on Saturday urged Americans not to panic.
Health officials said the man who died in Washington state was one of a handful with no known links to global hot zones to have contracted the virus — indicating that the pathogen was now likely spreading in communities.
READ MORE:  https://www.philstar.com/world/2020/03/01/1997277/first-coronavirus-death-us-soil-confirmed-trump-calls-calm
An American citizen died of the new coronavirus in early February at the Chinese epicenter of the global outbreak, the city of Wuhan, the US embassy confirmed at the time.
Worldwide, the virus has hit about 60 countries across the globe, with more than 2,900 people killed and over 85,000 infected since it was first detected at an animal market in Wuhan late last year.
RELATED STOREY
WASHINGTON, USA-   US postpones southeast Asian leaders' meeting due to virus
WASHINGTON  — The United States has postponed a meeting of leaders of southeast Asian nations that was set for Las Vegas in mid-March due to the spread of the coronavirus, a senior Trump administration official said Friday.
President Donald Trump had invited the leaders of the 10-member Association of Southeast Asian Nations to meet in the U.S. this year after he skipped their annual meeting last year, which was held in Thailand. Trump sent national security adviser Robert O'Brien to the meeting in his place.
READ MORE: https://globalnation.inquirer.net/185744/us-postpones-southeast-asian-leaders-meeting-due-to-virus
ASEAN members are Brunei, Cambodia, Indonesia, Laos, Myanmar, Malaysia, the Philippines, Singapore, Thailand and Vietnam. Together, they make up a fast-growing regional market of nearly 650 million people.
.
HAVANA, Cuba- Cruise ship sails to St. Maarten after COVID-19 scare
HAVANA — A British cruise ship turned away by the Dominican Republic after passengers suffered flu-like symptoms was awaiting approval to dock on the island of St. Maarten on Friday, officials said. It was one of at least three ships barred from a Caribbean port this week.
READ MORE: https://globalnation.inquirer.net/185741/cruise-ship-sails-to-st-maarten-after-covid-19-scare
"In light of the public and health safety actions being taken in Italy in reaction to COVID-19, including the quarantine of select cities and cancellation of its own carnival activities, a decision was made to err on the side of caution," it said.
The ship, which has a capacity of 3,800 passengers, later went to St. Maarten.
.
BERLIN- Fighting the virus and an infodemic, Germany encounters a new nervousness
BERLIN – German politicians were downplaying the possible impact of the coronavirus for weeks, with Health Minister Jens Spahn repeatedly assuring Germans that the situation was "under control" and that the country was well prepared.
READ MORE:  https://www.straitstimes.com/world/europe/coronavirus-fighting-the-virus-and-an-infodemic-germany-encounters-a-new-nervousness
WHO official Sylvie Briand, who is directing the organisation's strategy to counter false information, told The Lancet: "We know that every outbreak will be accompanied by a tsunami of information, but also within this, you always have misinformation, rumours.
.
"We know that even in the Middle Ages, there was this phenomenon.
"But the difference now with social media is that this phenomenon goes faster and further, like the viruses that travel with people and go faster and further."
.
All photographs, news, editorials, opinions, information, data, others have been taken from the Internet ..aseanews.net | [email protected] | Fo r comments, Email to :  Al Bulario