PHOTOS-COVID19 PANDEMIC- 12.01.2019 -Day 95: Across the world, more than 3,155 people dead, 92,723 infected in 78 countries-
Passengers wear protective masks as a preventive measure against the spread of coronavirus COVID-19, at the Mexico City International Airport, on March 3, 2020. The spread of the coronavirus could force weak airlines to merge with competitors, the head of Air France-KLM and the A4E association of European airlines said Tuesday. / AFP/Pedro Padro
.
The world has entered uncharted territory in its battle against the deadly coronavirus.
.

Coronavirus: latest developments worldwide
PARIS, France — With new tolls and key developments, here is the latest in the coronavirus crisis.
More than 3,000 dead
Across the world, 3,155 people have died from the virus. More than 92,723 have been infected in 78 countries and territories, according to AFP's latest toll based on official sources at 1700 GMT Tuesday.
The main countries affected: mainland China (80,151 cases, 2,943 deaths), South Korea (5,186 cases, 28 deaths), Italy (2,502 cases, 79 deaths), Iran, (2,336 cases, 77 deaths), Japan (268 cases and 12 deaths).
More than 700 cases have also been registered on the Diamond Princess cruise ship berthed in Japan.
China reports cases from abroad
China reports an increase in cases coming from abroad, notably eight from Italy, as the country where the disease first emerged now worries about importing infections.
'Rapidly depleting' supplies
The World Health Organization (WHO) warns that supplies of protective gear to fight the virus are "rapidly depleting" worldwide.
In France, President Emmanuel Macron says authorities will requisition all face mask stocks and production in the coming months.
Emergency rate cut
The US Federal Reserve announces an emergency rate cut, responding to the growing economic risk posed by the epidemic and giving President Donald Trump the stimulus he has called for.
Home working
Twitter asks its staff across the world to work from home starting Monday in an effort to stop the spread of the epidemic.
Google tells thousands of staff at its European headquarters in Dublin to stay away for the day after one employee reports flu-like symptoms.
In Britain, the government outlines a new action plan and says up to one fifth of employees could be off work in the country when the coronavirus outbreak peaks.
Treatment prospects
A treatment for the virus could be available by mid or late 2020, but a vaccine might take longer, says US Vice President Mike Pence.=
No high-fives or handshakes
US media reports the National Basketball Association has sent a memo to teams recommending that players interacting with fans should bump fists rather than high-five.
Negotiators from the European Union and Britain, meeting for a second day of talks on post-Brexit relations, agree not to shake hands.
Pope in the clear
Pope Francis, who is suffering from a cold, tests negative for the coronavirus, Italian newspaper Messagero reports.
.
The world has entered uncharted territory in its battle against the deadly coronavirus, the UN health agency warned, as new infections dropped dramatically in China on Tuesday but surged abroad with the US death toll rising to six.Globally, the virus has killed more than 3,100 people and infected over 90,000 even as a clear shift in the crisis emerges, with nine times as many cases recorded outside China as inside, according to the WHO.China reported on Tuesday an increase in cases of the new coronavirus coming from abroad, as the country where the disease first emerged now worries about importing infections.In total there have been 13 confirmed cases of the virus being imported into the mainland―all Chinese nationals returning from overseas.
.
Ads by: Memento Maxima Digital Marketing
@ [email protected]
– SPACE RESERVE FOR YOUR ADVERTISEMENT
.
ASEAN
.
BRUNEI- COVID-19 affects local hotel industry

The coronavirus (COVID-19) outbreak has affected the local hotel industry, resulting in a loss of revenue amounting to BND530,480.58 and about 4,174 room cancellations from December 14, 2019 to March 31, 2020. These statistics were shared by President of the Brunei Association of Hotels (BAH) Mohd Iswandi bin Maaruf, who added that the cancellations – including restaurant bookings – were made through local and online travel agents.
.
PHNOM PENH, Cambodia- PM urges artistes to help stem panic over COVID-19
Prime Minister Hun Sen yesterday urged artistes to become activists to stem panic over COVID-19. He made the call when presiding over the 22nd Cultural Day event in the capital which was attended by thousands of the Kingdom's artistes.
.
.
VIENTIANE, Laos-  Coronavirus: hotel operators told to carry out health checks on guests
.
Health authorities have warned tour and hotel operators to evaluate the risk of Covid-19 among travellers and hotel guests while the threat of the virus persists.
People with a recent history of travel to outbreak countries including China must undergo a health check before staying at a hotel or guesthouse.
.
JAKARTA- Indonesia to build hospital for coronavirus patients on Galang Island
.JAKARTA – Indonesia plans to build a hospital to treat people infected by the coronavirus on Galang Island in the Riau Islands, said Public Works and Housing Minister Basuki Hadimuljono on Tuesday (March 3).
.
.
PETALING JAYA, Malaysia- Student alleges Covid-19 attack racially-motivated
.
RANGON- Myanmar maid infected with COVID-19 in Singapore
.
MANILA- Philippines eases travel ban vs. South Korea
The government on Tuesday partially lifted the 
travel ban to South Korea
, allowing Filipino tourists to go there except to North Gyeongsang Province, including Daegu City and Cheongdo County, where 
novel coronavirus
 (COVID-19) cases are concentrated.
.
.
.
SINGAPORE- Air New Zealand confirms case of infection on Singapore-Auckland flight
SINGAPORE – Air New Zealand confirmed on Wednesday (March 4) a case of the new coronavirus on a Feb 25 flight from Singapore to Auckland.
.
BANGKOK, Thailand- Panic buying hits Bangkok stores
Fear of deadly virus prompts hoarding
Shelves at a Tesco Lotus store are left empty as consumers stock up on basic consumer goods and rice amid fears over the spread of the coronavirus. Pitsinee Jitpleecheep
Shoppers in Greater Bangkok are quickly emptying supermarket shelves of long-lasting items like instant noodles, packed rice, tissue paper, tinned fish and drinking water as fears moun
.
VĨNH PHÚC, Viet Nam-  Lockdown on Việt Nam's COVID-19 cluster lifted, starting today.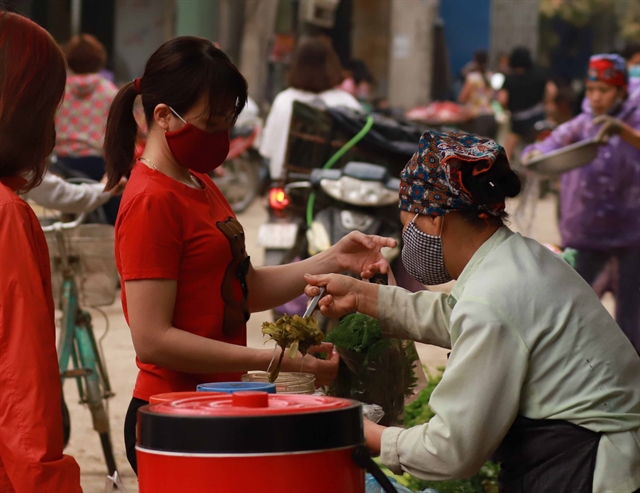 VĨNH PHÚC — The lockdown placed on Sơn Lôi, a rural commune in the northern province of Vĩnh Phúc that stands at the centre of the COVID-19 outbreak in Việt Nam, was officially lifted at midnight on March 4.
READ MORE: https://vietnamnews.vn/society/653038/lockdown-on-viet-nams-covid-19-cluster-lifted-starting-today.html
RELATED ASEANEWS
.
HÀ NỘI —Viet Nam has not recorded any new cases of the virus since February 13.— VNS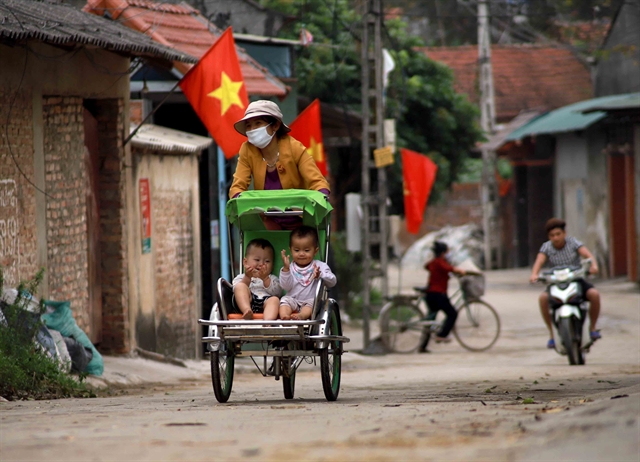 .
HÀ NỘI —  COVID-19 early warning system developed by Vietnamese scientists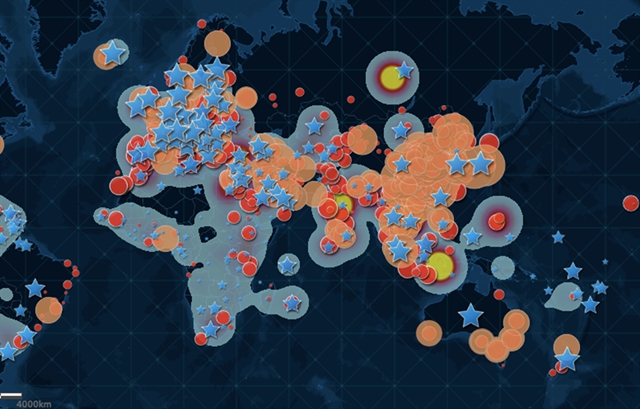 .
HÀ NỘI — Việt Nam corona virus song catches worldwide attention
Việt Nam has only had 16 reported cases of COVID-19 and everyone has been treated and fully recovered. Great medical team, great control by the authorities… and of course a great song and dance!
The song, sang by two pop stars has caught attention worldwide after it was featured by John Oliver on Last Week Tonight on HBO.
.
.
ASIA
.
SEOUL- South Korea war on virus: Agencies on 24/7 alert
MASKS SAY IT. South Korean President Moon Jae-in (3rd right) and his ministers wear face masks during a Cabinet meeting at the government complex in Seoul on Tuesday. South Korea's coronavirus case total—the largest in the world outside China—approached 5,000 Tuesday as authorities reported 477 new cases. AFP
.
South Korean President Moon Jae-in declared "war" against the coronavirus on Tuesday, placing all government agencies on a 24-hour emergency footing as the country's total cases―the 
largest in the world
 outside China-approached 5,000.
.
Ads by: Memento Maxima Digital Marketing
@ [email protected]
– SPACE RESERVE FOR YOUR ADVERTISEMENT
.
WASHINGTON – Doctors, health workers confused and frustrated as coronavirus hits US.
WASHINGTON – Hospitals, health workers and doctors are struggling to come to terms with the new challenge of the coronavirus as it hits the United States.
Washington state on Monday (March 2) confirmed three more deaths from Covid-19, the coronavirus disease, bringing the total for the state to six.
READ MORE: https://www.straitstimes.com/world/united-states/doctors-health-workers-confused-and-frustrated-as-coronavirus-hits-us
.
Ads by: Memento Maxima Digital Marketing
@ [email protected]
– SPACE RESERVE FOR YOUR ADVERTISEMENT
.
.
.
.
EUROPE
.
PARIS- France's Louvre stays shut amid staff fears of virus spread
PARIS (AP) — The Louvre Museum was closed again on Monday as management met with staff worried about the spread of the new virus in the world's most-visited museum.
.
All photographs, news, editorials, opinions, information, data, others have been taken from the Internet ..aseanews.net | [email protected] | Fo r comments, Email to :  Al Bulario