PHOTOS-COVID19 PANDEMIC – 12.01.2019 -Day 104: WHO calls coronavirus a 'pandemic' as Europe scrambles to contain it
WHO chief Tedros Adhanom Ghebreyesus
.

GENEVA—The World Health Organization (WHO) called the new coronavirus outbreak a pandemic on Wednesday, issuing a grim warning that the global spread and severity of the illness was due to "alarming levels of inaction."
The call came as Europe faced a mounting number of cases, including a slew of new countries clocking first deaths, prompting governments to roll out increasingly tough measures to slow the rapid spread of the virus.
The number of cases across the globe has risen to more than 124,000 with 4,500 deaths, including a jump in fatalities, particularly in Iran and Italy, according to an Agence France-Presse (AFP) tally.
The majority of cases have been in China where the outbreak first emerged in December, but as the number of new infections has steadied in the country, hot spots have emerged elsewhere, namely Ita­ly, Iran and Spain.
The head of the United Nations' top health body for the first time characterized the outbreak as a pandemic, meaning it is spreading in several regions through local transmission.
Never seen before
"We have never before seen a pandemic sparked by a coronavirus," WHO chief Tedros Adhanom Ghebreyesus said on Wednesday, adding that the declaration would not change the organization's response to the outbreak.
"We're deeply concerned both by the alarming levels of spread and severity, and by the alarming levels of inaction."
He did not single out any nation for not doing enough or what further measures were needed. He instead called on "countries to take urgent and aggressive action."
Signs of a widening European crisis emerged on Wednesday, with Ireland, Albania, Belgium, Sweden and Bulgaria registering their first deaths, while Italy clocked more than 2,300 new cases in the last 24 hours and infections in Spain jumped by a quarter to more than 2,100.
The surge brought Europe's total number of cases to more than 22,000, with 930 deaths, and the United States said it was considering issuing a ban on travelers from the continent. Millions of people in Italy are grappling with a nationwide clampdown that has emptied streets, shuttered shops, and disrupted train and air travel.
Prime Minister Giuseppe Conte said on Wednesday that Italy would shut all stores except for pharmacies and food shops to curb the disease.
Factories and other big businesses can remain open as long as they adopt "appropriate security measures to prevent contagion," Conte said.
His government vowed to spend up to 25 billion euros ($28 billion) to help contain fallout from the pandemic, including cash injections for hard-hit hotels and restaurants and allowing families to suspend some mortgage payments.
Even places with no significant outbreaks like Poland and Ukraine announced school closures and other restrictive measures. Austria said it would shut museums and halt train services to and from Italy.
In the Middle East, hard-hit Iran reported 63 new deaths, its highest single-day toll that brought total fatalities to 354. It has yet to impose quarantines but has closed schools, universities and hotels and called on people not to travel.
The WHO's Tedros said the country, which has 9,000 cases, was "doing its best" to control the spread of the virus but that it needed more supplies to cope.
Elsewhere in the region, Kuwait said it was suspending all commercial flights in and out of the country, after it and other Gulf nations had already adopted travel restrictions.
Sliver of hope
Offering a sliver of hope to the rest of the world, China again announced negligible new daily infections and only a relatively small number of deaths.
The National Health Commission said on Thursday that the peak of the coronavirus epidemic had passed, reporting just eight new cases in Hubei province, the epicenter of the outbreak.
Some businesses in China's Hubei province where the virus was first detected in December were told they could restart work, reducing fears of a prolonged disruption of supply chains.
"Broadly speaking, the peak of the epidemic has passed for China," said Mi Feng, spokesperson for the National Health Commission.
But China remains the worst-affected country with more than 80,000 confirmed cases and over 3,000 deaths.
Although Panama confirmed its first death on Tuesday, Latin America, along with Africa and Oceania, has so far reported only small numbers of cases.
And the United States saw its first signs of an emergency footing with the New York city government forming a containment zone around a suburb at the center of an outbreak.
Wall Street stocks suffered another brutal rout on Wednesday, pushing the Dow into a "bear market," or 20 percent from its peak, after the latest series of event cancellations and company warnings rattled investors.
Disruption to supply chains from China, flagging demand and wildly fluctuating stock markets have sparked a series of profit warnings from companies and pushed governments into action.
The United Kingdom promised a $39 billion fiscal stimulus and the central bank slashed its main interest rate to 0.25 percent following a similar move by the US Federal Reserve last week, intended to make borrowing cheaper and boost economic activity.
Europe travel ban
US President Donald Trump on Wednesday suspended travel from Europe to the United States for 30 days in a "tough" new effort to halt the spread of the new coronavirus.
The ban will not include travelers from the United Kingdom, which recently left the European Union, Trump said.
In a prime-time address from the Oval Office to a worried nation, Trump sought to rebuff critics who say his leadership has been lacking during the crisis, insisting that "the virus will not have a change."
"This is the most aggressive and comprehensive effort to confront a foreign virus in modern history," he said.
He announced a series of measures designed to ease the financial burden for people having to take weeks off from work while on quarantine.
But his most far-reaching announcement was the halt on European travel.
Schedules disrupted
While markets remain uneasy, COVID-19 continued to rip up the schedules of musicians, sports stars and cultural figures as governments around the world banned large gatherings.
England's top-flight football league saw its first cancellation with Wednesday's match bet­ween Arsenal and Manchester City postponed, while E3, the world's premier video game trade show, due to be held in June in Los Angeles, was called off.
In an unprecedented move, NCAA officials on Wednesday closed the US national college basketball tournament to paying fans. The first games will be played on Tuesday.
.
.
COVID 19 EPICENTER:
WUHAN CITY, HUBEI PROVINCE, CHINA
.
BEIJING- China says its COVID-19 peak is over
BEIJING (Xinhua) – The peak of the current outbreak of novel coronavirus disease (COVID-19) in China is over, a government spokesperson said yesterday. New cases keep declining and the overall epidemic situation remains at a low level, spokesperson for the National Health Commission Mi Feng said at a press conference in Beijing. Mi said the number of new confirmed cases in Wuhan, the epicentre in central China's Hubei Province, has dropped to a single digit, with only eight cases reported on Wednesday. No new cases had been reported in other cities of Hubei for a week in a row, Mi said.
.
.
.
.
ASEAN
.
BRUNEI-   14 more COVID-19 cases, total now 25
Brunei Darussalam recorded the biggest jump of the number of COVID-19 cases in a single day after 14 individuals were tested positive, bringing the total to 25 cases in the country.
The announcement of the new cases was made by Minister of Health Dato Seri Setia Dr Haji Mohd Isham bin Haji Jaafar at a press conference at the Ministry of Health's (MoH) Al-'Afiah Hall, yesterday. Minister of Religious Affairs Pehin Udana Khatib Dato Paduka Seri Setia Ustaz Haji Awang Badaruddin bin Pengarah Dato Paduka Haji Awang Othman was also present.
.
KAMPONG CHAM CITY, CHAM PROVINCE,  Cambodia-  Latest cases up Kingdom's COVID-19 number to five
Kampong Cham city, Kampong Cham province – The Kingdom has detected a total of five COVID-19 cases after a British couple aboard Viking Cruise Journey tested positive for virus.
Kim Sourphirum, director of the provincial health department, said yesterday the couple is now under quarantine at a hospital in the province.
"The two British patients are in stable condition," Mr Sourphirum said. "The situation is under control."
"Tests by the Pasteur Institute show a British man, 73, and his wife, 69, tested positive for COVID-19," the Health Ministry said in a statement yesterday.
COVID-19 patient samples are sent to the Pasteur Institute of Cambodia. KT/Pann Rachana
.
WHO's Li Ailan speaks during a meeting in Kampong Cham city. KT/Chor Sokunthea
READ MORE: https://www.khmertimeskh.com/50701268/latest-cases-up-kingdoms-covid-19-number-to-five
.
JAKARTA, Indonesia- Greetings in the Time of Corona: Indonesia Introduces 'Elbow-Shake
Former vice president Jusuf Kalla, left, does the 'elbow-shake' with Finance Minister Sri Mulyani Indrawati at the State Palace in Central Jakarta on Thursday. (Instagram Post)
.
Jakarta. Indonesian officials have been seen "elbow-shaking" to greet each other in their offices as part of a campaign to prevent the spread of coronavirus.
In a photo that went viral, former vice president Jusuf Kalla is seen elbow-shaking with Finance Minister Sri Mulyani Indrawati during a meeting at the State Palace in Central Jakarta on Thursday.
READ MORE: https://jakartaglobe.id/lifestyle/greetings-in-the-time-of-corona-indonesia-introduces-elbowshake
.
VIENTAINE, Laos-  Ceremonies downsized due to Covid-19 pandemic

Anniversary and other events of national importance this year will not be celebrated with large ceremonies or parades, but through publications, broadcasts and other media channels.
Vice President Dr Phankham Viphavanh, representing the National Guiding Committee on the celebration of national events, made the announcement yesterday.
READ MORE:  http://www.vientianetimes.org.la/freeContent/FreeConten_Ceremonies_52.phpee on the celebration of national events, made the announcement yesterday.
.
.
.
MANILA- Duterte places Metro Manila, home to 13 million, under lockdown to contain viral spread
.
READ MORE:  https://manilastandard.net/news/top-stories/319547/rody-orders-metro-manila-lockdown.html
.
.
SINGAPORE- Covid-19 outbreak will continue for a year or longer; more stringent measures may need to be put in place, says PM Lee
SINGAPORE – The Covid-19 outbreak will continue for some time – a year, and maybe longer – said Prime Minister Lee Hsien Loong in his second national address on the situation on Thursday (March 12).
But if Singaporeans keep up their guard and take practical precautions, the country will be able to keep its economy going and people will be able to carry on with their daily lives, he said./  Linette Lai Political Correspondent
READ MORE: https://www.straitstimes.com/politics/pm-lee-to-address-nation-on-covid-19-situation-at-8pm
.
BANGKOK, Thailand- No 'Stage 3' despite spike in virus cases
A volunteer sprays what is claimed to be disinfectant solution at people at Ramkhamhaeng University on Thursday. (Photo: Nutthawat Wicheanbut)
The Public Health Ministry on Thursday insisted that the country has yet to enter Stage 3 of the coronavirus outbreak, despite the discovery of a new cluster of infections which brought the total number of cases in Thailand to 70.
The permanent secretary for public health, Sukhum Kanchanaphimai, made the remark after 11 people tested positive following a night out with visitors from Hong Kong late last month.
Dr Sukhum said the 11 new cases of coronavirus (Covid-19) are all Thai nationals and include five males aged 25-38. They were a part of a group of 15 who went out together late last month on two separate days.
READ MORE: https://www.bangkokpost.com/thailand/general/1877739/no-stage-3-despite-spike-in-virus-cases
.
HÀ NỘI, Viet Nam— Businesses asked to ensure uninterrupted activities amid COVID-19 pandemic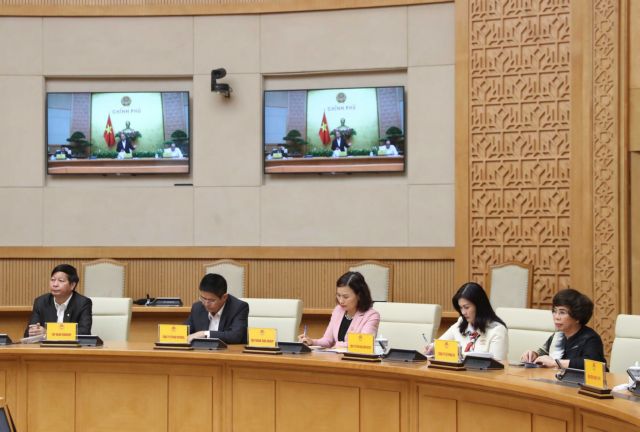 HÀ NỘI — Firms need to prepare plans to ensure uninterrupted business activities during the outbreak, said Prime Minister Nguyễn Xuân Phúc on Thursday in a meeting with representatives of private economic groups in tourism, services, aviation, food and industry.
READ MORE:  https://vietnamnews.vn/economy/653517/businesses-asked-to-ensure-uninterrupted-activities-amid-covid-19-pandemic.html
.
.
ASIA-PACIFIC AUSTRALIA
.
SEOUL-  South Korea adds 114 virus cases, warns on Seoul cluster
Workers wearing protective suits spray disinfectant as a precaution against the new coronavirus at a subway station in Seoul, South Korea. PHOTO: AP
.
SEOUL (AFP) – South Korea reported fewer than 120 new coronavirus cases yesterday, but authorities warned that a new cluster in Seoul could see the infection spread in the capital.
Around 100 people linked to a call centre in the city have tested positive for the virus in recent days.
READ MORE: https://borneobulletin.com.bn/south-korea-adds-114-virus-cases-warns-on-seoul-cluster/
.
MIDDLE EAST
.
CAIRO, Egypt-  Qatar bans arrivals from Thailand, 13 other countries over virus fears
Travellers from Thailand are not allowed to enter Qatar from Monday as part of the temporary measures to contain the spread of the coronavirus. (Photo by Wichan Charoenkiatpakul)
.
CAIRO: Qatar has temporarily barred travellers from 14 countries, including Thailand, from Monday as a precaution against the rapidly spreading coronavirus, the government announced on Sunday.
The ban covers China, Egypt, India, Iran, Iraq, Lebanon, Bangladesh, Nepal, Pakistan, Philippines, South Korea, Sri Lanka, Syria and Thailand.
Qatar Airways had already suspended flights to and from Italy.
Qatar reported three more cases of the virus on Sunday, bringing the total there to 15.
READ MORE: https://www.bangkokpost.com/thailand/general/1874754/qatar-bans-arrivals-from-thailand-13-other-countries-over-virus-fears
.
Ads by: Memento Maxima Digital Marketing
@ [email protected]
– SPACE RESERVE FOR YOUR ADVERTISEMENT
.
.
.
AMERICA
.
TORONTO, Canada – Canadian PM Trudeau in quarantine after wife tests positive for COVID-19
TORONTO, Canada — Canadian Prime Minister Justin Trudeau's wife has tested positive for the new coronavirus, his office announced Thursday night.
It said Sophie Grégoire Trudeau was felling well and would remain in
Prime Minister is in good health with no symptoms. As a precautionary measure and following the advice of doctors, he will be in isolation for a planned period of 14 days," the statement added.
READ MORE: https://www.timesofisrael.com/canadian-pm-trudeau-in-quarantine-after-wife-tests-positive-for-covid-19/
.
LOS ANGELES, CA., USA-   Disney closes California theme park, delays 'Mulan' over virus
Disneyland is the second-most visited theme park in the world.
.
LOS ANGELES: Disney will close its giant California theme park and pull the releases of major blockbusters including "Mulan," it announced Thursday, as coronavirus fears shuttered a slew of concerts, festivals and attractions across the US.
Disneyland is the world's second-most visited theme park, drawing tens of thousands of visitors each day. The attraction in Anaheim will remain shut at least until the end of March.
READ MORE: https://www.bangkokpost.com/world/1877504/disney-closes-california-theme-park-delays-mulan-over-virus
.
.
EUROPE
.
EU condemns Trump travel ban from Europe as virus spreads
BRUSSELS (AP) — The European Union (EU) yesterday lashed out at United States (US) President Donald Trump's "unilateral" decision to restrict travel from Europe to the US over the coronavirus, saying the illness does not respect borders.
.
Trump called the disease a "foreign virus" and claimed that US clusters were "seeded" by European travellers.
.
He announced that European travel would be cut off, but US officials later said that restrictions would apply only to most foreign citizens who have been in Europe's passport-free travel zone at any point for 14 days prior to their arrival to the US.
.
VATICAN CITY –  Catholic churches across Rome shut due to virus
All Catholic churches across Rome have been closed to stem the spread of the coronavirus, while all Masses, weddings and funerals across Italy have been called off.
.
VATICAN CITY – All Catholic churches across Rome have been closed to stem the spread of a coronavirus pandemic that has killed more than 1,000 people across Italy.
The churches will reopen when a broader Italian government crackdown on public gatherings expires on April 3, Cardinal Angelo De Donatis, the papal vicar for Rome, said in a statement.
Catholic faithful have been exempted from the obligation to attend Sunday Mass.
READ MORE: https://www.bangkokpost.com/world/1877499/catholic-churches-across-rome-shut-due-to-virus
.
.
.
All photographs, news, editorials, opinions, information, data, others have been taken from the Internet ..aseanews.net | [email protected] | Fo r comments, Email to :  Al Bulario