EDITORIALS-CARTOONS: Editor's Choice – Don't, don't, please don't

Don't, don't, please don't
Be warned.
Panic buying, alternatively called fear-based hoarding, has shifted to high gear in Metro Manila, where nearly 12,900,000 people live, with tweets and videos on social media not helping ease the already stretched situation following the spread of Coronavirus Disease (COVID)-19.
Before the weekend, scenes of thick people's lines in front of drugstore chains as well as grocery stores and malls have contributed to the strained scenario in the metropolis, where a community-wide lockdown was announced by President Rodrigo Duterte Thursday night.
https://manilastandard.net/opinion/editorial/319611/don-t-don-t-please-don-t.html
The coronavirus situation has exacted, by latest count, at least 52 infections, five patients of whom have since died. And panic buying, turned loose in such emergencies, can lead to genuine shortages regardless of whether the risk of a shortage is real or perceived as a form of what some call self-fulfilling prophecy.Let's take heed.
.
<op-ed>
Reprieve for a city's lungs
Even as human lungs are under threat from a host of lethal invaders, the latest of which is the COVID-19, it comes as good news that the City of Manila has just saved its own "lungs"—the Arroceros Forest Park in Ermita.
The Manila City government, headed by Mayor Isko Moreno, recently signed Ordinance No. 8607 turning the patch of green into a "permanent forest park." The declaration goes beyond words. In disclosing the news, the Mayor's office also said it was allocating P1 million for the park's continued operation and maintenance, a joint arrangement between the city government and a private foundation, known as Winner Foundation, which has served as the park's instigator and guardian since its establishment.
READ MORE: https://opinion.inquirer.net/128014/reprieve-for-a-citys-lungs
<op-ed>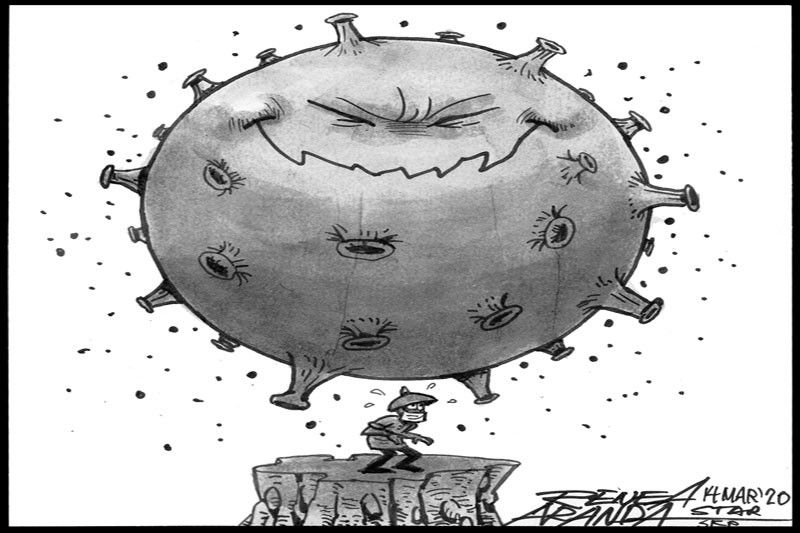 Community quarantine
Where do you draw the line between caution and panic? It's a continuing challenge for both the government and the people as the 2019 coronavirus disease becomes a pandemic, as declared by the World Health Organization.
In the Philippines, the head of the supermarket association noted that panic buying – initially covering only alcohol and hand sanitizers – spread to other commodities with a long shelf life after the recent declaration of a state of public health emergency.
READ MORE: https://www.philstar.com/opinion/2020/03/14/2000657/editorial-community-quarantine
<op-ed>
Ads by: Memento Maxima Digital Marketing
@ [email protected]
– SPACE RESERVE FOR YOUR ADVERTISEMENT
.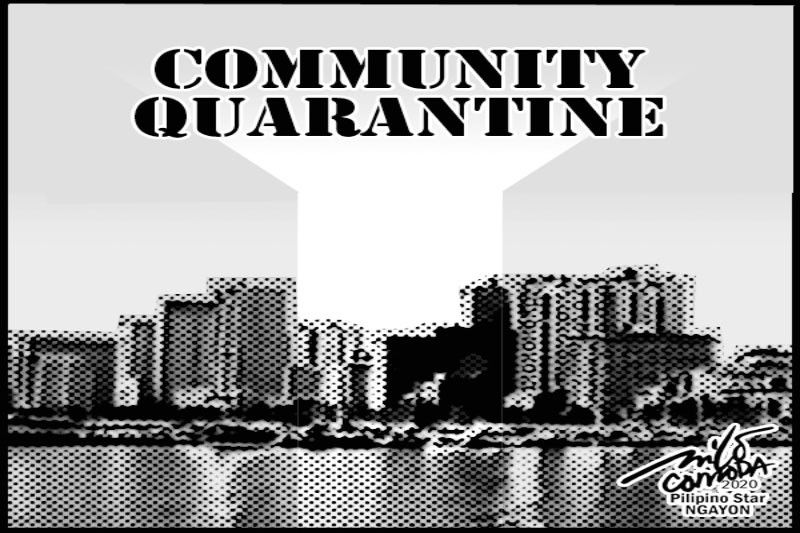 Sundin ang mga ipinag-uutos
.
.KALAHATING oras na nagsalita si President Duterte noong Huwebes ng gabi at isa-isang inihayag ang mga gagawin para maiwasan ang pagkalat pa ng COVID-19 sa bansa. Sa lahat nang pagsasalita ng Presidente, kapansin-pansin na masyado siyang seryoso at wala ang mga nakauga­liang pagbibiro. Pawang mga hakbang na may ka­ug­nayan sa pag-iingat sa nakahahawang sakit ang kanyang inihayag at mahigpit ang kanyang paalala sa lahat na sundin ang ipinag-uutos. Ang lahat aniya ng mga ito ay para sa kaligtasan ng mamamayan.
.
READ MORE: https://www.philstar.com/pilipino-star-ngayon/opinyon/2020/03/14/2000664/editoryal-sundin-ang-mga-ipinag-uutos
<op-ed>
The Straits Times says
Singapore: Small but well regarded
Singapore's intellectual property chief is poised to head the global intellectual property office, after becoming the first Singaporean to be nominated to helm a United Nations agency. Mr Daren Tang has received the nomination to become the next director-general of the Geneva-based World Intellectual Property Organisation (Wipo), which shapes global rules for intellectual property and oversees patents. If confirmed in the job, Mr Tang, the chief executive of the Intellectual Property Office of Singapore (Ipos), will be the first Singaporean to assume a top role in a UN organisation.
The Wipo post represents a natural transition for Mr Tang, given the way in which Ipos under him has transformed the intellectual property scene here. Ipos moved from being a registry and regulator to becoming an innovation agency that helps to build the economy. That enlargement reflects the evolving role of intellectual property rights in an economy dependent on creativity.
 READ MORE:  https://www.straitstimes.com/opinion/st-editorial/singapore-small-but-well-regarded.
.
<op-ed>
Good social behaviour, like maintaining public hygiene or self-quarantining when sick, can be cultivated. Appeal to people's sense of values and their image; use norms and enforcement to encourage them; and make it convenient to adopt such practices.
Singapore recently announced the setting up of an SG Clean Taskforce in its fight against the coronavirus, to get individuals and businesses to adopt good hygiene habits, keep public spaces clean, adjust social norms and behave in socially responsible ways.
The task force has a dual challenge. It needs to effect changes quickly so that they become the first line of defence in the ongoing battle against Covid-19. It also needs to do it in ways that will develop permanent good habits and norms beyond the current outbreak.
 READ MORE: https://www.straitstimes.com/opinion/drill-into-what-makes-people-socially-responsible
.
.
EDITORIAL: BANGKOK POST
After the World Health Organisation declared the Covid-19 outbreak a pandemic, Thailand has started to see a rise of local infection clusters over the past few days. There is a possibility that the country will soon enter Stage 3 — when the virus spreads rapidly to considerable numbers of people at the community level.
READ MORE: https://www.bangkokpost.com/opinion/opinion/1878565/prepare-for-the-worst
.
All photographs, news, editorials, opinions, information, data, others have been taken from the Internet ..aseanews.net | [email protected] For comments, Email to :D'Equalizer | [email protected]