EDITORIALS-CARTOONS: Editor's Choice – Thank you!

 .
Thank you!
These days are uncertain, frightening, confusing. It is easy to give in to our worst fears— to practically bathe ourselves in alcohol, to look at those who cough or sneeze with suspicion, and to stay within our home and work routines, limiting our interaction to the people we need to see.Amid the chaos, medical professionals, frontliners and volunteers stand out as modern-day heroes.
.
READ MORE: https://manilastandard.net/opinion/editorial/319681/thank-you-.html
.
Amid today's anxieties, we remain hopeful that one day the pandemic would seize spooking not just citizens of the world but economies as well. And since this crisis is unprecedented in our lifetime, we will come out of it with a renewed respect and appreciation for those who choose to show up for their jobs at all costs.
.
<op-ed>
Sterling work
Because President Duterte, in his Thursday address to the nation, egregiously failed to mention them and their potentially milestone work in the battle against the COVID-19 pandemic, it's even more imperative to hail the achievement of Filipino scientists from the University of the Philippines-National Institutes of Health (UP-NIH), who have developed a COVID-19 testing kit six times cheaper than its foreign counterpart, with even faster results.
READ MORE: https://opinion.inquirer.net/128032/sterling-work
But, given the urgency of the situation, can the WHO also move faster in evaluating the local test kit? If the device turns out to be all good, and thereafter gets deployed promptly and widely, it may well prove to be a critical factor in helping the country contain the epidemic. And, at the very least, it should shine a light on the sterling but often unappreciated work of Filipino scientists.
<op-ed>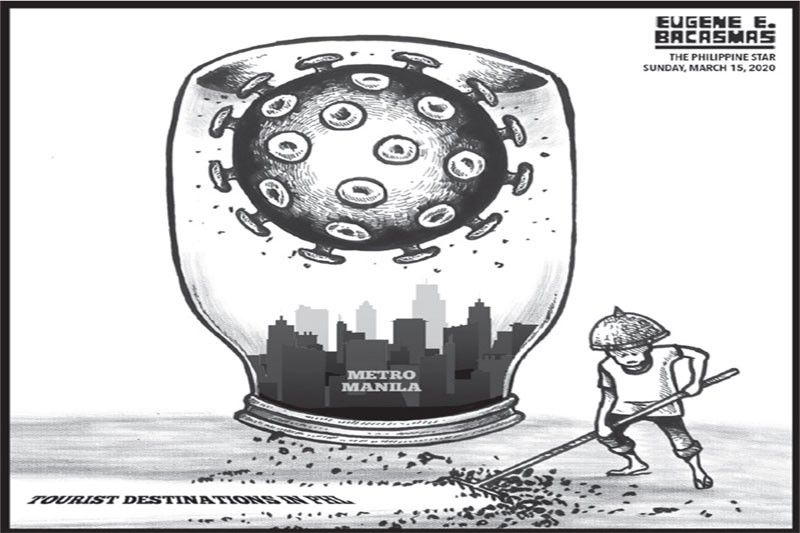 EDITORIAL – Opportunity in crisis
READ MORE: https://www.philstar.com/opinion/2020/03/15/2000917/editorial-opportunity-crisis
<op-ed>
Ads by: Memento Maxima Digital Marketing
@ [email protected]
– SPACE RESERVE FOR YOUR ADVERTISEMENT
.

EDITORYAL- Para sa kaligtasan at ikabubuti ng lahat
Simula ngayong araw na ito (Marso 15) ay wala nang makalalabas at makapapasok sa Metro Manila dahil sa ipinatutupad na community quaran­tine na ipinag-utos ni President Duterte noong Huwebes. Ginawa ito para mapigilan ang pagkalat ng COVID-19 na sa huling report ng Department of Health (DOH) ay umabot na sa 64 ang kaso at 8 na ang namatay. Tatagal ang community quarantine hanggang Abril 12, 2020.
.
READ MORE: https://www.philstar.com/pilipino-star-ngayon/opinyon/2020/03/15/2000912/editoryal-para-sa-kaligtasan-ikabubuti-ng-lahat
<op-ed>
The Straits Times says
Getting students to know Asean better
 .
It is instructive that content on Asean will become a bigger part of humanities subjects in secondary schools and junior colleges in the next three years. The region will be featured more explicitly and prominently in social studies, history, geography and economics subjects. The changes will not only help them understand Asean better as a region, but also encourage them to identify important points of similarity between Asean as a whole and Singapore as a nation by how the two collectively respond to larger forces and events.
READ MORE: https://www.straitstimes.com/opinion/st-editorial/getting-students-to-know-asean-better
.
.As the world fights Covid-19, another battle surfaces – xenophobic behaviour
In January, just as news of a strange new virus was gaining traction across the world, my husband and I were holidaying in Tokyo.
One evening, while in the neighbourhood of Koenji, we decided to pop into one of the casual hole-in-wall izakayas near the train station for dinner.
READ MORE: https://www.straitstimes.com/singapore/health/racism-a-real-sickness-in-global-coronavirus-crisis
.
.
EDITORIAL: BANGKOK POST
As fears over the coronavirus (Covid-19) outbreak grip the entire country, the other gravely serious threats to health, such as the lingering ultra-fine PM2.5 dust in the North, seem to have slipped from the state's attention. This shouldn't be the case.
Locals, as well as visitors to some provinces in the North, such as Chiang Mai, have over the past few days protested against the high levels of PM2.5, fine dust particles measuring 2.5 micrometres or less in diameter, in the air that continues to harm their health.
READ MORE: https://www.bangkokpost.com/opinion/opinion/1878915/virus-fears-must-not-cloud-the-air
.
All photographs, news, editorials, opinions, information, data, others have been taken from the Internet ..aseanews.net | [email protected] For comments, Email to :D'Equalizer | [email protected]