COVID-19 PANDEMIC: Day 111- WHO: Test every suspected case of COVID-19
People shop at a supermarket amid fears of a disruption in supplies in Subang Jaya, Malaysia, March 17, 2020.PHOTO: REUTERS
.
.

WHO: Test every suspected case of COVID-19, as the rest of the world registered more cases and deaths in the pandemic than China
 .
Test every suspected case
.
The World Health Organization called Monday for countries to test every suspected case of COVID-19, as the rest of the world registered more cases and deaths in the pandemic than China.
.
"You cannot fight a fire blindfolded, " WHO chief Tedros Adhanom Ghebreyesus told reporters in a virtual press conference from the UN agency's headquarters in Geneva.
.
"In the past week, we have seen a rapid escalation of cases of COVID-19," he said, as the global death toll in the pandemic soared past 7,000.
.
WHO says 'aggressive' action needed in South-east Asia to stop Covid-19
.
NEW DELHI (AFP) – The World Health Organisation called for "aggressive" action in South-east Asia to combat the fast-spreading coronavirus, warning on Tuesday (March 17) that some countries were heading towards community transmission of the deadly disease.
Infections have soared across the region in recent weeks, forcing several countries to introduce drastic measures ranging from closing their borders to foreign arrivals and imposing nighttime curfews to closing schools and cancelling sports events.
There are concerns that weaker public health care systems in many South-east Asian countries will be unable to cope with a major outbreak.
"We need to immediately scale up all efforts to prevent the virus from infecting more people," said Poonam Khetrapal Singh, WHO's regional director.
"More clusters of virus transmission are being confirmed. While this is an indication of an alert and effective surveillance, it also puts the spotlight on the need for more aggressive and whole of society efforts to prevent further spread of Covid-19," she said.
"We clearly need to do more, and urgently."
Malaysia has the highest number of infections in South-east Asia with 673 cases, according to a Johns Hopkins University tally.
Many of the country's infections have been linked to a global Islamic event held last month and attended by almost 20,000 people.
On Monday, the prime minister announced a ban on Malaysians travelling overseas.
.
Singh said simple measures such as washing hands and social distancing were "critical" in the fight against the virus and could "substantially reduce transmission".
Since the virus first emerged in China in December, 7,408 people have died around the world, according to an AFP tally based on official sources.
The European Centre for Disease Prevention and Control said more than 180,000 cases had been confirmed worldwide as of Tuesday.
.
<ASEANEWS>
.
World roundup: Human trial for anti-COVID vaccine begins
The first human trial to evaluate a candidate vaccine against the new coronavirus has begun in Seattle, US health officials said Monday, raising hopes in the global fight against the disease.
.
But it may be another year to 18 months before it becomes available, once it has passed more trial phases to prove it works and is safe.
.
The vaccine is called mRNA-1273 and was developed by US National Institutes of Health (NIH) scientists and collaborators at biotechnology company Moderna, which is based in Cambridge, Massachusetts.
.
Travel ban
European leaders are set to ban non-essential travel into the continent on Tuesday, the latest drastic attempt to curb the coronavirus pandemic that has upended society, battered markets and killed thousands around the world.
.
With French President Emmanuel Macron describing the battle against COVID-19 as a "war", governments around the world are imposing restrictions rarely seen in peace-time, slamming borders shut and forcing citizens to stay home.
The crisis is infecting every sector of the economy and Wall Street stocks sank on Monday more than 12 percent in the worst session since the crash of 1987, despite emergency interventions by central banks and governments to shore up confidence.
.
Capacity cut Australian airline Qantas announced Tuesday it was slashing its international capacity by 90 percent and domestic flights by 60 percent in a further coronavirus blow to the beleaguered travel industry.
.
Facing a growing list of travel bans around the globe and a "precipitous decline in demand", Qantas said the cutbacks would continue until at least the end of May.
.
They affect both Qantas flights and those of its budget carrier Jetstar and will impact the company's entire 30,000 staff.
20 more cases
China reported on Tuesday just one new domestic coronavirus infection but found 20 more cases imported from abroad, threatening to spoil its progress against the disease.
.
The single case in Wuhan will boost China's view that it has "basically curbed" the spread of a disease that is believed to have emerged in a live animal market in the central city in December.
.
Wuhan and its 11 million people were placed under strict quarantine on Jan. 23, with the rest of Hubei province going under lockdown in the following days.
.
COVID-19 PANDEMIC:
NOW EPICENTER:
EUROPE'S MILAN, Italy.
.
Leaders shut Europe's borders to fight outbreak
.
BERLIN (AFP, NYTIMES) – The European Union will impose an entry ban on travellers from outside the bloc for 30 days to battle the spread of the coronavirus, European leaders decided on Tuesday (March 17).
The decision is most significant emergency measure yet from the EU, which has scrambled to come up with a unified response to the deadly epidemic that is sweeping the continent.
The 27 leaders met by videoconference to agree the ban on non-essential travel to the bloc – an idea strongly backed by France, hoping to persuade member states that they need not close doors to each other.
.
German Chancellor Angela Merkel makes a press statement on the spread of Covid-19 in Berlin on March 17, 2020.PHOTO: AFP
.
DEVASTATING FALL-OUT
Italy, Spain, France and now Belgium have opted for widespread lockdowns, ordering citizens to stay at home for all but essential trips, while the Netherlands has taken a looser stance, hoping to build collective immunity.
.
The leaders welcomed moves by the European Commission to ease budget rules for crisis-hit countries, most notably financially-pressed Italy which is the worst hit by the virus.
But powerful member Germany does not want to activate the euro zone's €410 billion (S$640 billion) bailout fund, partly out of worry of causing more market panic.
.
READ MORE: https://www.straitstimes.com/world/europe/coronavirus-eu-imposing-entry-ban-for-30-days-says-angela-merkel
.
SOFIA, Bulgaria- Cheerful masks help battle coronavirus in BulgariaProtective masks at a tailor factory in Sofia to donate to doctors and police amid the spread of the COVID-19. PHOTO: AFP
.
SOFIA (AFP) – Cheerful face masks are helping to combat the spread of the novel coronavirus in Bulgaria thanks to a small company in the capital Sofia.
.
READ MORE:
.
EPICENTER:
ASIA'S WUHAN, HUBEI PROV., China
.
Mainland China reports 13 new confirmed cases of coronavirus
BEIJING (REUTERS) – Mainland China had 13 new confirmed cases of coronavirus infections on Tuesday (March 17), the country's National Health Commission said, down from 21 cases a day earlier.
That brings the total number of confirmed cases in mainland China so far to 80,894, the health authority said in a statement on Wednesday.
The death toll from the outbreak in mainland China had reached 3,237 as of the end of Tuesday, up by 11 from the previous day.
In the central province of Hubei, the epicentre of the outbreak in China, there were 11 new deaths, with the provincial capital of Wuhan accounting for 10 of the fatalities.
The number of imported cases of the virus in mainland China reached 155 as of Tuesday, up 12 from a day earlier.
.
.
.
ASEAN
.
BRUNEI-Two new COVID-19 cases, total now 56File photo shows members of the public wearing face mask at a shopping mall. PHOTO: BAHYIAH BAKIR
.
Brunei Darussalam recorded a drop in COVID-19 cases yesterday with two individuals testing positive, bringing the total to 56 cases in the country.
This is the biggest drop in cases since the first COVID 19 case was reported on March 9.
.
READ MORE: https://borneobulletin.com.bn/two-new-covid-19-cases-total-now-56/
.
KUALA LUMPUR, Malaysia-  Empty checkpoints at Woodlands, Tuas as Malaysia lockdown kicks in
SINGAPORE – Silence has descended on the Woodlands and Tuas checkpoints.
Gone were the crowds, the bumper-to-bumper traffic and the frenetic activity, as Malaysia's lockdown kicked in on Wednesday morning (March 18).
The Woodlands Causeway and Tuas Second Link, which usually see about 415,000 travellers daily, shut normal operations as Malaysia proceeded with its two-week lockdown, a key effort to stem the spread of the coronavirus.
.
READ MORE: https://www.straitstimes.com/singapore/traffic-clears-out-at-woodlands-tuas-checkpoints-as-malaysia-lockdown-kicks-in
.
SAN PEDRO CITY, Philippines- Cavite has 5th COVID-19 case in Bacoor City
SAN PEDRO CITY –– Cavite recorded its fifth case of coronavirus disease (COVID-19) since the surge of infection hit Metro Manila and adjacent provinces.
Cavite Governor Juanito Victor Remulla on Wednesday said the patient is a 48-year-old male resident of Bacoor City.
The patient had been admitted to the Research Institute for Tropical Medicine in Muntinlupa City. / By: Maricar Cinco – Reporter / Inquirer Southern Luzon
 ,
READ MORE: https://newsinfo.inquirer.net/1244323/cavite-has-5th-covid-19-case-in-bacoor-city
,
SINGAPORE:  23 new coronavirus patients in S'pore a new high; 17 cases imported
SINGAPORE – Singapore has confirmed 23 new Covid-19 cases, including 17 that are imported, the Ministry of Health (MOH) said on Tuesday (March 17).
This is the highest number of new cases Singapore recorded in a day so far.
Seven out of 17 of the imported cases were Singaporeans. Five of the Singaporeans had travelled to Europe, currently the epicentre of the virus, and had been to countries such as Germany, France and Italy.
The authorities said on Tuesday that Singaporeans need to take the advice not to travel very seriously.
READ MORE: https://www.straitstimes.com/singapore/23-new-covid-19-cases-in-spore-biggest-single-day-spike-including-17-imported
.
HÀ NỘI —  Việt Nam records 68th COVID-19 case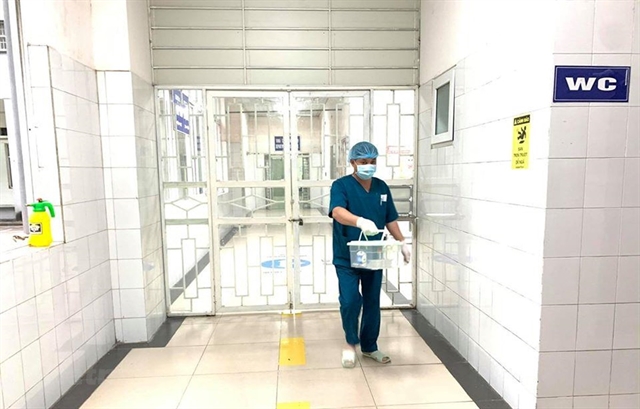 .
HÀ NỘI — Việt Nam's 68th COVID-19 case was confirmed on Wednesday morning by the Nha Trang Pasteur Institute.
The male patient, 41, is an American citizen. He married to a Vietnamese woman and lives in the coastal central city of Đà Nẵng.
.
READ MORE: https://vietnamnews.vn/society/653769/viet-nam-records-68th-covid-19-case.html
.
– SPACE RESERVE FOR YOUR ADVERTISEMENT
.
.
ASIA-PACIFIC& AUSTRALIA-NEW ZEALAND
.
SYDNEY- Australia considers tougher movement restrictionsPeople shop at a Woolworths supermarket in Sydney yesterday. PHOTO: AFP
.
SYDNEY (CNA) – Australia is considering tougher restrictions on public gatherings to slow the spread of the coronavirus as the Sydney Opera House closed its doors, national airline Qantas slashed its international flight capacity and courts suspended hearings.
.
READ MORE: https://borneobulletin.com.bn/australia-considers-tougher-movement-restrictions/
.
WELLINGTON-  New Zealand announces economic stimulus equal to four per cent of GDP
New Zealand's Reserve Bank Governor Adrian Orr speaks to the media in Wellington, New Zealand. PHOTO: AP
WELLINGTON, NEW ZEALAND (AP) – New Zealand's government said yesterday it would spend billions of dollars supporting hard-hit companies as it tries to shore up an economy headed for recession because of the coronavirus.
The stimulus package is equivalent to four per cent of GDP. A large chunk of the new spending will go to businesses that have lost more than 30 per cent of their income as a result of the downturn. Other money will go toward health costs, income support, and the airline industry.
.
READ MORE: https://borneobulletin.com.bn/new-zealand-announces-economic-stimulus-equal-to-four-per-cent-of-gdp/
.
SEOUL- S. Korea sends military planes to secure more protective clothing amid anti-virus efforts
.
SEOUL — South Korea has dispatched two military transport aircraft to Myanmar to bring 80,000 sets of protective clothing for use in dealing with the new coronavirus, the foreign ministry said Wednesday.
A foreign ministry official said two Air Force C-130J planes departed for the Southeast Asian nation on the mission to deliver the items from a production line run by a South Korean company.
READ MORE: https://newsinfo.inquirer.net/1244261/s-korea-sends-military-planes-to-secure-more-protective-clothing-amid-anti-virus-efforts
.
.
MIDDLE EAST
.
.
AFRICA
 .
LAGOS, Nigeria- Lagos blast death toll rises to 17 
LAGOS (AFP) – Authorities in Nigeria's largest city Lagos said on Monday that the death toll from a suspected gas explosion had risen to 17 as emergency services dug bodies from the debris.
.
JOHANNESBURG- New Africa coronavirus crisis looms with internal spreadA woman wearing a face mask walks on a downtown street Johannesburg, South Africa. PHOTO: AP
JOHANNESBURG (AP) — The coronavirus has now been confirmed in at least 30 of Africa's 54 countries, officials said on Monday, and regional power South Africa warned of a new crisis once the virus begins to spread at home and into crowded low-income communities.
The most alarming confirmation of a first case came from Somalia, the Horn of Africa nation with one of the continent's weakest health systems after nearly three decades of conflict. Tanzania, Liberia and Benin also announced their first cases
.
African nations began imposing travel restrictions as many confirmed cases come from abroad. Algeria cut off all air and sea contact with Europe, effective last Thursday, and Botswana barred travellers from 18 high-risk countries.
South Africa announced it will revoke nearly 10,000 visas issued to people from China and Iran, two of the hardest-hit countries, in January and February. It will also require visas from several hard-hit countries that had been visa-free, including the United States (US) and Italy.
Both are dramatic steps that target important business partners at a time when South Africa's economy has again slid into recession. In response, France's embassy urged French citizens visiting South Africa to leave as soon as possible.
"The internal transmission risk is now setting in," South Africa's Health Minister Zweli Mkhize told reporters a day after the country declared an unprecedented national disaster. It has 62 cases, all from abroad. Health officials are investigating two cases of possible local transmission. "The reality is this: For now, individuals that have been infected thus far are people who can afford going on holiday abroad or they travel for business. Those individuals also have accommodation for self-quarantine," the minister said. "However, when this outbreak starts affecting our poor communities where families do not have enough rooms or spaces to quarantine those affected, we will experience a crisis."
South Africa might have to impose a "lockdown" if these and other new measures including travel restrictions and school closures do not work within two weeks, the health minister said, "It's going to be very hard."
South Africa has one of the most developed health systems in Africa, and global health experts have openly worried for weeks that the virus could quickly overwhelm countries on the continent with weak health systems.
Somalia is one of them. Health Minister Fawziya Abikar said the country's first confirmed case was in a Somali national who had recently arrived from abroad. Somalia's government quickly announced that international flights to the country would no longer be allowed as of today.
In Liberia, the executive director of the country's environmental protection agency tested positive after arriving last week from Switzerland. "There is no cause for panic," Information Minister Eugene Nagbe said.
Tanzania's Health Ministry said the country's first confirmed case was a a 46-year-old Tanzanian woman who recently travelled from Belgium.
.
READ MORE: https://borneobulletin.com.bn/new-africa-coronavirus-crisis-looms-with-internal-spread/
.
All photographs, news, editorials, opinions, information, data, others have been taken from the Internet ..aseanews.net | [email protected] | Fo r comments, Email to :  Al Bulario