COVID-19 PANDEMIC: Day 113: Globally, the death toll has risen to over 9,800 with more than 232,650 cases in 158 countries and territories
.A man wearing a face mask takes a photo from a passengers ferry sailing the Grand Canal near the Rialto Bridge in Venice on March 18, 2020, during the country's lockdown within the new coronavirus crisis. AFP/Andrea Pattaro / Mariette Le Roux (Agence France-Presse)
.
.

.
.
The novel coronavirus pandemic has infected 207,860 people across the globe and killed more than 8,600 since the virus first emerged in central Chinese city of Wuhan late last year
.
Globally, the death toll from the virus has risen to over 9,800 with more than 232,650 cases in 158 countries and territories, according to the AFP tally.
UN Secretary-General Antonio Guterres warned Thursday of the virus' potentially devastating effects.
"If we let the virus spread like wildfire — especially in the most vulnerable regions of the world — it would kill millions of people," Guterres said.
.
World leaders also unleashed nearly a trillion dollars to prop up the teetering global economy, only to see the once-in-a-century pandemic seemingly spiral further out of control.
 .
The number of infections and deaths in the rest of the world has surpassed those in China, which appears to have staunched the virus with strict measures including a complete quarantine of Wuhan since January.
.
COVID-19 PANDEMIC:
NOW EPICENTER:
EUROPE'S MILAN, Italy.
.
EUROPEAN UNION-EU
– Emergency stimulus –
With countries paralysed by the pandemic and stock markets imploding, policymakers this week unleashed a wave of measures to shore up the global economy.
The European Central Bank announced a 750-billion-euro bond-buying scheme, dubbed the "big bazooka."
.
European stocks staged a rebound on the stimulus news, although Asian markets took another beating.
The battle is only just beginning across the rest of the world, with the shadow of the virus lengthening across Africa.
.
The EU closed its borders to outsiders and in many countries bars, restaurants and most shops have closed their doors until further notice.
The virus also continues to hit cultural events such as the Cannes film festival, which has been postponed from May until at least late June.
.
ROME- Italy overtakes China with most virus deaths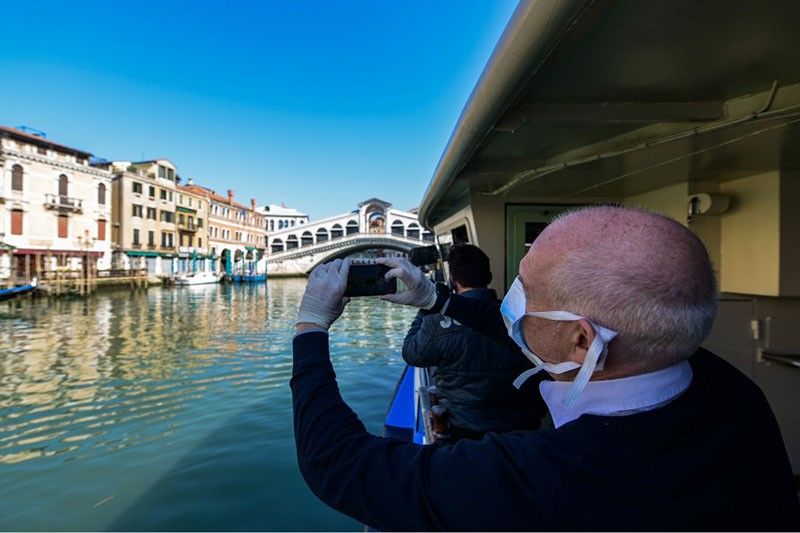 A man wearing a face mask takes a photo from a passengers ferry sailing the Grand Canal near the Rialto Bridge in Venice on March 18, 2020, during the country's lockdown within the new coronavirus crisis.
AFP/Andrea Pattaro / Mariette Le Roux (Agence France-Presse)
.
PARIS, France — Italy surpassed China on Thursday as the country with the most deaths from coronavirus as the UN chief warned "millions" could die if it spreads unchecked around the globe.
The death toll soared in Europe as Italy announced another 427 fatalities on Thursday, taking its total to 3,405, according to a tally compiled by AFP from official sources.
As the toll surged in Italy, Prime Minister Giuseppe Conte said the national lockdown, which has been copied around Europe, would be prolonged to April 3, shattering hopes of a quick end to the crisis.
– Emergency stimulus –
.
.
PARIS-
France reported 108 more deaths over the last 24 hours, bringing the total number to 372.
.
France mooted extending its two-week lockdown ordered this week by President Emmanuel Macron, as the interior minister blasted "idiots" who flout home confinement rules and put others at risk.
.
ATHENS, Greece-
And in sports Greece handed over the Olympic flame to Tokyo 2020 organisers at a closed-door ceremony, while English football extended its shutdown until at least April 30.
.
.
.
<aseanews>
.
MOSCOW, Russia-
Russia reported its first death and even the Pacific nation of Fiji said it had its first case.
.
LONDON, UK-
In Britain, Prime Minister Boris Johnson said the country could "turn the tide" on coronavirus within 12 weeks — but only if people heed advice to avoid social contact.
The disease continued to hit high-profile figures with EU Brexit negotiator Michel Barnier and Monaco's Prince Albert II among those testing positive.
Britain closed dozens of London Underground stations and shut down schools.
.
.
READ MORE: http://www.vientianetimes.org.la/freeContent/FreeConten_Govt56.php
EPICENTER:
ASIA'S WUHAN, HUBEI PROV., China
.
BEIJING/SHANGHAI China sees zero local coronavirus cases for second day, hits new record on imported cases
BEIJING/SHANGHAI (REUTERS, AFP) –  China's coronavirus infections from abroad hit a new daily record while infected travellers reached an unprecedented number of Chinese provinces, pressuring the authorities to hold the bar high on already tough customs rules and public-health protocols.
Mainland China had 39 new confirmed cases on Thursday, the country's National Health Commission (NHC) said, all of which were imported cases. There were no locally transmitted cases for a second day.
Of the new imported infections, 14 were in Guangdong, eight in Shanghai and six in Beijing, the health authority said on Friday (March 20).
China for its part reported no new domestic cases for the first time since the virus appeared in the central city of Wuhan in December, before spreading worldwide.
While there was a glimmer of hope in China, several nations tightened their borders and imposed lockdowns, trapping tens of millions of people in their homes.
READ MORE: https://www.straitstimes.com/asia/east-asia/china-sees-zero-local-coronavirus-cases-for-second-day-imported-infections-surge
Some 56 million people in Wuhan and surrounding Hubei province were locked down in late January, but the authorities are progressively easing the travel curbs as cases dwindle
China has officially reported 3,245 deaths from the virus, which can cause respiratory failure, particularly in the elderly.
.
<aseanews>
,
.
ASEAN
.
BRUNEI-  COVID-19 cases in Brunei rise to 73Minister of Health Dato Seri Setia Dr Haji Mohd Isham bin Haji Jaafar during the press conference. PHOTO: JAMES KON
Brunei Darussalam yesterday recorded five new cases of COVID-19, bringing the total to 73 individuals tested positive for the disease./ James Kon
READ MORE: https://borneobulletin.com.bn/covid-19-cases-in-brunei-rise-to-73-2/
Information can be obtained from the Ministry of Health website at moh.gov.bn or contact the Health Advice Line at 148.
.
JAKARTA- Thousands of Muslim pilgrims ignore virus risk to gather in Indonesia
JAKARTA/KUALA LUMPUR (REUTERS) – Thousands of Muslim pilgrims from across Asia gathered in Indonesia on Wednesday (March 18), despite fears that their meeting could fuel the spread of a coronavirus, just two weeks after a similar event in Malaysia caused more than 500 infections.
READ MORE: https://www.straitstimes.com/asia/se-asia/thousands-of-muslim-pilgrims-ignore-virus-risk-to-gather-in-indonesia
Promotional material for the Indonesian gathering reviewed by Reuters read, "The pleasure of living in this world is only a little, compared to the afterlife."
RELATED STORIES
Indonesia to suspend visa-free and visa-on-arrival arrangements for one month to curb spread of coronavirus
JAKARTA – Indonesia will suspend its visa-free and visa-on-arrival arrangements for one month, starting Friday (March 20), as part of its attempts to contain the coronavirus outbreak in the world's fourth most populous nation.
READ MORE: https://www.straitstimes.com/asia/se-asia/indonesia-to-suspend-visa-free-policy-for-one-month-to-curb-spread-of-coronavirus
Apart from 132 referral hospitals nationwide, the government has appointed 109 military hospitals, 53 police hospitals and 65 hospitals run by state-owned enterprises to treat Covid-19 patients.
Several private hospitals are also participating in the treatment of Covid-19 patients, Mr Achmad said.
.
KUALA LUMPUR- Malaysia records 117 new coronavirus cases, bringing total to 790; mosque cluster reaches 514 cases
KUALA LUMPUR – Malaysia on Wednesday (March 18) confirmed 117 new Covid-19 cases, of which 80 are linked to the Sri Petaling mosque cluster.
READ MORE: https://www.straitstimes.com/asia/se-asia/coronavirus-malaysia-records-117-new-cases-to-total-790-mosque-cluster-reaches-514
On Tuesday, Malaysia announced its first two deaths from the outbreak. One of them was a 34-year-old man who attended the Sri Petaling mosque meeting, and another a 60-year-old pastor from Sarawak.
Dr Nor Hisham said on Wednesday that 15 of the cases are critically ill, and 60 of the 790 cases have recovered.
.
RELATED STORY
.
KUALA LUMPUR- HUNDREDS INFECTED IN MALAYSIA
About two-thirds of Malaysia's 790 infections have been traced to the meeting at a mosque complex on the outskirts of Kuala Lumpur, the capital.
Tiny neighbour Brunei has confirmed 50 infections linked to it, while Cambodia, the Philippines, Singapore, Thailand and Vietnam have also said citizens were infected there.
Organisers in Indonesia were checking pilgrims' temperatures as a precaution, Mr Bahranuddin added.
Mr Saeni said health officials had visited the site and asked to monitor participants.
By Wednesday, Indonesia's tally of infections stood at 227, with 19 deaths.
The nation of 260 million had run just 1,255 tests by Tuesday.
READ MORE: https://www.straitstimes.com/asia/se-asia/thousands-of-muslim-pilgrims-ignore-virus-risk-to-gather-in-indonesia
.
<covid-19>
.
MANILA, Philippines — A total of 217 cases of novel coronavirus infection have now been detected in the Philippines as of midday Thursday, logged 15 additional, no new death, with the toll still standing at 17.
DOH chief goes on self-quarantine as deaths hit 17
Health Secretary Francisco Duque began a 14-day self-quarantine on Wednesday, the Department of Health confirmed Thursday, as the number of COVID-19 cases climbed to 217 with 15 new cases, while deaths remained at 17 and recoveries rose to eight./ 
by 

Macon Ramos-Araneta and Rio N. Araja, Randy Caluag, Maricel V. Cruz
READ MORE: https://manilastandard.net/news/top-stories/320055/doh-chief-goes-on-self-quarantine-as-deaths-hit-17.html
The House is also proposing a legislative measure that will finance a comprehensive economic stimulus package that will mitigate the effects of COVID-19 specifically on tourism and the informal sector as well as to the micro, small and medium enterprises, Cayetano said.
.
<covid-19>
SINGAPORE- 32 new Covid-19 cases in S'pore, including 24 imported cases involving residents and long-term pass holders
SINGAPORE – The Republic has confirmed 32 new coronavirus patients, including 24 imported cases, the Ministry of Health (MOH) said on Thursday (March 19).
This is a drop from the 47 new cases that were recorded on Wednesday, the highest number since the start of the outbreak.
All of the imported cases were returning residents and long-term pass holders, with the bulk having travelled to Europe – currently the epicentre of the virus. Most patients who visited Europe were in Britain – 13 patients – while the others had visited countries like Switzerland and France.
With 32 new cases on Thursday, the total number of infected patients here now stands at 345. Of these, 159 are imported cases and the remaining 186 cases are locally transmitted cases.
READ MORE: https://www.straitstimes.com/singapore/32-new-covid-19-cases-in-spore-including-24-imported-cases-involving-residents-and-long
As of Thursday 12pm, MOH said it has identified 6,574 close contacts who have been quarantined.
Of these, 2,273 are currently quarantined, and 4,301 have completed their quarantine.
.
<covid-19>
.
BANGKOK- Thailand reports 50 new coronavirus infections, taking total to 322
BANGKOK (REUTERS) – Thailand reported 50 new coronavirus infections, taking its tally to 322, a health official said on Friday (March 20), with the majority located in Bangkok, the capital.
READ MORE: https://www.straitstimes.com/asia/se-asia/thailand-reports-50-new-coronavirus-infections-for-total-of-322
Thailand has had one death in the outbreak, with 43 patients having recovered and gone home, while 278 are still in hospital.
.
<covid-19>
.
HÀ NỘI – Strengthening the prevention of COVID-19 for the elderly.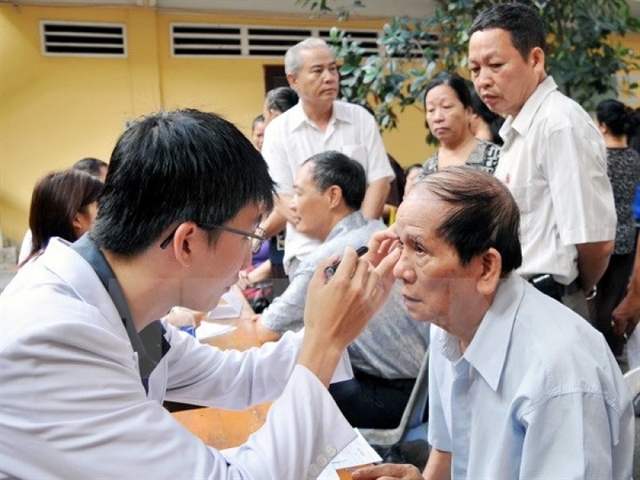 HÀ NỘI — The Steering Committee for COVID-19 Prevention and Control has asked provinces and cities nationwide to strengthen the prevention of COVID-19 for the elderly on Thursday.
The People's Committees of provinces and cities are requested to urgently direct relevant agencies take specific measures to strengthen prevention of the COVID-19 epidemic for the elderly, people with underlying diseases and other high risk groups.
READ MORE: https://vietnamnews.vn/society/653842/strengthening-the-prevention-of-covid-19-for-the-elderly.html
>  A study by the National Geriatrics Hospital showed that the average number of disease among the elderly is 2.6 and for people over 80 years old, this figure is 6.8. — VNS
,
<aseanews>
.
ASIA-PACIFIC, AUSTRALIA/NEW ZEALAND
.
DHAKA-  Massive Bangladesh coronavirus prayer gathering sparks outcry
DHAKA (AFP) – A massive coronavirus prayer session with tens of thousands of devotees sparked an outcry in Bangladesh on Wednesday (March 18) as the South Asian nation reported its first death from the global pandemic.
READ MORE:  https://www.straitstimes.com/asia/south-asia/massive-bangladesh-coronavirus-prayer-gathering-sparks-outcry
The number of positive cases in the country of 168 million people stands at 14, although some medical experts fear not enough tests are being conducted.
.
SYDNEY-  Australia hunts 2,700 cruise passengers over coronavirus fears
SYDNEY (AFP) – Australia issued an urgent call for 2,700 cruise ship passengers who disembarked in central Sydney to isolate themselves and contact the authorities on Friday (March 20), after four travellers tested positive for Covid-19.
READ MORE: https://www.straitstimes.com/asia/australianz/australia-hunts-2700-cruise-passengers-over-coronavirus-fears
Operator Princess Cruises did not immediately respond to a request for comment.
.
.
SYDNEY, Australia-
Countries are taking increasingly drastic steps to stem infections, with Australia and New Zealand banning non-residents from arriving, and India imposing a one-day nationwide curfew.
.
SEOUL- South Korea, with a population of a fifth that size, is doing more than 15,000 tests a day.
.
AMERICA
.
NORTH ANERICA
LOS ANGELES, California- 
California's 40 million residents ordered to stay home as coronavirus fallout deepens in America
WASHINGTON – California's 40 million residents were ordered to stay home except for essential trips beginning Thursday night (March 19), the most drastic action taken to date to contain the coronavirus pandemic in the United States.
.
President Donald Trump said meanwhile that the United States is fast-tracking antimalarial drugs for use as a treatment and lashed out at China for not informing the world earlier about the original outbreak.
.
Trump, who has come under fire for his response to the crisis, charged Thursday that the world was paying for China's lack of transparency about the outbreak there.
"It could have been contained to that one area of China where it started. And certainly the world is paying a big price for what they did," he said.
Trump said US authorities were fast-tracking antimalarials chloroquine and hydroxychloroquine for use as a coronavirus treatment, making them available "almost immediately."
The drugs are synthetic forms of quinine, which is found in the bark of cinchona trees of Latin America and has been used to treat malaria for centuries.
– Emergency stimulus –
In the United States, Treasury Secretary Steven Mnuchin urged Congress to pass a $1-trillion emergency stimulus package.
Wall Street finished higher Thursday following a volatile session as investors weighed the government stimulus measures against some of the first data pointing to a sharp US economic slowdown.
The Dow Jones Industrial Average gained 1.0 percent to 20,087.40, after swinging more than 1,200 points during the day.
The United States has so far shied away from the sweeping restrictions used in China and many European countries, although the streets of many of its major cities have emptied as local curbs come into effect.
The United States warned against international travel due to the pandemic and advised citizens to come home if possible.
Upgrading its travel alert to the highest possible level, the State Department said Americans who do not return "should be prepared to remain abroad for an indefinite period."
"Stimulus spending of this magnitude is not only warranted, but indispensable," wrote analytics firm Oxford Economics. "Though it may still be insufficient to address the widespread economic losses, and further measures can't be ruled out."
ECONOMIC FALLOUT
It was the latest twist of the knife by the pandemic, which has disrupted travel, kept people in their homes and out of work amid drastic measures taken to halt it.
Economists warned that the unemployment numbers would worsen in the coming weeks and that a recession was on the horizon, if not already here.
READ MORE:   https://www.straitstimes.com/world/united-states/coronavirus-us-urges-citizens-to-avoid-all-international-travel-return-home
Earlier on Wednesday, Congress passed an initial coronavirus Bill that included paid sick leave for some workers and free virus testing for all.
.
.
AFRICA
.
LAGOS, Nigeria-
The Nigerian mega-city of Lagos announced it would shut its schools while Burkina Faso confirmed the first death in sub-Saharan Africa.
.
All photographs, news, editorials, opinions, information, data, others have been taken from the Internet ..aseanews.net | [email protected] | Fo r comments, Email to :  Al Bulario