EDITORIAL-CARTOONS: Ramping up COVID testing

Grieving the noble
.
.
<op-ed>
.
MSMEs need help
Often referred to as the lifeblood of the Philippine economy, the micro, small and medium enterprise (MSME) sector is on the brink of collapse.
As of May 2019, 99.56 percent of business establishments in the country were MSMEs, growing in number to 1.42 million from 900,000 in 2017. Of this, 90 percent were microenterprises or those with total assets of less than P3 million and employing less than 10 workers. According to the Department of Trade and Industry (DTI), nearly seven out of every 10 employed Filipinos work in the MSME sector.
This sector needs immediate help.
First, from the national government in terms of support for their employees who are suddenly out of work. While some MSMEs catering to the beleaguered tourism sector will be covered by the P27-billion initial financial stimulus package approved by the Duterte administration, the government should include those MSMEs outside of tourism in the new stimulus package being drawn up by the economic team, with more than P200 billion in financing identified so far from budget realignments and low-interest loans from multilateral lenders such as the World Bank and the Asian Development Bank. The DTI, in fact, can draw up a separate stimulus package tailor-fitted for these small enterprises.
READ MORE:  https://opinion.inquirer.net/128440/msmes-need-help
In one forum on MSMEs, Trade Secretary Ramon Lopez hailed these small firms: "With every job created, you are saving one person from poverty." Today, every MSME that shuts down may end up pushing a number of people into poverty. Multiply that with the thousands of MSMEs that are at risk because of the current health pandemic, and the country will have another major crisis at hand. These small enterprises urgently deserve all the help they can get.
For more news about the novel coronavirus click here.
What you need to know about Coronavirus.
For more information on COVID-19, call the DOH Hotline: (02) 86517800 local 1149/1150.
.
<op-ed>
.
.
Ads by: Memento Maxima Digital Marketing
@ [email protected]
– SPACE RESERVE FOR YOUR ADVERTISEMENT
– SPACE RESERVE FOR YOUR ADVERTISEMENT
.
.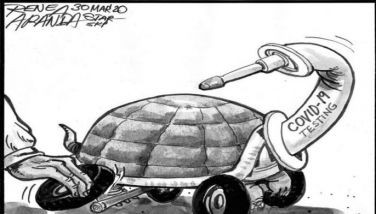 EDITORIAL – Ramping up COVID testing
n a tragic manifestation of how the coronavirus disease 2019 pandemic is overwhelming the public health system, the assistant director of the Research Institute for Tropical Medicine, Dr. Salvacion Rodriguez-Gatchalian, last Wednesday joined the ranks of frontliners who have fallen in the difficult battle. The RITM is the country's lone testing center for COVID-19 infection.
Health experts have stressed the importance of rapid, widespread testing to contain the spread of a potentially deadly affliction for which there is still no vaccine or cure.
READ MORE: https://www.philstar.com/opinion/2020/03/30/2004251/editorial-ramping-covid-testing
With COVID deaths surging in the US and their hospitals overwhelmed, Kelen was quoted in a report as saying: "If we could have done contact tracing, we might have found a lot more cases quickly and shut down the hotspots." Arguing for the speedy rollout of more testing kits, he said: "Something is better than nothing, sooner is better than later, and if one test is good, two are better. So let's get to it – perfect is the enemy of good."

EDITORYAL- Agriculture department tulungan ang mga magsasaka
Isa sa mga apektado ng lockdown sa Luzon ay ang mga magsasaka. Hindi nila mailuwas o madala sa palengke ang mga ani nilang gulay, prutas at iba pang pagkain. Hinaharang sila sa checkpoint. Kahit pa magpumilit sila, mahigpit ang mga pulis at sundalo at wala silang magawa. Sabi ng mga sundalo at pulis, ginagawa lang nila ang utos para hindi kumalat ang COVID-19.
READ MORE: https://www.philstar.com/pilipino-star-ngayon/opinyon/2020/03/30/2004208/editoryal-agriculture-department-tulungan-ang-mga-magsasaka
Nararapat namang kumilos ang Department of Agriculture (DA) sa nangyayaring ito sa mga magsasaka na hindi mailuwas ang kanilang ani. Mag-provide ang DA ng mga truck para sunduin ang mga gulay o di kaya't sila na mismo ang mamakyaw ng mga ani ng magsasaka at saka dalhin sa mga pamilihan lalo sa Metro Manila na mas nangangailangan ng pagkain. Ayudahan ang mga magsasaka para maideliber ang kanilang ani. Sayang ang mga gulay at prutas kung mabubulok./ Pilipino Star Ngayon
.
Ads by: Memento Maxima Digital Marketing
@ [email protected]
– SPACE RESERVE FOR YOUR ADVERTISEMENT
– SPACE RESERVE FOR YOUR ADVERTISEMENT
.
.
All photographs, news, editorials, opinions, information, data, others have been taken from the Internet ..aseanews.net | [email protected] For comments, Email to :D'Equalizer | [email protected]