ASEANEWS FRONT PAGES: YANGON, Myanmar- Seventeen hospital workers quarantined
.
.
ASEANEWS
TEDDY "BEAR" LOOK SiN
Brunei records two new COVID-19 cases, four more recover
.
<aseanews>
.
PHNOM PENH
.
.
Ads by: Memento Maxima Digital Marketing
@ [email protected]
– SPACE RESERVE FOR YOUR ADVERTISEMENT
– SPACE RESERVE FOR YOUR ADVERTISEMENT
..
VIENTIANE, Laos-
Public announcement

The Vientiane Times' Editors Board would like to inform all readers that we will not publish a hard copy of the newspaper from April 1, 2020 to April 19, 2020 in accordance with the executive order intensifying prevention and control measures to fight against Covid-19 that was issued by the Prime Minister on March 29, 2020. We regularly produce online news reports in Lao and English for our website, www.vientianetimes. org.la; www.vientianetimeslao.la Facebook page https://www.facebook.com/vientianetimesonline; https://www.facebook.com/vientianetimeslao and YouTube channel. Readers can catch up on the latest news through our website, Facebook page and YouTube channel. We will inform you again after April 19 if there is any change in the order by the government. We hope all our readers will cooperate with us in these challenging times. Pi Mai Lao this year is from April 13-16, and we wish the Party and state and all readers good health and happiness in their lives and for their families and work. Last but not least, we will together pass these difficult times in fighting against Covid-19. Good luck and good health!

If you would like to contact Vientiane Times

Features Editor:
Souknilundon Southivongnorath
Mobile: 020 56464263

News Editor:
Sisay Vilaysack
Mobile:: 55615716
Business Editor:
Manichanh Pansivongxay
Tel: 020 55607017

Graphic Designer/IT:
Malaythong Phayanouvong
Mobile: 020 55729209

Finance Manager:
Somphone Vongsa
Mobile: 020 55647291
Marketing Manager:
Phoutthasack Inthakoummane
Mobile: 020 55599209
.
<aseanews>
.
JAKARTA- Indonesian Economy: Central Bank
Jakarta. Global investors still have confidence in the Indonesian economy and may back a drive to buy new debt securities issued to finance the government's stimulus package for mitigating the Covid-19 pandemic, Perry Warjiyo, the governor of Bank Indonesia, the country's central bank, said on Wednesday.
"I just contacted global investors. They are still quite confident with Indonesia," Perry said in a teleconference on Thursday.
.
Inflation Under Control
The central bank buying government bonds means it is practically printing money and increasing the amount of money in circulation at the risk of accelerating inflation.
.
No Capital Control, Rupiah Undervalued
Perry also said the central bank would not start imposing capital control to stabilize the rupiah's fluctuation.
.
READ MORE: https://jakartaglobe.id/business/global-investors-confident-with-indonesian-economy-central-bank
.
For those who want to make the conversion, Bank Indonesia has provided a hedging facility to ensure that dollars are available to the exporters in the future at the same exchange rate that they set at present.
"Domestic non-delivery forward is the hedging that we've prepared for businesses," he said.  / BY :LONA OLAVIA, PRIMUS DORIMULU
.
Ads by: Memento Maxima Digital Marketing
@ [email protected]
– SPACE RESERVE FOR YOUR ADVERTISEMENT
– SPACE RESERVE FOR YOUR ADVERTISEMENT
..
 .
<aseanews>
.
YANGON- Myanmar temporarily suspends rice export permits
The Ministry of Commerce is temporarily suspending the issuance of rice export permits, says a senior official with the Department of Trade.
"We are just restricting the issuance of new export licences as a temporary measure until we can change to a better system. But after the new arrangements are in place, the licences will be issued again," said Department of Trade Director General U Min Min yesterday.
Amid speculation that the ministry had banned rice exports, U Min Min explained it was just a transition measure towards a better system. However, he did not provide any information about the new system or when it would be put in place.
While some observers concluded that the ban may be meant to ensure domestic rice sufficiency during the COVID-19 outbreak, one official from the Ministry of Agriculture, Livestock and Irrigation dispelled this.
"There is enough domestic supply and the speculation is spread by those who want to exploit conditions. As things are only surplus rive is allowed for exports," the official who declined to be named said.
"A new rice export system is being worked out and it will soon be put in place. We have already approved permits to export 250,000 tonnes of rice by sea so traders can export that amount during the transition period," U Min Min added.
Myanmar's rice is exported mainly to countries is Asia, Africa, and Europe.
According to data from the last week of February, Myanmar exported over 40,000 tonnes of rice worth US$13million by sea, including 8000 tonnes worth US$2.3 million to China. – Translated / HTOO THANT 03 APR 2020
Ads by: Memento Maxima Digital Marketing
@ [email protected]
– SPACE RESERVE FOR YOUR ADVERTISEMENT
– SPACE RESERVE FOR YOUR ADVERTISEMENT
DSWD takes over distribution of aid
Rody clips LGU powers for centralized move
Amid reports of corruption and red tape, President Rodrigo Duterte has stripped local government units of their role in distributing P200 billion in cash aid to the 18 million most vulnerable households across the country amid the spread of the novel coronavirus disease (COVID-19).
Duterte said the Department of Social Welfare and Development (DSWD) will now take the lead in the distribution of cash aid and relief goods to hasten the process.He said he was fed up of complaints that some corrupt local politicians have been pocketing aid meant for Filipinos affected by the Luzon-wide enhanced community quarantine and lockdowns in other areas across the country.
.
READ MORE:  https://manilastandard.net/news/top-stories/320973/dswd-takes-over-distribution-of-aid.html
.
ESP funds can only be downloaded to local governments through their accredited banks after their respective MOA are endorsed by the legislative council and then signed by the local chief executives with the DSWD. 
b
y 
Joyce Pangco Panares and Macon Ramos-Araneta, Maricel Cruz
<>
MAN ILA, Philippines-  Philippine National Police-PNP: We won't shoot them dead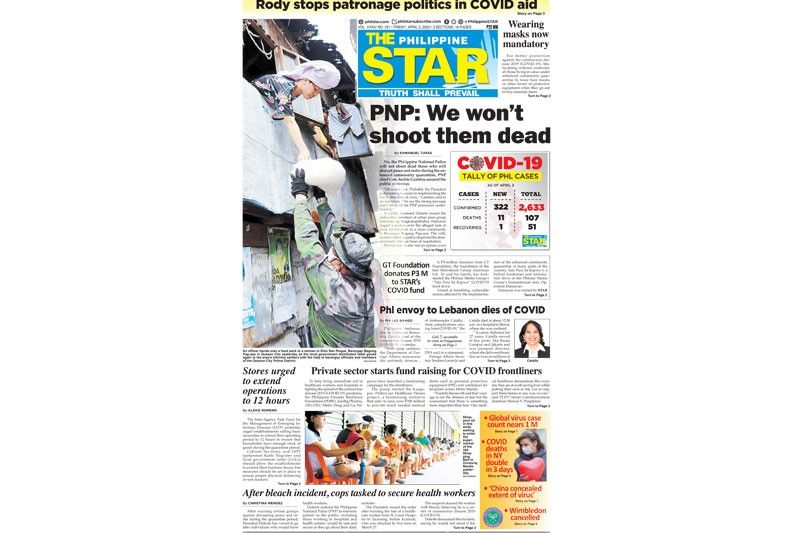 MANILA, Philippines — No, the Philippine National Police will not shoot dead those who will disrupt peace and order during the enhanced community quarantine, PNP chief Gen. Archie Gamboa assured the public yesterday.
"Of course not. Probably the President just overemphasized on implementing the law in this time of crisis," Gamboa said in an interview. "We see the strong message and I think all the PNP personnel understood it."
 .
READ MORE: https://www.philstar.com/headlines/2020/04/03/2005146/pnp-we-wont-shoot-them-dead
.
As a former PNP chief, Lacson said investigators could look into the possibility that Wednesday's incident was a "dry run" to test public sentiment and the law enforcers' ability to respond.
He noted that Kadamay posted on its Facebook page an invitation to an event scheduled for April 1. – With Cristina Mendez, Cecille Suerte Felipe / Emmanuel Tupas -The Philippine Star
 .
DSWD says P100B ready for release; poorest first
.
The Department of Social Welfare and Development (DSWD) on Thursday said it had received the first P100 billion of the P200 billion worth of emergency subsidy or cash aid to about 18 million poor families affected by the Luzon quarantine due to the new coronavirus pandemic.
4Ps beneficiaries
DSWD spokesperson Irene Dumlao said the 4Ps beneficiaries would get a "top-up" until they receive the maximum subsidy for their region.
Social amelioration cards
Under the DSWD's social amelioration program, regional directors of DSWD field offices are tasked with distributing social amelioration cards (SACs) to local governments, which will then distribute two copies of the cards to each qualified beneficiary to fill out.
Red tape body agrees
For its part, the Anti-Red Tape Authority (Arta) said it agreed with Villafuerte, and that it was already coordinating with the DSWD to speed up the process.
Barcode problem
Villafuerte also said the DSWD required SACs to be barcoded instead of simply requiring the local governments to submit standard forms identifying each beneficiary. This could be a problem, especially if the barangay did not have a barcode device or encoder.
Local officials have 'no say'
He also directed presidential peace adviser Carlito Galvez Jr., the chief implementer of the national policy against COVID-19, to help Bautista.
.
READ MORE: https://newsinfo.inquirer.net/1253185/dswd-says-p100b-ready-for-release-poorest-first
.
The law allowed up to P275 billion in unused money to be spent on COVID-19 response efforts instead of their original purposes approved under the 2020 national budget. —WITH REPORTS FROM JULIE M. AURELIO, ROY STEPHEN C. CANIVEL AND BEN O. DE VERA
Ads by: Memento Maxima Digital Marketing
@ [email protected]
– SPACE RESERVE FOR YOUR ADVERTISEMENT
– SPACE RESERVE FOR YOUR ADVERTISEMENT
 .
<covid-19>
.
 BANGKOK, Thaland-  103 new Covid cases, 4 new deaths
taxi driver gets a free test for signs of the coronavirus disease at Princ Hospital Suvarnabhumi, in Bang Phli district, Samut Prakan, on Friday, as the government announced four more deaths from Covid-19. (Photo: Somchai Poomlard)
.
The Government on Friday reported 103 new local cases of coronavirus disease 2019 (Covid-19), raising the total to 1,978, and four new deaths, mostly elderly, which increased the toll to 19.
.
Dr Taweesin Visanuyothin, spokesman of the government's Centre for Covid-19 Situation Administration, said one of the fatalities was a 59-year-old male employee of the State Railway of Thailand who had no  record of a chronic disease.
.
He fell ill on March 16 with a fever. He sought treatment from a doctor on March 21 and returned to work. He was severely ill on March 31, with exhaustion and breathing difficulties, and was admitted to a hospital in Bangkok. He died on Thursday.
.
The other three deaths were elderly people with pre-existing chronic problems.
.
The first was a 72-year-old Thai man whose child had visited a boxing stadium. He suffered from kidney disease, fell ill with Covid-19 on March 16 and died at a hospital in Bangkok on Wednesday.
.
The 18th death was a Thai man, 84, who worked at the Rajadamnern boxing stadium in Bangkok. He also suffered from kidney disease, hypertension and gout. He was admitted at a hospital in Bangkok on March 26 and died on Thursday.
.
The 19th case was a Thai man, also aged 84, who visited the same boxing stadium. He fell ill on March 18. He was admitted at a public hospital in Bangkok on March 21 with a fever of 39°C, a runny nose and cough, and died on Thursday.
.
Dr Taweesin warned people not to closely approach their elderly relatives to traditionally extend their best wishes during Songkran later this month.
.
He also said that Covid-19 had spread quickly among the 20-29 years age group in the past month,  because this group of people travelled often and attended meetings.
.
The new 103 patients included 39 who were in close contact with previous patients, 13 people who worked in crowded places or worked closely with foreigners, eight foreign visitors, seven returnees from abroad, six attendees of religious ceremonies in Indonesia, five medical personnel, and four visitors to crowded places such as a shopping mall, a flea market and a tourist destination.
.
Other new cases also included two visitors to entertainment places, two people in close contact with people arriving from other countries and one visitor to a boxing stadium. Officials were investigating 11 other cases, Dr Taweesin said.
.
Of the 1,978 total cases, 1,049 were reported in Bangkok.
Ads by: Memento Maxima Digital Marketing
@ [email protected]
– SPACE RESERVE FOR YOUR ADVERTISEMENT
– SPACE RESERVE FOR YOUR ADVERTISEMENT
All photographs, news, editorials, opinions, information, data, others have been taken from the Internet.. Teddy 'Bear' Look-SiN