COVID-19 THE "PLAGUE": Day 129: PUTRAJAYA, Malaysia- MOH monitors 3,000 yet-to-be-screened tabligh followers
Malaysia's MOH-Health director-general Datuk Dr Noor Hisham Abdullah (pix)
.
.
COVID-19 UPDATES:
.
.

Brunei-  One new COVID-19 case, nine more recoveries
Minister of Health Dato Seri Setia Dr Haji Mohd Isham bin Haji Jaafar at the press conference yesterday. PHOTO: AZIZ IDRIS
.
Brunei Darussalam recorded one confirmed COVID-19 case yesterday, with the country continuing to record a low number of cases in the past four days. The total number of infected persons stands at 134.
Nine more cases who received treatment at the National Isolation Centre have recovered and were permitted to go home. This brings the total number of persons who have recovered in the country to 65.
.
READ MORE: https://aseanews.net/2020/04/04/covid-19-the-plague-day-129-brunei-one-new-covid-19-case-nine-more-recoveries/
.
According to healthinfo.gov.bn, the breakdown of cases shows 107 in the Brunei-Muara District, 23 in the Belait District and four in the Tutong District. There are no cases in the Temburong District./ James Kon
.
<covid-19>
.
VIENTIANE, Laos- No Covid-19 cases for two consecutive days
The National Taskforce Committee for Covid-19 Prevention and Control on Friday reported there had been no more reported cases of Covid-19 for two days, with the total number of confirmed cases remaining stable at 10.
Speaking at a media conference at the National Operation Centre for Covid-19, Associate Prof. Dr Phouthone Muongpak said the committee had recently tested samples from 22 people with symptoms of the virus, which all yielded a negative result.
This is the second day on which authorities have reported no increase in the number of people infected. The news may bring some relief to the government, which is intensifying efforts to contain the spread of the virus.
According to Associate Prof. Dr Phouthone, 11 of the 22 suspected cases came from Vientiane, three each from Luang Namtha and Oudomxay, two from Xayaboury, and one each came from Luang Prabang, Huaphan and Vientiane provinces.
As of April 2, the authorities had tested 520 people for the virus, of whom 10 were shown to be infected.
Associate Prof. Dr Phouthone said Chinese medical officials, who arrived in Laos at the end of last week, were working closely with Lao medical officials in the area of disease control and treatment.
He also said that government officials and members of the public who had been asked to stay at home since April 1 should strictly follow the advice of the committee as part of efforts to control the spread of the virus.
The committee's key recommendations include frequent handwashing, opening windows to allow greater air flow, regular exercise, eating clean and cooked food, getting plenty of rest, and regularly checking one's temperature.
Families are also advised to limit the number of times people leave the house, with shopping for food to take place no more than twice a week. While outside, people should maintain a distance of 2 metres from other individuals.
The authorities have ordered the general public and civil servants to stay indoors and work from home. This measure is aimed at preventing the further spread of Covid-19. Vientiane is now quiet and peaceful as people are complying with the government's order and are afraid of contracting the disease By Ekaphone Phouthonesy / Latest Update April 3, 2020.
.
<covic-19>
.
Ads by: Memento Maxima Digital Marketing
@ [email protected]
– SPACE RESERVE FOR YOUR ADVERTISEMENT
– SPACE RESERVE FOR YOUR ADVERTISEMENT
MANILA, Philippines- 17 frontliners in NCMH, 4 patients positive for COVID
MANILA, Philippines — Seventeen health workers and four in-patients at the National Center for Mental Health (NCMH) in Mandaluyong City have tested positive for the coronavirus disease 2019 (COVID-19).
NCMH chief Roland Cortez assured the public that all patients are in stable condition and isolated in separate facilities.
"The 17 health workers are composed of three doctors, six nurses, three nursing attendants, three engineers, an administration personnel and a dietary personnel," Cortez said.
He said a thorough disinfection of the facilities was conducted to prevent and control the spread of the virus at the NCMH, which houses 3,200 patients.
Pavilion 28, where the "index case" was traced, has been locked down.
Cortez said a nursing attendant at Pavilion 28 tested positive for COVID-19 last week.
He said seven of the infected health workers are undergoing home quarantine. Four others are confined at the Mandaluyong City Medical Center, one each at the San Lazaro Hospital, Metropolitan Medical Center and a quarantine facility at the Mataas na Paaralan ng Neptali A. Gonzales School and three at the Athletes' Village in Capas, Tarlac.
At least 247 persons, nine of them in-patients and the rest hospital staff, are persons under investigation (PUIs).
7 Pinoys die in New York
Meanwhile, seven Filipinos died of COVID-19 in New York, according to Consul General Claro Cristobal.
Cristobal said several dozen others are fighting for their lives in various hospitals.
He said the patients include trainees, teachers and doctors who are part of exchange visitor programs in the US.
New York has one of the biggest Filipino communities in the US.
As this developed, the Department of Foreign Affairs said 248 Filipino seafarers from Miami arrived at the Ninoy Aquino International Airport Terminal and were brought to a quarantine facility.
In Bataan, the second fatality – a 62-year-old woman – due to COVID-19 was recorded on Thursday.
In Pangasinan, a PUI died while being treated at the Region 1 Medical Center in Dagupan City.
Seminarian Noeh Lombo of the Redemptorist Mater Seminary died of COVID on Wednesday, Manila Auxiliary Bishop Broderick Pabillo said in an article posted on the website of Catholic Church-run Radio Veritas.
A 51-year-old man is the first COVID-19 fatality in Tacloban City.
A seven-year-old boy was added to the list of COVID-19 patients in Zamboanga del Sur. He is the third case in the province. Six other cases were recorded in Zamboanga City. – With Eva Visperas, Ric Sapnu, Roel Pareño, Raymund Catindig, Robertzon Ramirez, Ric Sapnu, Miriam Desacada/  Helen Flores (The Philippine Star
.
COVID-19 CASES BREAKDOWN (PH)
(as of April 3, 2020 – 4:00 PM)
CONFIRMED CASES: 3,018
RECOVERED: 52
PUIS: 1,154
PUMS: 6,321
DEATHS: 136
PUIS TESTED: 4,726
.
SINGAPORE- 88-year-old man dies of Covid-19, 6th such death in Singapore
SINGAPORE – A sixth patient has died from the coronavirus infection in Singapore, the Health Ministry said on Saturday (April 4).
The patient, a 88-year-old male Singapore permanent resident, had no recent travel history to affected countries and regions. He was confirmed to have Covid-19 infection on March 29 and was admitted to the National Centre for Infectious Diseases (NCID) a day later.
He developed serious complications and eventually died. He had a history of heart and kidney disease, cancer and diabetes.
The Straits Times understands that he was Case 855, a locally transmitted case linked to the Singapore Cricket Club cluster, which has six infections.
.
RELATED STORY:
.
SINGAPORE- Singapore midway through critical stage in fight against Covid-19
Expert highlights 3 types of clusters of key concern, how outbreak can get out of hand
Singapore is midway through a critical two-week stage in its battle against the coronavirus, an infectious diseases expert here has said.
This comes as Covid-19 infections have crossed the 1,000 mark, and local cases now make up almost half of that figure.
A new cluster in an old folk's home could potentially fan the fire that seems to be building steadily.
Plus, two other groups of patients appear to be of particular concern now – foreign workers living in dormitories, and scattered cases of doctors, nurses and other staff at hospitals, including at the National Centre for Infectious Diseases.
A total of 49 new cases were reported yesterday. There is the possibility of the outbreak getting out of hand if new cases were to shoot past 100 a day for a few days running next week, said Associate Professor Hsu Li Yang, programme leader of the Infectious Diseases Programme at the National University of Singapore's Saw Swee Hock School of Public Health.
"If we are able to get through these two weeks without a big surge in new cases, such as above 100 a day for a few days, we will be relatively okay," he said.
"If the number of new cases is below 100 like now, it does not mean that the situation is not serious. It just means that our healthcare system can cope and won't get overwhelmed by the new cases."
.
READ MORE:  https://www.straitstimes.com/singapore/health/singapore-midway-through-critical-stage-in-fight-against-virus
.
Workers may be housed in cramped spaces, but if the close contacts of the patients are quarantined early, the outbreak can be nipped in the bud, he said.
.
Ads by: Memento Maxima Digital Marketing
@ [email protected]
– SPACE RESERVE FOR YOUR ADVERTISEMENT
– SPACE RESERVE FOR YOUR ADVERTISEMENT
.
BANGKOK, Thailand-  One death, total hits 2,000
612 people have recovered from Covid-19, say health authorities
Food delivery riders are on their way to bring food to customers ahead of the 10pm-4am curfew that began on Friday. (Photo by Pattarapong Chatpattarasill)
One man died and 89 more caught the coronavirus disease over the past 24 hours, raising the total to 2,067 cases and 20 fatalities, according to authorities.
Dr Taweesin Visanuyothin, spokesman for the government's Centre for Covid-19 Situation Administration, said the new death was a Thai man, 72, with chronic diseases.
Of the total cases, 612 people had recovered, said Dr Taweesin.
.
Of the new 89 coronavirus infections, 31 were in Bangkok, 13 in Nonthaburi, eight in Phuket, five each in Chon Buri and Pathum Thani, four each in Samut Prakan and Narathiwat, three in Songkhla, two each in Yala and Suphan Buri and one each in Surat Thani, Prachuap Khiri Khan, Samut Sakhon, Trang, Tak, Ayutthaya and Lampang.
Bangkok had the highest number of cases of 980, followed by Nonthaburi (128), Phuket (107), Samut Prakan (93), Chon Buri (59), Yala (52), Pattani (44), Songkhla (37), Chiang Mai (33), and Pathum Thani (28).
.
Last updated: Apr 04, 2020 at 14:43 hrs.
THAILAND SITUATION
Rank:36
.
<covid-19>
.
HA NOI, Viet Nam- Four more COVID-19 patients recover, total at 90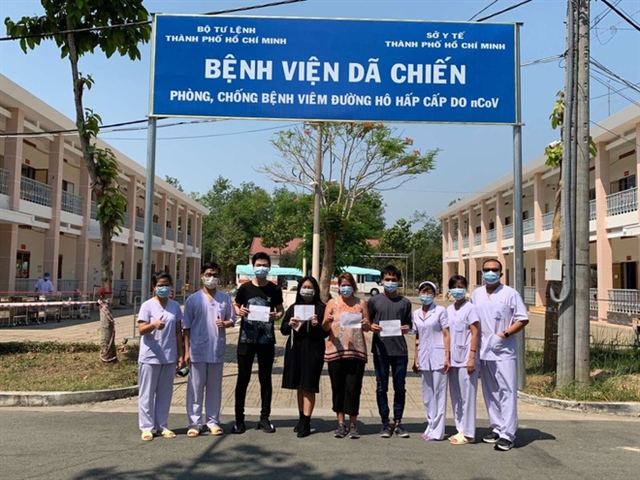 HÀ NỘI — Four more COVID-19 patients have recovered and been discharged from the Củ Chi field hospital in HCM City on Saturday, bringing the total number of patients given the all-clear in Việt Nam to 90.
The recovered patients in full are:
Patient number 80, male, 18, Vietnamese nationality, was admitted to the hospital on March 18. During treatment, the patient tested negative three times for SARS-CoV-2 from March 28 to April 2.
Patient number 81, male, 20, Vietnamese nationality, was admitted to hospital on March 20. He has had three tests and all were negative for SARS-CoV-2 on March 31, April 1 and 2.
Patient number 82, female, 16, Vietnamese nationality, was admitted to hospital on March 20. Her tests were negative for SARS-CoV-2 for three times from March 30 to April 2.
Patient number 83, female, 50, United States nationality, was admitted to hospital on March 20. Her tests were negative for SARS-CoV-2 three times on March 31, April 1 and April 2.
All patients will continue to be isolated and monitored for the next 14 days.
As of 7.50am today, the world has reported 1,097,810 confirmed cases of COVID-19 in 205 countries and territories, including 239 in Việt Nam. The death toll rose to 59,140 and no fatalities have been reported in Việt Nam, according to the Việt Nam Public Health Emergency Response Centre. — VNS
.
DILI, Leste Timor- 
.
All photographs, news, editorials, opinions, information, data, others have been taken from the Internet ..aseanews.net | [email protected] | Fo r comments, Email to :  Al Bulario