EDITORIAL-CARTOONS: Stop the stigma
THE EDITOR


Lessons for later
As we are still in the grips of the COVID-19 pandemic, we are understandably focused on short-term responses that we hope can keep the number of deaths down. With just a week before the Luzon-wide lockdown expires, the immediate question is if we can afford to lift some of the restrictions that have not only kept infections down but also deprived a vast majority of people the means to earn a living.
.
But those who make the case for a selective lockdown—with communities unaffected by the COVID-19 outbreak being allowed to go back to work—may be working on the wrong assumptions.
.
READ MORE: https://manilastandard.net/opinion/editorial/321194/lessons-for-later.html
.
<op-ed>
Stop the stigma
Doctors, nurses, and other medical personnel are literally putting themselves in harm's way to protect the greater Filipino population against COVID-19. And yet, in an alarming twist, an increasing number of them, instead of being accorded the hero's treatment they deserve, are being subjected to discrimination, harassment, and violence, mainly due to unfounded COVID-19 fears.
READ MORE: https://opinion.inquirer.net/128738/stop-the-stigma
.
The contagion is bad enough; the lack of humanity and compassion toward frontliners and patients makes it shamefully worse. That's a far more lethal sickness that has to be purged forthwith.
For more news about the novel coronavirus click here.
What you need to know about Coronavirus.
For more information on COVID-19, call the DOH Hotline: (02) 86517800 local 1149/1150.
.
Ads by: Memento Maxima Digital Marketing
@ [email protected]
– SPACE RESERVE FOR YOUR ADVERTISEMENT
– SPACE RESERVE FOR YOUR ADVERTISEMENT
.
.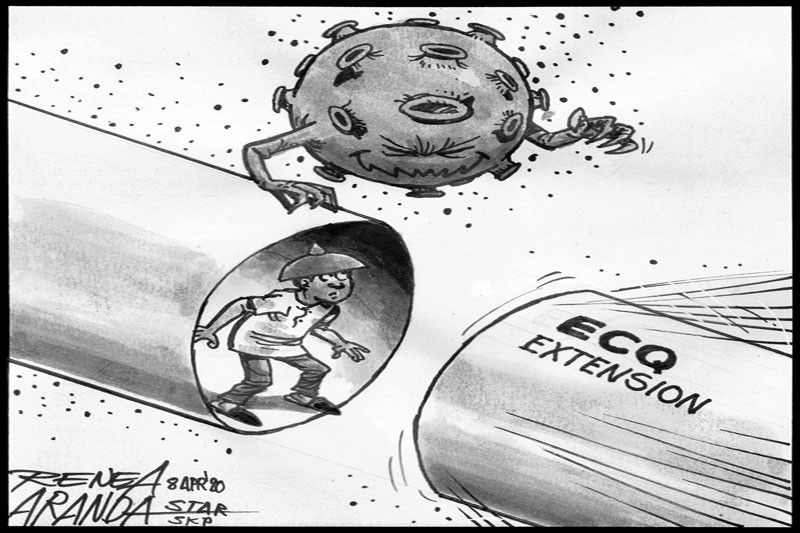 EDITORIAL – Two more weeks
Into the fourth week of the enhanced community quarantine, the economy is in critical condition. Metro Manila accounts for the bulk of economic activity in the country, and the quarantine – with several areas mainly in depressed communities under complete lockdown – has brought most business operations to a standstill.
READ MORE: https://www.philstar.com/opinion/2020/04/08/2006202/editorial-two-more-weeks
.
.
<op-ed>
.
The Straits Times says-
Public health is a national security issue
.
In India, the world's most elaborate lockdown of a population is now in its second week as the government wrestles with the coronavirus pandemic there. The noted economist Raghuram Rajan, a former head of India's central bank, calls it the most serious public emergency since the country's founding, when massive communal rioting ensued in the wake of the British colonial administration's decision to grant freedom to India, and a new Muslim state of Pakistan. In Malaysia, and in the Philippines where Metropolitan Manila has been shut down, the closures have gone on for even longer. Indonesia, caught between the worsening outbreak and the need to protect the livelihood of millions living on the edge, is torn.
READ MORE: https://aseanews.net/2020/04/08/editorial-sg-the-straits-times-says-public-health-is-a-national-security-issue/
.
.
.
All photographs, news, editorials, opinions, information, data, others have been taken from the Internet ..aseanews.net | [email protected] For comments, Email to :D'Equalizer | [email protected]