COVID-19 THE "PLAGUE": Day 136: ASIA UPDATES- BRUNEI- First COVID-19 case after five days, seven more recoveries .
Minister of Health Dato Seri Setia Dr Haji Mohd Isham bin Haji Jaafar at the press conference yesterday. PHOTO: AZIZ IDRIS
.
.
ASEAN

BRUNEI- First COVID-19 case after five days, seven more recoveries
.
Brunei, which had no new COVID-19 cases for five consecutive days, recorded one new case yesterday bringing the total number of infected persons in the country to 136 since March 9.
Seven patients made total recoveries and were allowed to return home. This brings the total of number COVID-19 recoveries in the country to 99.
Minister of Health Dato Seri Setia Dr Haji Mohd Isham bin Haji Jaafar disclosed these details at a press conference yesterday.
"The latest case is a local man aged 28 studying in Indonesia. Case 136 flew from Indonesia to Malaysia.
"He travelled on Malaysia Airlines (MAS) flight MH0872 seat 3A to Kuala Lumpur on April 7 and returned to the country on Royal Brunei Airlines (RB) flight BI874 seat 36D on April 8. He did not show any symptoms of the infection," the minister said.
Dato Seri Setia Dr Haji Mohd Isham said the new case shows that the country is still under the threat of COVID-19, particularly in people travelling from overseas.
"We have to remain vigilant and not be complacent. The Ministry of Health (MoH) once again reminds the public to continue social responsibilities and take preventive measures.
"The people should always practise physical and social distancing by avoiding going to retail stores, business outlets and markets in large crowds as previously stated.
"This is in addition to complying with restrictions on mass gatherings and practising personal hygiene and maintaining a clean environment," the minister said.
Dato Seri Setia Dr Haji Mohd Isham said 36 cases are still receiving treatment at the National Isolation Centre (NIC) where two patients are still in a critical condition. Both require heart/lung machine (ECMO) and respiratory assistance. The remaining cases are in a stable condition.
"A total of 2,308 individuals completed their quarantine in accordance to the Infectious Diseases Act Chapter 204 and 74 individuals are under quarantine.
"In the past 24 hours, 357 samples have been tested for SARS-CoV-2 bringing the total number of laboratory tests conducted since January 2020 to 9,342," he said.
For information, the public can visit the MoH official website www.moh.gov.bn or contact the Health Advice Line 148 or through the web application healthinfo.gov.bn.
According to healthinfo.gov.bn, the breakdown of cases shows 109 in the Brunei-Muara district, 23 in the Belait District and four in the Tutong District. There are no cases in the Temburong District.
 .
<covid-19>
.
PHNOM PENH- Another cluster infection brings Cambodia's COVID-19 positive tally to 120
The number of COVID-19 cases in Cambodia, now classified by the World Health Organisation (WHO) as a 'Sporadic Case' has to 120 with one new infection reported by the Ministry of Health this morning.
The latest victim, which local health officials categorise as 'cluster' is a 31 year old Chinese female in the capital.
The woman was temporarily staying in a Condo block at Phnom Penh, as a tourist and is a friend of a the 30-year-old Chinese woman who was diagnosed with the virus on April 7, also in Phnom Penh.
This new infection brings to six the number of people who have infected in the cluster cases who have been connected to each other.
The others were two Vietnamese woman, another Chinese female and a Cambodian couple, all of whom were tested positive within a four days period this week.
Ads by: Memento Maxima Digital Marketing
@ [email protected]
– SPACE RESERVE FOR YOUR ADVERTISEMENT
– SPACE RESERVE FOR YOUR ADVERTISEMENT
.
JAKARTA- All Indonesia's 34 Provinces Now Affected by Coronavirus.
Two Indonesian Red Cross personnel on a three-wheeler spray disinfectant along a narrow road in Central Jakarta. (JG Photo/Yudha Baskoro)
 .
Jakarta. Gorontalo province in the northern part of Sulawesi Island has reported its first Covid-19 case so that all of Indonesia's 34 provinces are now affected by the outbreak, government data released on Friday showed.
The number of confirmed cases increased by 219 in the past 24 hours to bring the country's total to 3,512, with 306 deaths, Covid-19 Task Force spokesman Achmad Yurianto said in a video conference in Jakarta.
Only 282 Covid-19 patients have recovered since the country's first cases were announced in late February.
Jakarta, the hardest hit by the outbreak in the country, has 1,753 cases, with neighboring West Java in distant second with 388 cases.
More than 60 percent of Indonesia's confirmed cases occurred on Java Island, the most densely-populated area in the archipelago.
Jakarta officially began implementing large-scale social distancing policy, locally abbreviated as PSBB, on Friday, which bans the gathering of more than five people.
"People who live in Jakarta or routinely visit the capital for work must strictly follow the PSBB. This is not new to us, but we need a fresh commitment to implement it," Achmad said.
Gorontalo Governor Rusli Habibie said on Thursday evening the province's first case involved a man who joined a Muslim pilgrimage in Gowa, South Sulawesi, several weeks ago.
He said all Gorontalo residents participating in the pilgrimage must report to local authorities for tests and join a mass quarantine program.
"We will conduct tests on all pilgrims who joined the gathering in Gowa and they must be honest and come to their district head or mayor for contact tracing," Rusli said in a teleconference uploaded on the provincial government's Facebook account.
"We will put them under isolation at the Hajj Pilgrim Dormitory," he said.
Gorontalo's Patient 1 is being isolated at the Aloei Saboe Hospital in the provincial capital after his lab test came back positive.
Also on Thursday, the Covid-19 Task Force reported the first Covid-19 case in Indonesia's eastern province of East Nusa Tenggara.
The patient in Alor district later confirmed the news on his YouTube account.
"My name is El Asamau. I have tested positive for coronavirus," he said in the 18-minute video.
He said he visited Jakarta on March 9-13 and that he might have contracted the infectious illness there.
El took a swab test on March 27 upon learning that a colleague he met during his Jakarta visit had been placed in quarantine.
It took two weeks until he received his positive test result. He is currently put under quarantine at the Johannes Hospital in the provincial capital, Kupang./  BY :HERU ANDRIYANTO
.
<covid-19>
.
VIENTIANE, Laos  – No new Covid-19 cases as all 82 suspects test negative [7:26 PM]
.
A total of 82 people who were displaying Covid-19 symptoms and had close contact with patients all tested negative for the coronavirus yesterday, meaning that there are no new cases, authorities said today. … More >>>
Ads by: Memento Maxima Digital Marketing
@ [email protected]
– SPACE RESERVE FOR YOUR ADVERTISEMENT
– SPACE RESERVE FOR YOUR ADVERTISEMENT
.
.
YANGON- Myanmar's COVID-19 cases inches up to 28
.
The Health Ministry reported on April 10 that the total number of COVID-19 patients in the country rose to 28, after a 63-year-old man was found infected with the virus.
The new patient has been under home quarantine since March 28, as he was among those who had direct contact with a 60-year-old female tour guide who contracted the disease last month.
The man developed symptoms of the disease, including fever, cough, and throat pain on April 7.  He would be confined at the intensive care unit of the Wai Bar Gi Hospital.
Earlier in the day, the Health Ministry reported four other new patients, two with no recent travel histories and no apparent contacts with persons who recently traveled abroad and two workers who recently returned from Singapore and Thailand.
The Health Ministry said three of the new cases were from Yangon while one from Mon State, raising to 27, the total number of COVID-19 patients in the country.
One of the new COVID-19 infected persons is a 32-year-old male worker from Singapore who returned to Yangon on March 29. On April 4, he developed fever, sore throat, cough, and felt tiredness.
Another new COVID-19 patient is a 24-year-old female worker who recently returned from Thailand and lives in a village in Kyaik Ma Yaw township in Mon State. The patient went to Thailand a month ago to work but was hospitalized due to severe stomach ache.
The two other patients are both from Yangon, who have no recent travels abroad, no contact with persons who recently returned from foreign trips, and persons under investigation for the disease.
One of these patients is a 55-year-old man who lives in Bahan township. He developed symptoms of the disease, including fever and cough on April 2.
The other patient is a 56-year-old woman who lives in Hlaing Thar Yar Township. She developed symptoms of the disease, including fever, cough, and throat pain on April 1.
Yangon regional authorities locked down the houses where the new patients have stayed and placed under mandatory 14 day home quarantine 27 people who had close contacts with the patients
The Health Ministry tested 78 other persons suspected to be infected with the deadly virus, but all the results were negative, according to the National Health Laboratory.
Out of the 28 confirmed COVID-19 cases in the country, three died, and two made full recoveries./  AUNG PHAY KYI SOE
.
Ads by: Memento Maxima Digital Marketing
@ [email protected]
– SPACE RESERVE FOR YOUR ADVERTISEMENT
– SPACE RESERVE FOR YOUR ADVERTISEMENT
.
MANILA- Philippines reports 119 new COVID-19 cases, 18 more deaths.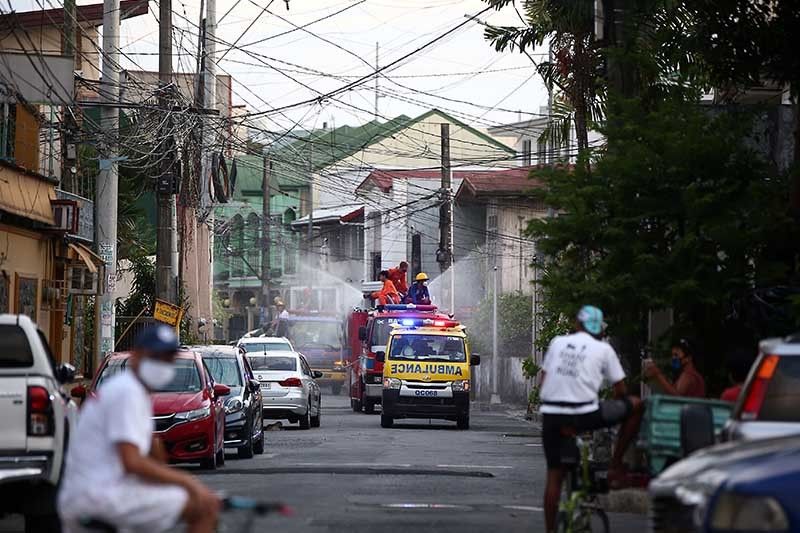 MANILA, Philippines (Updated 4:30 p.m.) — The number of confirmed coronavirus cases in the Philippines grew to 4,195 on Friday after health authorities detected 119 new infections.
COVID-19 killed a total of 221 people in the country after recording 18 additional deaths.
Sixteen more patients recovered from the highly contagious disease. A total of 140 individuals have been cleared of the virus.
The agency earlier said that spikes in the number of cases are expected as the country ramps up its testing capabilities. There are 11 laboratories capable of testing coronavirus samples across the archipelago.
An online and mobile platform was launched Thursday to help the government track people exhibiting symptoms of COVID-19 and conduct a more efficient contact tracing. Medical frontliners can also receive alerts from the StaySafe.ph system so they could respond to severe cases and provide patients direct online consultations.
The national government on Tuesday announced the extension of the Luzon-wide enhanced community quarantine until April 30 to help stop the rate of infection from increasing.
The coronavirus pandemic has claimed more than 95,000 lives out of the 1.6 million infected people across the world./ Gaea Katreena Cabico (Philstar.com) –
.
<covid-19>
.
 SINGAPORE- 198 new cases of infection, seventh death reported; 2,108 cases now
SINGAPORE – There were 198 new cases of Covid-19 infection in Singapore on Friday (April 10), bringing the total number of infections across the 2,000-mark to 2,108.
In addition, an 86-year-old woman has died from complications due to the infection on Thursday night, the seventh such death in Singapore.
The Singaporean was a resident at the Lee Ah Mooi Old Age Home – which saw a cluster of 16 cases. She is the second from the home to die from the coronavirus.
She had been admitted to the National Centre for Infectious Diseases on April 1 and confirmed to have the infection on the same day.
Many of the new infections were reported at foreign worker dormitories, according to figures released by the Ministry of Health (MOH). There were 79 cases  linked to clusters at foreign worker dormitories and 48  linked to non-dormitory clusters or other cases.
There are now 10 clusters in dormitories.
Contact tracing is underway to find links to previous known cases or clusters for 71 new cases. No imported cases were reported.
Three new clusters were formed, said MOH, comprising one at the ICA Building in Kallang and two involving foreign workers.
On the ICA Building cluster, MOH said one of the newly confirmed cases is linked to four previous cases. ICA said it will close the building for cleaning on Saturday in accordance with NEA guidelines for environmental cleaning and disinfection of areas for Covid-19 cases.
The second new cluster is made up of four confirmed cases in a dormitory at 31 Sungei Kadut Avenue. The dormitory is run by Kakiko Group, a firm which brands itself as a built-environment resource business group.
The third new cluster, a renovation site at the National University Hospital, has been found to have 14 cases.
MOH said there were also two new cases of Covid-19 patients in the healthcare sector.
One is a doctor at Tan Tock Seng Hospital, the ministry said, adding that a previous patient is also a doctor at the same hospital.
Both are 26 year-old Singaporean women who are close contacts.
Neither has recent travel history to affected countries or regions.
Both are now warded at the National Centre for Infectious Diseases (NCID).
Prior to hospital admission, they had gone to work but only had transient contact with patients, MOH said.
The other healthcare staff confirmed on Friday is a 35-year-old Singaporean who works as a patient service associate at Hougang Polyclinic.
She had not gone to work since she started showing symptoms on April 4 and is now warded in an isolation room at Sengkang General Hospital.
To date, a total of 492 cases have fully recovered from the infection and have been discharged from hospitals or community isolation facilities.
Of the 875 confirmed cases who are still in hospital, most are stable or improving, while 32 are in critical condition in the intensive care unit.
A total of 734 cases who are clinically well but still test positive for Covid-19 are isolated and cared for at community facilities.
As of 12pm on Friday, MOH has identified 22,674 close contacts who have been quarantined.
Of these, 7,723 are currently quarantined and 14,951 have completed their quarantine.
.
Ads by: Memento Maxima Digital Marketing
@ [email protected]
– SPACE RESERVE FOR YOUR ADVERTISEMENT
– SPACE RESERVE FOR YOUR ADVERTISEMENT
.
 BANGKOK, Thailand- Two more deaths, 45 new cases, total 2,518
Nine people in state quarantine test positive for Covid-19
Product presenters hand out alcohol gel to vendors at the Yingcharoen market in Bang Khen district of Bangkok on Saturday as part of a campaign to urge people to wash their hands and practise physical distancing to protect themselves from the Covid-19 disease. (Photo by Apichit Jinakul)
Nine people in state quarantine, including Thais returned from abroad, are among the 45 new Covid-19 cases reported on Saturday, bringing the total to 2,518 and fatalities to 35
Taweesin Visanuyothin, spokesman for the Centre for Covid-19 Situation Administration (CCSA), said on Saturday that two patients died and 45 new infections, including nine people in state quarantine, were found on Friday. This brought cumulative cases in 68 provinces to 2,518.
One of the deaths was a 36-year-old obese Thai, who worked at a pawn shop and lived with his mother and younger sister. He became sick with a high fever and a cough. He sought treatment at a private hospital and was diagnosed with Covid-19 on April 2. On April 9, he was exhausted, had difficulty breathing and had to be put on a ventilator. He later died.
The second death was a 65-year-old Thai man who worked as a cleaner in Bangkok. He went to Phayao province on March 16. Eight days later, he developed a high fever and a cough. He sought treatment at a hospital in the northern province and tested positive. On March 28, he had to be placed on a ventilator. He later became unconscious and died.
"The number of new infections is not alarming but we have seen a lower figure of 38 cases," Dr Taweesin said, referring to an increase recorded a few days earlier.
Among the 45 new cases, many were people who had been in close contact with previous confirmed Covid-19 patients in Bangkok, Pattani and Phuket, he said.
"There are also Thai returnees from abroad and those who are in state quarantine. That's why the CCSA has to focus on Thais who returned home from abroad. They must be given special care," he added.
Statistics for the period from April 4-10 showed that of the 495 new cases, 144, or 29%, were people who had been in close contact with existing patients, according to the Disease Control Department.
Of this group, 56% contracted the disease from family members, especially spouses, followed by 23% from workplaces, 18% from social gatherings, and 3% from other sources.
All photographs, news, editorials, opinions, information, data, others have been taken from the Internet ..aseanews.net | [email protected] | Fo r comments, Email to :  Al Bulario
.
TRIVIA:
10 States ― Brunei Darussalam, Cambodia, Indonesia, Laos, Malaysia, Myanmar, Philippines, Singapore, Thailand, and Vietnam
.