COVID-19 PANDEMIC Day 141: ASIA & PACIFIC – YANGON- Myanmar detects 11 new COVID-19 patients, ups cases to 85
A man wearing a face mask seen praying to the Shwedagon Pagoda from a pedestrian overpass in Myae Ni Gone, Yangon. Photo: Nyan Zay Htet/The Myanmar Times
.
.
 No new COVID-19 cases in Sultanate, one more recovers
James Kon
Brunei Darussalam recorded no new COVID-19 case yesterday keeping the total confirmed cases at 136.
One of the recovered patients who was readmitted to the National Isolation Centre after being found positive again, was allowed to return home after a follow-up showed negative result.
The latest development of COVID-19 in the Sultanate was announced by Minister of Health Dato Seri Setia Dr Haji Mohd Isham bin Haji Jaafar at a press conference yesterday.
He said, "Alhamdulillah, by the grace of Allah the Almighty, there is no new case of COVID-19 in the country."
Meanwhile, one recovered patient and was allowed to return home from the National Isolation Centre bringing the number of recovered cases to 108.
"Alhamdulillah, one of the cases that had been cured but was readmitted to the National Isolation Centre after being positive again, was allowed to return home today.
"A follow-up laboratory test conducted at the National Isolation Centre found that the case was negative for SARS-CoV-2 virus. However, as a precautionary measure, the patient will undergo self-isolation for another 14 days at home," said the minister.
The minister also revealed that the number of active cases undergoing treatment at the National Isolation Centre remained at 27, where two remained in critical condition requiring heart/lung machine (ECMO) and respiratory assistance. The rest are in stable condition.
Some 81 individuals are undergoing quarantine in accordance with the Infectious Diseases Act (Chapter 204) and a total of 2,394 individuals have completed their quarantine.
"In the past 24 hours, 229 samples have been tested for the SARS-CoV-2 virus, which bring the total number of laboratory tests conducted since January 2020 to 10,579 tests to a ratio of one in 41 people."
For information, the public can visit www.moh.gov.bn, contact Health Advice Line 148 or visit healthinfo.gov.bn.
According to the healthinfo.gov.bn web application, the breakdown of cases shows 109 in the Brunei-Muara District, 23 in the Belait District and four in the Tutong District.
No cases are reported in the Temburong District.
.
<COVID-19>
.
As supplied to Khmer Times, this is the current breakdown of COVID-19 cases in Cambodia up to 09:00 am on 16/04/2020.
As always, we will be keeping you up to date with the latest stories, as they happen, about the current situation with COVID-19 in Cambodia and the world.
There have been 122 cases of COVID-19 in Cambodia :
51 Cambodian
40 French
13 Malaysian
5 British
2 Indonesian
2 US
2 Canadian
3 Chinese
1 Belgian
3 Vietnamese
CAMBODIA COVID-19 – SITUATION UPDATE: 16 APRIL 2020. CASES: 122 CURED: 98: Time: 09:00
 .
 .
JAKARTA- Indonesia Ramps Up Testing as Coronavirus Cases Pass 5,000.
Two medical workers take blood sample from a motorist during a rapid coronavirus testing near Padjadjaran Stadium in Bogor, West Java, on April 7. (JG Photo/Yudha Baskoro)
BY :HERU ANDRIYANTO
APRIL 15, 2020
Jakarta. The Indonesian government is racing against time to achieve at least 10,000 Covid-19 tests per day as confirmed cases reached 5,136 on Wednesday, up by 297 from yesterday.
"We are doing our utmost to achieve 10,000 tests per day by activating 78 laboratories across the country, many more than 32 labs we were operating before," Covid-19 Task Force spokesman Achmad Yurianto said in a teleconference in Jakarta.
Since the first coronavirus cases were detected in late February, Indonesia has conducted only 36,400 swab tests for Covid-19. There have also been around 40,000 antibody-based rapid tests conducted by regional governments.
More tests are needed as more than 165,000 people now fall into the "person under surveillance" (ODP) category, meaning that they possibly have contracted the virus from coming into contact with people with Covid-19.
There are also more than 11,000 people suspected of having the illness after being treated at hospitals, or "patients under observation" (PDP).
If the government cannot ramp up the number of tests, it will continue having to battle the outbreak blindly.
The government will acquire more lab machines and reagents used in the polymerase chain reaction (PCR) tests, as well as cut the duration between specimen examination and result delivery, Achmad said.
According to him, the pandemic has now affected 196 districts and municipalities in all of Indonesia's 34 provinces.
Ten more people have died from Covid-19 over the past 24 hours to bring the total death toll to 469, while 20 more patients have fully recovered to bring the number of recoveries up to 446, he said.
"We're in a very alarming situation that has already been declared as a national disaster. The president has instructed that both central and regional government budgets are prioritized for measures to handle this disaster, to break the cycle of Covid-19 infection nationwide and mitigate its impact on people," he said.
Hospital capacity for critical patients has now reached more than 4,000 beds, while makeshift hospitals in the Athletes' Village in Central Jakarta and on Galang Island in the province of Riau Islands together have around 2,400 beds for Covid-19 patients who are not severely ill, he said.
More than 800 hospitals across the country, including private hospitals, have been designated as Covid-19 referral hospitals, Achmad said.
The government has suggested that asymptomatic patients or those who develop mild symptoms self-isolate at home.
The task force has so far received more than Rp 200 billion ($12.8 million) in public donation, Achmad said.
At least 10 cities and districts in worst-affected areas have agreed to impose large-scale social restriction (PSBB) to contain the outbreak, he said.
Jakarta remains the epicenter of the pandemic in Indonesia with 2,474 confirmed cases, followed by West Java (559), East Java (499), Central Java (292), Banten (281) and South Sulawesi (242).
.
<>
.
VIENTIANE- Laos records no new Covid-19 case for three consecutive days
Laos has not recorded any new Coronavirus infections for three consecutive days since April 13, the National Taskforce Committee for  Covid-19 Prevention and Control said on Wednesday.
.
.
PUTRAJAYA- Malaysia recorded 85 new positive cases, 169 recovered cases, discharged cases 2,647 or 52 per cent of the total positive cases 5,072. 
 .
SINGAPORE- Record 447 new coronavirus cases in S'pore, of which 404 are linked to dormitories
SINGAPORE – New Covid-19 cases hit another daily high on Wednesday (April 15), with the Ministry of Health announcing 447 new cases.
This brings the country's total cases to 3,699 as of noon on Wednesday. There were 41 more cases discharged, bringing the total number of those recovered to 652.
Dormitories continue to make up the vast majority of new cases. A total of 404 of the 447 new cases are work permit holders residing in dormitories.
There were another three new clusters at dormitories and new cases at nearly all existing dormitory clusters. The S11 Dormitory @ Punggol, Singapore's largest cluster, added another 74 cases, bringing the total to 797.
A fourth new cluster was also announced on Wednesday – a building of shophouses located at 234 Balestier Road that is linked to foreign workers.
With Wednesday's cases, there are now at least 1,800 people linked to dormitories who have tested positive for the virus, or nearly half of all coronavirus cases in Singapore.
So far, 17 out of the 43 purpose-built dormitories here have been reported as virus clusters, with several other clusters linked to factory-converted dormitories.
Five of the new cases are work permit holders living outside dormitories.
There were 38 new local cases in the community on Wednesday and the MOH noted that the number of new cases in the community has remained stable in the past two weeks, with an average of 36 cases per day.
However, it added that the number of new cases among work permit holders has increased significantly from 48 cases per day in the week before this to 260 cases per day in the past week. This is in part because of efforts to undertake more active testing of the workers.
Of the new cases, 68 per cent are linked to known clusters, while the rest are pending contact tracing.
No imported cases have been announced since April 10.
MOH also said that an 80-year-old Malaysian man died in Singapore on Tuesday and later tested positive for the coronavirus after his death. But MOH said that the patient did not die from causes related to Covid-19.
The Early Childhood Development Agency also said there had been another case involving a preschool. A member of the teaching staff at Learning Vision @ Work at Lower Kent Ridge Road has tested positive. The staff member was last at the school on April 9.
As a precaution the school will be closed from today till April 23, and all affected staff members and children will be placed on a leave of absence during this period.
It will reopen on April 24 to serve parents who are working in essential services and unable to find alternative care arrangements.
 .
HA NOI, Viet Nam- Teenage girl from Mong ethnic community tests positive for COVID-19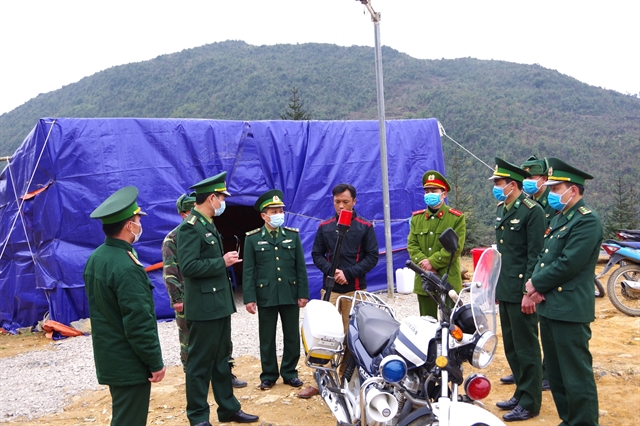 HÀ NỘI — A teenage girl from a remote Mong ethnic minority community has tested positive for COVID-19.
The 16-year-old lives in a hamlet near the border with China in the northern mountainous province of Hà Giang.
Details of where she may have contracted the virus were not released by the Ministry of Health, although it did say she has three brothers who all work across the border in China.
She started to show signs of fever, began coughing and had difficulties breathing on April 7 and was placed in quarantine at a hospital in the province's Đồng Văn District.
She is the 268th person to test positive for COVID-19. Of those, 171 have been treated and have made full recovery.
There are 68,049 people currently in quarantine nationwide. — VNS
.
<covid-19>
,
---
All photographs, news, editorials, opinions, information, data, others have been taken from the Internet ..aseanews.net | [email protected] | Fo r comments, Email to :  Al Bulario
.
TRIVIA: ASEAN
10 States ― Brunei Darussalam, Cambodia, Indonesia, Laos, Malaysia, Myanmar, Philippines, Singapore, Thailand, and Vietnam
.