COVID-19: "The 146 Days Pandemic"- WORLD & ASEAN- BRUNEI- No new COVID-19 cases recorded, total still 138
Minister of Health Dato Seri Setia Dr Haji Mohd Isham bin Haji Jaafar. PHOTO: BAHYIAH BAKIR
.
.
7 hours ago  (Manila Time 06:00 HR)
There have been 2,403,410 reported COVID-19 infections around the world, from which 165,216 people have died, according to an AFP tally at 1100 GMT Monday based on official sources.
.

BRUNEI- No new COVID-19 cases recorded, total still 138
Brunei Darussalam recorded no new COVID-19 cases yesterday. The total number of COVID-19 cases in the country remains at 138.
These details were provided by Minister of Health Dato Seri Setia Dr Haji Mohd Isham bin Haji Jaafar during the daily press conference for the latest updates on the COVID-19 outbreak.
The minister said, "Alhamdulillah, by the grace of Allah the Almighty, there is no new case of COVID-19 infection in the country. Therefore, the total number of COVID-19 cases in Brunei Darussalam remains at 138."
"One case recovered today, bringing the total number of recoveries to 116. This brings the number of active cases being treated at the National Isolation Centre (NIC) to 21, where two are still in critical condition and require heart/lung machine (ECMO) and respiratory assistance. The rest are in a stable condition," the minister said.
Dato Seri Setia Dr Haji Mohd Isham cited that 138 individuals are currently undergoing quarantine in accordance to the Infectious Diseases Act (Chapter 204) and 2,408 have completed their quarantine. In the past 24 hours, 161 samples have been tested for the SARS-CoV-2 virus, which brings the total number of laboratory tests conducted since January 2020 to 11,633.
With regard to the cases that recovered but found to be positive again during follow-up examination, the MoH informed that no such case was detected yesterday, keeping the total number of such cases to 18, of which 13 are still undergoing further examination and testing.
The minister said; since April 7, "A total of 1,001 random COVID-19 tests for surveillance purposes were conducted on foreign workers, in which all results were negative."
For information and updates, the public can visit the official MoH website at www.moh.gov.bn or contact the Health Advice Line 148 or through the web application healthinfo.gov.bn.
In its breakdown of COVID- 19 cases in the country, healthinfo.gov.bn revealed that the Brunei-Muara District has 111 cases, the Belait District 21 and the Tutong District six.
Minister of  Health Dato Seri Setia Dr Haji Mohd Isham bin Haji Jaafar. PHOTO: BAHYIAH BAKIR
<covid-19>
PHNOM PENH-.Cambodia COVID-19 Case Breakdown – 21 April 2020
As supplied to Khmer Times, this is the current breakdown of COVID-19 cases in Cambodia up to 8:30 am on 21/04/2020.
As always, we will be keeping you up to date with the latest stories, as they happen, about the current situation with COVID-19 in Cambodia and the world.
There have been 122 cases of COVID-19 in Cambodia :
51 Cambodian
40 French
13 Malaysian
5 British
2 Indonesian
2 US
2 Canadian
3 Chinese
1 Belgian
3 Vietnamese
CAMBODIA COVID-19 – SITUATION UPDATE: 21 APRIL 2020. CASES: 122 CURED: 110: Time: 08:30
.
JAKARTA,, Indonesia- Sharp Drop in Coronavirus Cases, More Recoveries in Indonesia.
A health worker about to take a blood sample from a bajaj driver during a drive-through Covid-19 rapid testing in Central Jakarta on Monday. (JG Photo/Yudha Baskoro)
Jakarta. After weeks of bleak outlook in its struggle to end the coronavirus outbreak, Indonesia saw some promising signs on Monday with a sharp drop in daily new cases and a lot more patients recovering from Covid-19 compared to those who died from the illness.
Over the past 24 hours, new cases increased by 185, well below a record 407 on Friday, to 6,760 cases overall. Monday's figure is also a significant decline from 327 new cases yesterday.
According to government data, 61 more patients recovered to bring the total number of recoveries to 747 in the same period, while eight more patients died to bring the death toll to 590.
Only 13 out of 34 provinces reported new cases on Monday, mostly on the most densely populated island of Java.
Jakarta, the epicenter of the Covid-19 outbreak in Indonesia, reported 79 new cases to bring the city's total to 3,097.
Doni Monardo, head of the National Covid-19 Task Force, said the battle against Covid-19 remains far from over with the government intensifying social restrictions on several hotspots that have been placed under semi-lockdown status, including Jakarta and its satellite cities.
Soldiers and police are still being deployed to make sure that persons under surveillance (ODP) and patients under observation (PDP) for suspect coronavirus infections strictly observe physical distancing, he said.
"The president has instructed medical workers, assisted by the Indonesian Military and the National Police, to take measures against people in the ODP and PDP categories who ignore the restrictions," Doni said after a teleconference with President Joko Widodo.
Non-essential businesses who continue running despite the restrictions can face sanctions as well, he added.
It was reported last week that many commuter workers continued to flock into Jakarta as their employers refused to suspend operations.
The provincial government couldn't stop the commuter trains from running because many medical workers and employees of essential businesses in the food, pharmacy and energy sectors also depend on the trains to reach Jakarta.
The government is considering installing CCTV near factories and offices to detect violations, Doni said.
"We've received recommendations to install CCTV at factories, and also to do more inspections at offices," Doni said.
"The Task Force calls on all business leaders, high-ranking officials and human resources managers to obey the government's work-from-home policy," he said.
No May Day
Separately, the Jakarta Police confirmed they would not approve any request for public rallies on International Workers' Day on May 1 in the capital and surrounding cities.
"We won't issue any permit. We will promptly disperse the crowd if a rally takes place," Jakarta Police spokesman Chief Comr. Yusri Yunus said.
He said a public rally would constitute a blatant violation of the physical distancing policy. He reminded that Jakarta and its satellite cities, home to hundreds of factories, had imposed large-scale social restriction (PSBB) to limit the spread of Covid-19.
"I'm sure they [the workers' unions] can understand," he said.
<covid-19>
.
VIENTIANE, Laos- COVID-19 taskforce confirms no new cases for 7 days.
No new COVID-19 cases have been recorded in Laos for seven consecutive days with the total number of confirmed infections unchanged at 19 as of Sunday, authorities announced.
The Standing Deputy Head of the National Taskforce Committee for COVID-19 Prevention and Control, Associate Prof. Dr Phouthone Muongpak, revealed the positive news during a press conference in Vientiane on Sunday.
Effective implementation of the national lockdown by authorities and the public has been credited as a major factor in the encouraging result.
.
Under the Prime Minister's Order, dated March 29, everyone was initially instructed to stay at home from April 1-19 to contain the spread of the potentially deadly virus. On Wednesday, Prime Minister Thongloun Sisoulith announced a 14-day extension of the lockdown.
Dr Phouthone reported that a total of 15 samples were tested on Saturday for the coronavirus, including 11 from Vientiane, and one each from Xaysomboune, Attapeu, Luang Prabang and Xayaboury provinces. But all results were negative.
"Two of the 19 people infected by the coronavirus have recovered and returned home while the remaining 17 are still hospitalised," he said.
Fourteen patients are being treated at the Friendship Hospital in Vientiane and three in Luang Prabang Hospital.
Dr Phouthone called on officials at all levels to continue their efforts in applying the thus far successful actions against COVID-19.
"What local authorities need to do is to intensify the measures put in place to prevent the spread of the virus as stated in Prime Minister's Order No. 6," he said.
From January to April 18, a total of 1,333 people have been tested, and 19 were found to be infected by the coronavirus.
Between March 9 and April 18, a total of 313 people were monitored for the disease, and 291 of them have completed a 14-day quarantine. Only 22 people continue to be monitored for symptoms.
Up to 5 pm on April 18, some 1,009 people entering Laos had been checked for COVID-19.
Of these, 332 people crossed the border from Thailand with most being truck drivers bringing goods into Laos.
A total of 265 people crossed the Laos-China border with the majority being truck drivers.  A total of 412 truck drivers people entered Laos from Vietnam. No passengers entered Laos at airports across the country.
At all border checkpoints, the temperature of each traveller was checked with none showing signs of fever. As of April 19, the coronavirus had spread to 210 countries and territories, with at least 2,325,335 confirmed cases globally (76,472 new infections). The virus has claimed 160,448 lives while more than 595,514 people have recovered.
By Phetphoxay Sengpaseuth
.
.
 YANGON-UPDATE2: Myanmar virus infections rise to 119, three front-liners among new victims
COVID-19 infections in Myanmar rose to 119 on April 20 following the detection of eight new cases, including three nurses working in government hospitals treating the disease, the health ministry said in a statement.
Four of the patients came from Sagaing region, two from Bago Region one from Tachileik in Shan State and one from Tedim Township in Chin state.
All the cases comprised persons undergoing quarantine due to their exposure to COVID-19 patients, the health ministry noted.
The first new COVID-19 patient (Case 112) reported is a 29-year-old female nurse who lives in Tachileik Township in Eastern Shan State. She is now confined at Kengtung General Hospital for treatment.
She is the third front-line medical worker in the country infected with the disease. A doctor from Yangon General Hospital who did volunteer work at the same hospital where the nurse is working was diagnosed positive for the disease a few weeks earlier. He is also confined at Kengtung General Hospital.
The two other front-line victims (Case 118 and Case 119), are nurses working at Pyay General Hospital in Bago Region, which treats several COVID-19 patients. The two brought to five the number of medical workers infected with the virus while performing their duties.
Both nurses are now patients at the Pyay General Hospital in Bago Township, where they are isolated just like the patients they treated before they contracted COVID-19.
A 58-year-old female anaesthesiologist working at Pyay General Hospital in Bago Region was the first front-line COVID-19 victim in the country.
The other newly detected patients, Case 113, is a 65-year-old woman who lives in Tedim Township in Chin State, who was exposed to a Myanmar US citizen infected with the disease and living in Tedim. She is now confined at the Tedim General Hospital for treatment.
Case 114 is a 52-year-old man who lives in Kalay Township in Sagaing Region. He is now confined at Kalay General Hospital for treatment.
Case 115 is a 19-year-old boy who lives in Kalay Township in Sagaing Region. He is now confined at Kalay General Hospital for treatment.
Case 116 is a 17-year-old boy who lives in Kalay Township in Sagaing Region. He is now confined at Kalay General Hospital for treatment.
Case 117 is a 10-year-old girl who lives in Kalay Township in Sagaing Region. She is now confined at Kalay General Hospital for treatment.
Amid the rise in the number of new infections, the ministry reported that two more patients are on the road to recovery after tests show they no longer carry the virus.
One of these patients is a 24-year-old woman (Case 21) from the United States who flew to South Korea and Thailand before returning to Yangon on March 26. She was diagnosed positive for the disease on April 2.
The other recovering patient is a 45-year-old man (Case 10) from Mingalar Taung Nyunt Township in Yangon. He is the son of the 69-year-old man who was the first COVID-19 fatality in the country.
The National Health Laboratory tested 419 persons suspected of being infected with the virus on April 21but the results were negative.
Yangon Region has the highest number of COVID-19 cases at 91 with four of the five deaths reported in the country.
The health ministry urged those who have been in close contact with COVID-19 patients to inform the nearest health departments.
Health authorities focus on quarantine and contact tracing as their main strategy in controlling the spread of the virus.
SPACE RESERVE FOR  ADVERTISEMENT
.
MANILA, Philippines- BREAKING: Over 600 COVID-19 patients recover in PH – DOH
The Department of Health (DOH) on Monday recorded 41 new recoveries, and 200 new confirmed cases of the disease in the country, raising the total to 6,459.
Meanwhile, 19 patients succumbed to the disease, bringing the death toll to 428.
<covid-19>
.
SINGAPORE- 1,369 of the 1,426 coronavirus cases confirmed in S'pore are foreign workers living in dormitories.
SINGAPORE – Three new coronavirus clusters have been announced by the Ministry of Health (MOH) on Monday (April 20).
One is linked to Jurong Apartments dormitory, the second to Woodlands Lodge II dormitory, and the third to 8 Sungei Kadut Loop which is the address of construction firm King Wan Construction.
The ministry also said that 1,369 of the 1,426 new coronavirus cases on Monday are foreign workers living in  dormitories.
MOH explained that it is picking up many more cases from dormitories because of extensive testing.
"These are not new infections as the workers are staying in their rooms and many have not reported sick. But when the teams go in to test them, many turn out to be positive," said the ministry.
Most of these cases have a mild illness and are being monitored in community isolation facilities or the general wards of hospitals. None of them is in the intensive care unit.
Of the new cases which are likely locally transmitted, 18 are Singaporeans and permanent residents, while seven are work pass holders.
The other new patients are 32 work permit holders who did not stay in dormitories. There are no imported cases.
Singapore's largest active cluster remains S11 [email protected] Punggol, which has confirmed 1,977 cases as of Monday.
With Monday's figures, the total number of Covid-19 cases in Singapore stands at 8,014.
MOH earlier preliminarily confirmed 1,426 new cases of Covid-19 infection in Singapore as of Monday noon, the single highest daily spike in numbers since the outbreak began in January.
As of Monday, 1.9 per cent of the 323,000 foreign workers living in dormitories, or 6,075 cases have tested positive for the virus. This means three in four of all coronavirus cases here are linked to dormitories.
Also, 28 of the 43 purpose-built dormitories here are linked to virus clusters, as of Monday night.
Out of these, 18 have been declared isolation areas. Workers living there must be quarantined in their rooms for 14 days.
There are also at least 14 clusters at smaller factory-converted dormitories.
The dorm at 31 Sungei Kadut Avenue also became the first factory-converted dorm to be placed under isolation, effective from Tuesday.
MOH said that the number of new cases in the community has decreased, from an average of 39 cases per day in the week before, to an average of 29 per day in the past week.
The number of unlinked cases in the community has remained relatively constant, with an average of 20 cases a day for the past two weeks.
"We will continue to closely monitor these numbers, as well as the cases detected through our surveillance programme" it said.
MOH also announced on Monday that 33 more coronavirus patients were discharged from hospitals or community isolation facilities, bringing the total number of people who have fully recovered and discharged to 801.
Of the 3,420 confirmed cases still in hospital, most are stable or improving, but 23 are in critical condition in the intensive care unit.
Another 3,782 patients who are clinically well but still test positive for Covid-19 are isolated and cared for at community facilities. Eleven have died from complications due to Covid-19.
.
BANGKOK, Thailand- Phuket: Italian infected, Covid cases total 193
Shops and entertainment venues in the Patong area of Phuket remain shut as part of the effort to contain Covid-19. Authorities on Tuesday reported one more case, bringing the total to 193. (Photo: Achadtaya Chuenniran)
PHUKET: An Italian man, 83, was found to be infected with Covid-19, bringing the number of confirmed cases in this island province to 193.
The provincial emergency response panel reported on Tuesday that 133 out of a total of 193 Covid-infected patients have recovedred and been discharged.
One case was dropped from the tally after the man died from injuries sustained in a motorcycle accident. Now, 59 people remain hospitalised, Phuket governor Phakaphong Tavipatana said.
Dr Tanit Sermkaew, chief of the Phuket public health office, said the latest case, the 193rd, is an Italian man, aged 83 years.
He had not travelled abroad recently. He stayed in Patong area of Kathu district in Phuket and often went to risk areas such as in Soi Bangla and an Italian restaurant in Soi Nanai of Patong, Dr Tanit said.
The man was diagnosed with Covid-19, but showed no virus symptoms, the provincial public health chief.
The patient sought treatment at a private hospital for another ailment and the hospital found he was infected with the coronavirus.
The provincial panel reported that a total of 3,038 people had been tested from Jan 5 to April 20. Of the  total, 2,937 were allowed to return home. Fifty-nine were under treatment, and 42 others were awaiting lab test results.
Dr Tanit Sermkaew, chief of the Phuket public health office, annunces on Tuesday the new case, the 193rd in the province, is an Italian man, aged 83. (Photo: Achadtaya Chuenniran)
.
<covid-19>
.
HA NOI, Viet Nam- No new cases of COVID-19 in Việt Nam for fifth successive day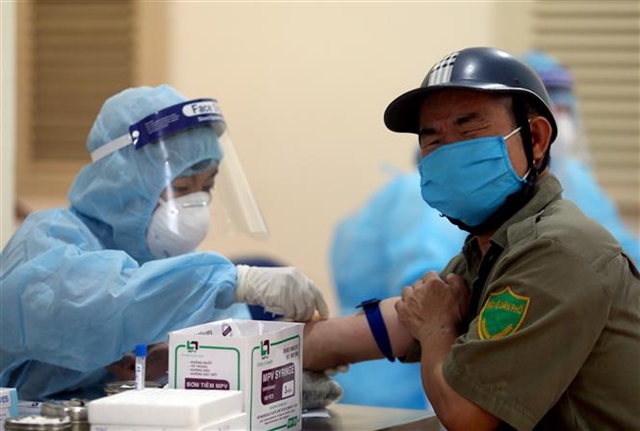 HÀ NỘI — The Steering Committee for National COVID-19 Prevention and Control said there were no new cases of coronavirus recorded on Tuesday.
That makes it five days in succession without any new coronavirus patients.
The total number of cases COVID-19 in Việt Nam remains at 268, with 160 coming from overseas and 108 infected among the community.
Since April 16, Việt Nam has not had a single new case of coronavirus, which is a record in the country during the pandemic, according to the Steering Committee.
The number of new cases has been declining since Việt Nam implemented a nationwide social distancing policy. From April 1 to 14, the number of new cases dropped by 40 percent compared to the previous two weeks. From April 15 until now, the country reported only three new cases.
The total number of people quarantined at hospital is 268, at other centres 15,368 and at homes 60,163.
Patient number 188 tested positive for SARS-CoV-2 on April 19 after previously being given the all-clear. She is now being monitored for another 14 days.
Currently, 53 patients are isolated and being treated in nine health centers. — VNS
.
All photographs, news, editorials, opinions, information, data, others have been taken from the Internet ..aseanews.net | [email protected] | Fo r comments, Email to :  Al Bulario
TRIVIA: ASEAN
10 States ― Brunei Darussalam, Cambodia, Indonesia, Laos, Malaysia, Myanmar, Philippines, Singapore, Thailand, and Vietnam
SPACE RESERVE FOR  ADVERTISEMENT
.